Junction Bakery & Bistro is the latest offering from restaurateur Noe Landini and chef/baker Nathan Hatfield. It serves breakfast, lunch, dinner, grab-and-go pastries, coffee drinks and fresh-pressed juice to customers in the Del Ray neighborhood of Alexandria, Va.
DC-based architecture and design firm CORE designed the 5,000-square-foot space, which opened in July. Junction's design highlights the building's past as a grocery store and connects it to the neighborhood's railroad history.
CORE worked with Landini on a number of renovation and restoration projects in the past, including the Fish Market and Pop's Old-Fashioned Ice Cream in Alexandria as well as Bar Deco in downtown Washington D.C.
"[Landini] always prioritizes authenticity and the history of the space we are working within. This time, we uncovered the building's 1940s history and linked design elements to Del Ray's railway heritage," said Allison Cooke, CORE's director of hospitality design. "It was important to create an approachable neighborhood spot that blends the warmth of dining at home and the energy of a working bakery."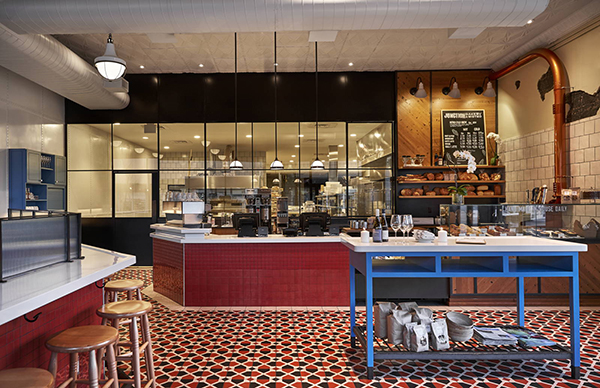 Customers enter directly into the bakery and retail area, which transitions into a casual happy hour gathering spot in the evening. A steel and glass wall behind the retail counter provides a view to the back of the house and the operation's four-deck oven.
To the left of the retail space sits a 50-seat cafe that combines banquette seating with a collection of marble-topped tables and chairs. Some of the original plaster walls and tin ceiling were restored. Junction's color palette of navy, red and white — with touches of peach and copper — reflects popular colors in 1940s residential architecture and fashion.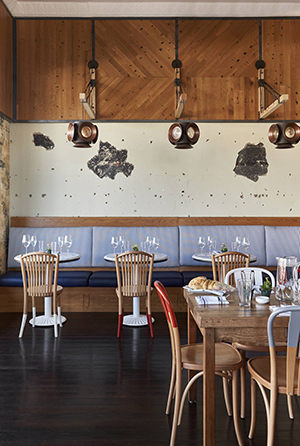 Elements that echo the railroad aesthetic include wood planking on the walls, riveted metal panels wrapping the restrooms, oak flooring in the cafe and custom lanterns. CORE selected enameled metals for countertops, red square tiles on the counter front, encaustic patterned floor tile in the retail area, hand painted chairs and china hutches.
"The 1940s era was characterized by its thriftiness, ingenuity, and brightness, so we kept those ideas in mind as we developed the design," said Cooke. "We really enjoyed creating the custom elements: the locomotive-inspired lanterns, playful mosaic tile messages in the floor, and denim upholstery with a printed grain motif on the banquette."
Junction Bakery's exterior includes the building's refurbished glass storefront windows as well as a mural designed by Seth Design Group and completed by Cherry Blossom Creative.
Project Team
General Contractor: Construction Services
Branding and Graphic Design: Seth Design Group
MEP: Design Tech
Structural Engineering: Rathgeber Goss
Photos courtesy of Greg Powers.