Organizing systems to speed throughput, maintain quality and improve accuracy determines drive-thru success.
As Americans seek quick service for ordering and picking up food at their favorite restaurants, drive-thrus continue to grow in popularity.
Drive-thru window at Roy Rogers in Frederick, Md. Photographs by Greg Pitkoff, managing director, GRiP Communications LLC"If an operator is considering adding a drive-thru or even expanding this service, the million-dollar question is, what will drive-thru do for you," says Richard F. Weil, CFE, senior consultant, operations, National Restaurant Consultants (NFC) in Denver, Colo. He was a franchisor of Nick-N-Willy's in Denver and has consulted for La Casita in Colorado Springs, independent restaurants and regional chains and, along with his NFC colleagues, Vail Resorts. "Will you improve the brand image? Will you increase sales? Is the brand suitable for drive-thru, or will quality suffer?"
"You can expect that about 50 percent of your total capital will go into the drive-thru, but considering the fact that this segment of the business can account for up to 75 percent of your restaurant's total revenues at peak times, that's a pretty good return on investment," adds John Miologos, AIA, CSI, NCARB, senior director of store development at Walgreens, headquartered in Deerfield, Ill. Miologos is the former executive vice president of architecture, engineering and construction management, WD Partners Inc., Columbus, Ohio.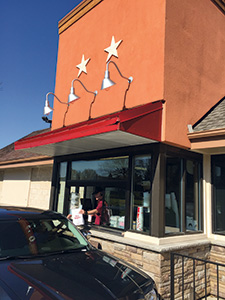 Customers pick up orders and interact with a team member at a drive-thru window at Roy Rogers in Frederick, Md.'s Amber Meadows shopping center.The restaurant's ability to attract customers while avoiding bottlenecks represents a key factor that influences the impact a drive-thru can have. "If you're starting from scratch and can select your real estate, a busy intersection is a good position because it's visible from the street," says Weil. "But you must avoid the noise from trucks, motorcycles and sirens, which are brutal interferences for hearing orders. To pick the best position, think sun. If you're in areas with severe winters, avoid positioning drive-thrus on the side of the property where snow melts slower because cars can slide on ice where it doesn't melt. If you're in hot climates, the west side can be very hot in summer. Usually, the southern and eastern sides are best."
"Restaurant operators must identify each of the drive-thru zones, such as approach, entry, pre-order, order, pickup and pay, and exit zone," says Howland Blackiston, principal, King-Casey, Westport, Conn. "For instance, Starbucks knew that drive-thrus did on average 50 percent more in sales than stores without a drive-thru. The company's leaders wanted to speed throughput, increase transactions, provide better service and grow ticket amounts."
Starbucks implemented branded wayfinding with chevron arrows and pavement stripes painted in the company's signature shade of green to help quickly guide customers to and navigate the drive-thru, Blackiston says.
The Drive-Thru Experience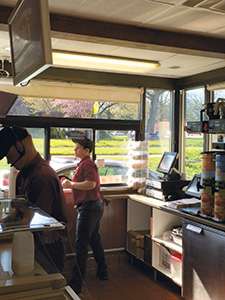 Inside the drive-thru pickup window at Roy Rogers in Frederick, Md.After they enter the drive-thru queue, customers see a menu board and a speaker box. The appeal of drive-thru improves with electronic menu boards, as does order accuracy. "As technology advances, menu boards become more clear and give better images of the menu items," Weil says. "The new boards allow operators to change menus at breakfast, lunch and dinner with a flip of a switch. The speakers also must be top quality so the sound isn't scratchy."
The first impressions — namely the entrance, menu board and ordering experience — contribute greatly to customer satisfaction.
Roy Rogers, headquartered in Frederick, Md., consists of 50 units, including 27 franchised stores.
Drive-thrus account for one-half of the sales at company-owned stores with drive-thrus. For example, a corporate-owned and managed store in the Amber Meadows shopping center in Frederick reports 58 percent of its business comes from the drive-thru. Other stores report as high as 60 percent.
Customers visiting a Roy Rogers arrive at a speaker box and menu board and hear the words of a team member wearing a headset inside the restaurant. The team member greets customers by saying, "Welcome to Roy Rogers. What can I get for you today?"
The Roy Rogers team member also asks customers if they want sides and drinks. This team member punches the order into a computerized register, repeats the order, provides the total price, and instructs the customer to drive up to the pickup drive-thru window. "It's very important that the team member's voice is strong and enthusiastic," says Greg Seymoure, director of operations, Roy Rogers. Before joining Roy Rogers in 2009, he worked for Panera Bread and Boston Chicken (now Boston Market).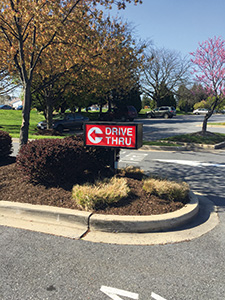 At Roy Rogers in the Amber Meadows shopping center in Frederick, Md., signage and directional arrows guide customers to the drive-thru entrance.To ensure its drive-thrus deliver a positive customer experience, Roy Rogers now equips its staff with noise-reduction headsets, which aids with amplification of the customers' voices as well as sound level. "This reduces the noise from car exhaust systems and traffic noise, especially on busy streets," Seymoure says. "Just like our dine-in and walk-in takeout customers, drive-thru customers want order accuracy. But they are also in a hurry or they would come in. We must make sure we get the order correct when they give it and when they pick up their food, or we've failed to satisfy their needs and expectations."
A few years ago, Roy Rogers also changed the location of the speaker box, which was close to the ground. "We lifted the box off the ground and positioned it closer to the customers' windows. Now they speak more directly into the box," Seymoure says. In the future, Roy Rogers might add awnings over the drive-thru boxes and menu boards.
Offering out-of-the-ordinary services attracts customers and certainly public attention. At Starbucks in St. Augustine, Fla., an employee communicating via American Sign Language with a deaf drive-thru customer went viral on YouTube.
Some chains are introducing smartphone ordering via company apps at drive-thrus as well as inside. For example, Blackiston says Starbucks introduced a pilot program of a mobile order and pay platform in Portland, Ore., and expanded it to more than 3,400 stores nationwide.
Fulfilling Orders, Maintaining Accuracy and Selecting Packaging
Drive-thru speaker boxes and menu boards greet customers at the Roy Rogers in Frederick, Md.'s Amber Meadows shopping center. Once a Roy Rogers team member punches in a customer's order, a computer transmits the request to a prep line in the main kitchen. Flow and function are crucial to expediency. "The entire restaurant must operate efficiently, which is a given," Seymoure says. On average, Roy Rogers strives to fulfill an order in three minutes or less, as is the case with many other restaurants.
When cooks receive the drive-thru orders, they prepare menu items. A dedicated drive-thru runner picks up the menu items, assembles them in a bag and brings the bag to a team member at the drive-thru window. The team member working the drive-thru window assembles condiments, serviceware and beverages. "It's very important that the team member isn't searching around for ketchup and always knows that the cups and lids are close together and what is to the left and right of the window so orders can be filled efficiently," Seymoure says.
"Make sure team members aren't crossing one another if two are working," Weil says. "Also, the design must avoid having team members cross the normal counter service line and drive-thru line."
Lighting is extremely important in the assembly area. "The person assembling must be able to see what they're doing to process orders," Weil says. "If the lighting is too low, order accuracy may fail."
Staffing appropriately impacts speed and quality of service.
"During peak times, from 11:30 a.m. until 1:30 p.m. and 5 p.m. until 8 p.m., select team members work exclusively for drive-thru service," Seymoure says. "Our team is cross-trained so they can work different stations as needed during non-peak times." At a large location with approximately 3,000 customers weekly and 60 percent drive-thru business, at peak times Roy Rogers staffing includes one or two managers and up to 12 employees.
Roy Rogers' drive-thru menus are the same as the inside menu. However, customers who order meals inside the restaurant have access to the signature Roy Roger Fixins Bar, where they can customize their orders by adding unlimited amounts of fresh products like lettuce, tomatoes and onions, as well as pickles, spicy peppers and condiments such as ketchup, mustard, mayonnaise, Roy's barbecue sauce and horseradish sauce. "For drive-thru customers, we can't offer all the choices, so we offer a Fixins Cup with pickles, lettuce, tomato and onions," Seymoure says.
Once the Roy Rogers team assembles an order, the person staffing the drive-thru window repeats the individual items to the customer, takes payment and passes the bag or other packaging to the customer. The transaction ends with the team member cheerfully inviting the customer to return again and wishing them a happy day.
"We feel our order accuracy is good," Seymoure says. "We get very few complaints from customers that their orders are incorrect."
"At McDonald's, employees verify the customer's order three times to improve accuracy and personal engagement," says Darren Tristano, president of Technomic Inc., in the February 2016 issue of Technomic's Foodservice Digest newsletter. "Crew members also leave the paper food bags open so customers can more quickly confirm that their contents are correct before driving away."
At Roy Rogers, if an order is incorrect, customers either call or come into the restaurant. A team member apologizes for the order error and, if the customer has come into the restaurant, a team member will refill the order and may also give a card for a free meal. If customers call or email, a team member takes their name or address and mails them a coupon and an apology letter.
Packaging represents another key factor for drive-thru service. "Putting a logo on packaging is a good way to market the brand," says Weil. "The buzzword is 'recyclable,' and recyclable packaging is becoming less expensive. Certainly, if a brand is about local, sustainable foods, packaging must fit in. Some cities make recycling or composting easier for certain materials. For durability, operators must consider how long the package is going to be with customers before it is opened. You don't want the package to leak, and you must be certain that beverages will stay sealed easily."
As drive-thru service continues to attract time-strapped customers, restaurant chains will continue to improve this service offering. The attention to detail will be essential to ensure a seamless system from the moment customers see a queue line until they open the package in the car, at work or at home.