Chicago-based multiconcept restaurant company Mercadito Hospitality celebrated the opening of one of its newest concepts, Tippling Hall, in the city's River North neighborhood in October.
Conceived with beverage consulting firm Tippling Bros. and designed by New York-based Celano Design Studio and architect of record IPSA Corp., the 5,000-square-foot space brings beer hall, cocktail lounge, wine bar and restaurant elements together in a single concept.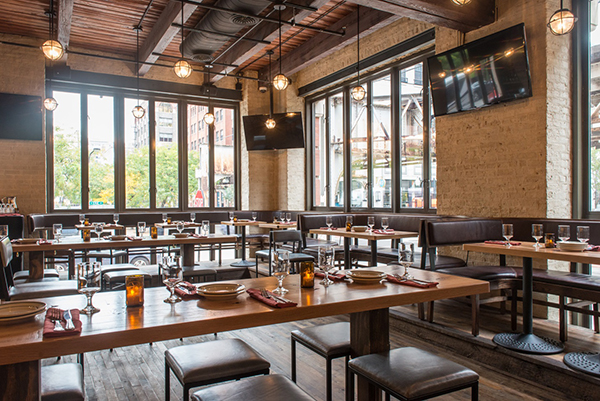 The design team created an environment inspired by Chicago's industrial past. During the renovation, the interior was stripped down to expose the structure's original brick walls and wood ceilings, keeping the building's integrity alive while blending modern, edgy elements into the design.
Above the entrance at the staircase floats a cage-like light fixture made of vintage flasks, each engraved with the names of Mercadito team members. Between the bar and dining areas, the team installed panels that pivot open to let the energy flow between the spaces.
In the dining area, bench seating and communal tables create a beer hall vibe that accommodates experiences from happy hour to dinner to late night drinks. The leather-wrapped light fixtures and fritted glass in the pivoting panels follow an industrial theme, adding a touch of sparkle and creating an amber glow.
Artwork by artist Ernie Valdez appears throughout the space, from graffiti patterns on the walls leading to the restrooms to the dining room's plaster wall depicting the Chicago skyline.