Not even a full year after the first and second locations opened in Scarsdale and Rye, N.Y., a third WUJI restaurant is on track to open in Greenwich, Conn., this spring.
Jody Pennette, founder and CEO of cb5 Hospitality Consulting, focused on redefining the modern-day Chinese restaurant, moving beyond the washed-out, antiquated family restaurants of years past to develop a more design-forward, authentic rendition employing high-end Hong Kong chefs focused on "clean" cooking using local, organic and seasonal ingredients and a cocktail/bar menu with elevated tiki cocktails and a comprehensive wine list.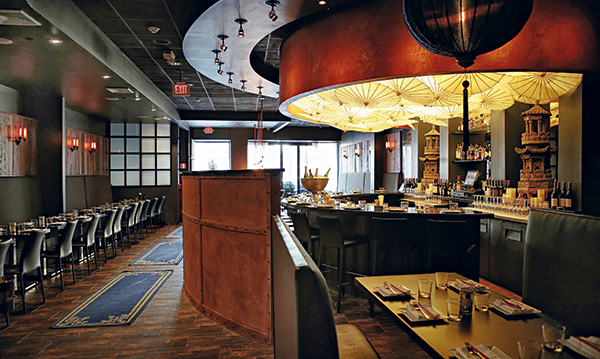 Photo by Sandro Art & Photography"With WUJI, we had to change the perception of Chinese food in America," says Pennette of the Greenwich–based, full-service concept development, design and operations firm for high-end restaurants, bars and hotels celebrating its 20th anniversary this year.
Designs and even parts of the menu and operations vary widely between the three restaurant locations, but Pennette says he'll likely look to streamline certain successful and scalable features as WUJI considers expanding to other cities and markets.
At the Scarsdale location, which opened last summer, Pennette sourced actual New York City subway tiling and seven-foot Chinese vases for pops of details in the otherwise more "toned down" dining room. In an attempt to modernize the traditional Buddha and butterfly designs of those aging family Chinese restaurants, he commissioned a photographer to take photos of various Buddha statues with different filters and tones that were then framed for focal points.