The newest iteration of Keeler Hospitality Group's (KHG) Liberty Station American Tavern & Smokehouse opened last June in Madison, Wis., and it takes the emerging brand into bold new territory. Twice the size of the group's two existing Liberty Station restaurants in Keeler's home market of Scottsdale, Ariz., the Madison location is "Liberty Station on steroids," according to KHG President and CEO Paul Keeler, who says the concept is now well positioned for strong growth.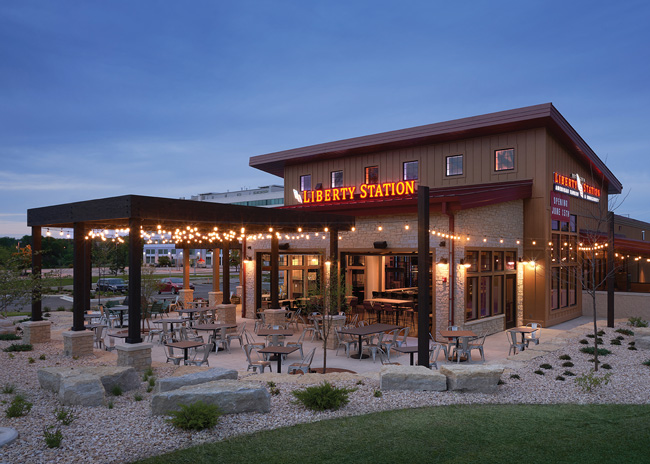 As motorists pass by, they get a bird's eye view of Liberty Station's generous, festively lit outdoor dining area, which can be heated or misted as needed.
Measuring more than 5,700 square feet, with soaring exposed ceilings, a large bar and multiple guest experience options, Madison's Liberty Station is the product of Keeler Hospitality's partnership with North Central Group (NCG.) Headquartered in nearby Middleton, Wis., NCG develops, owns and operates more than 30 hotel properties in multiple states and across several national brands including multiple Hilton banners. It's a partnership that seemed a natural fit for Keeler: He spent 12 years as vice president of food and beverage for Hilton Hotels Corp. before leaving in 2007 to start his own restaurant development, management and consulting firm. In addition to the two Scottsdale Liberty Stations, his company owns and operates Keeler's Neighborhood Steakhouse in Carefree, Ariz., and Spencer's for Steaks and Chops in Omaha, Neb.
An entry vestibule wall displays rows of simple metal cow and pig figures, an immediate visual connection for guests to Liberty Station as a unique and authentic barbecue experience.Keeler credits NCG, whose leadership reached out to him with interest in developing Spencer's adjacent to a hotel in Omaha, for getting KHG brands into new, out-of-state markets. "As in Omaha with Spencer's, which we did 13 years ago, North Central owns a new hotel right behind Liberty Station in Madison," Keeler says. "They like us to put restaurants close to their hotels. Now that we have a couple of proven concepts, we have additional growth plans with them. Their hotels don't have restaurants, but most have pad sites and they invest in the buildings and tenant improvements. We always build our business with the local community, but their hotel guests are also a bit of a captive audience for us."
Located in an area of Madison close to the Alliant Energy Center convention and event complex, a collection of office buildings, multiple other hotels and directly off a major highway, Liberty Station is a pioneer in bringing polished casual dining to what has long been a restaurant desert. Other operations are following, including Starbucks, which earlier this summer opened a new standalone, drive-thru unit next to Liberty Station. "That's significant," Keeler notes. "There are so many hotel rooms around us and travelers tend to find out where the nearest Starbucks is. Their signage is very visible from the highway. Having them right here is huge for us in terms of building awareness."
Elevated booths in the bar add warmth and comfort and offer views to the patio beyond. Racks above help bring the scale down and provide storage for local craft beer kegs. Images courtesy of Dustin Dresen Photography
Liberty Station's own exterior aesthetics and sensory triggers provide a strong pull as well. As motorists pass by the newly constructed building, they get a bird's eye view of the restaurant's generous, festively lit outdoor dining area, which can be heated or misted to cool as needed. And Liberty's custom-made, 1,000-gallon offset smoker, on display in an open-air room off the kitchen, sends aromas of meats cooking over apple and oak hardwoods wafting through the air.
That smoker, twice the size of those at the Scottsdale Liberty Station, is the crux of the concept both in terms of menu and design. Keeler says roughly 60% of menu sales come from a "From the Smoker" section of the menu, supplemented by a wide assortment of appetizers, salads, soups, sandwiches and signature entrees that span seafood, chicken and steak. Barbecue, or the concept of cooking and smoking meats over fire, drove design concepting as well.
"Barbecue is such a part of American culture. While researching this project, I was trying to tie into what the essence of barbecue is," says Davina Griffis, principal at Scottsdale-based Type-X Design Studio, who led interior design of the new Liberty Station. "Some of the things that really stood out as we built this design concept around barbecue were: a casual atmosphere, the idea of being comfortable at home around a fire, and barbecue as a foundation for drinking and social gathering. We wanted Liberty Station to feel like a warm and welcoming neighborhood social house."
Three key elements of the restaurant's design help to achieve that objective: a large, central bar; indoor-outdoor ambience, thanks to large windows all around and an open-air (in good weather) dining area between the bar and the patio; and the incorporation of fire both inside and out.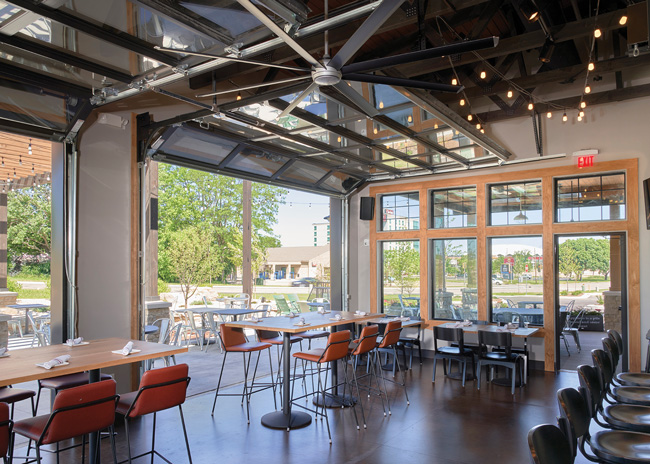 A transition room between the bar and patio features glass garage doors that create a flexible, all-weather indoor-outdoor space.
Where There's Smoke
Inside, a critical experiential element — one considered a must-have by Griffis and Keeler — is a large, freestanding, fully protected fireplace. Surrounded on all sides by counter-style seating, the fireplace is immediately visible through a rebar screen divider wall as guests enter the restaurant but is positioned in a separate but open area off the bar.
If there was a splurge in the project, and an especially challenging element to integrate, it was the indoor fireplace, Griffis says. "It was a complicated process to be able to make that happen, requiring a lot of research, brainstorming and cooperation with the fire department to get special permitting. But it's such an important feature for how we wanted to express the Liberty Station concept. And, being in Wisconsin where the winters are long and cold, it helps create the cozy, homey atmosphere we wanted. I treated this area a little like a residential room, like a kitchen fire might be, and finished it with vintage accessories."
Liberty Station's 1,000-gallon smoker sits in an open-air room just off the kitchen. It's visible to guests inside through large windows along one wall in the bar.Fire plays out in other overt ways, too. The smoker, for instance, is situated behind a wall of large windows in the bar area, enabling guests to see it and the chefs/pit masters at work. And the patio includes a large outdoor firepit that sets a tone and is a visual draw for passersby.
More subtly, fire — or connections to it and its role in barbecue — inspired some material selections as well. Charred wood finishes cover some interior walls, and rebar is used extensively, symbolizing large skewers used in barbecuing. In addition to the entry screen wall, rebar is found in custom banquette backs in the main dining room, as rods from which framed photos and artwork hang, in an LED-lit wine display wall that gives visibility from the entry vestibule into the main dining room, even in entry-door hardware.
"Our aesthetic is elevated rustic," Keeler notes. "It's a bit more contemporary and the finishes are a little nicer than you might see in traditional barbecue places. We use a lot of raw materials — wood, metal and concrete — but we spice things up with leather, custom artwork, statement lighting and unique decor touches that add comfort and sophistication."
Custom restroom wallpaper shows labeled cuts of meat. It's designed to support the brand and to surprise and delight guests by making the restrooms a unique part of the experience.Many of those elements underscore brand messaging as well. Artwork, in particular, was strategically designed and selected to celebrate the art and craft of barbecue, to lend local connections and add touches of whimsy. Custom wall murals depict butchers at work and simple bar wall paintings of a cow and pig illustrate where popular cuts of meat come from. Custom restroom wallpaper shows labeled cuts of meat and antique meat hooks hang from colorful knobs decorating a bead-board divider wall in the fireplace room. Additional framed paintings and vintage photos highlight local and national celebrities, sports figures and mascots, and familiar local scenes. All of the custom artwork, as well as directional signage, was done by Cinque Smith, a Scottsdale-based artist who also works as a server for Keeler Hospitality Group.
An entry vestibule wall displays rows of simple metal cow and pig figures. "Right as they walk in, I want guests to get a strong connection to Liberty Station as a unique and authentic barbecue experience," Griffis says. "And if there's overflow or they have to wait a couple of minutes there, they have something fun to look at. That was the idea behind the restroom wallpaper, too. One of my design criteria is always to make sure that the restroom ties in with the brand. A really cool restroom adds a lot to the guest experience."
While much of the artwork throughout the restaurant is localized, one brand element that is common to all Liberty Stations is a large American flag art installation, which in Madison is displayed in the fireplace room. Made of painted wood, the piece consists of two pieces that together weigh 750 pounds, according to Keeler.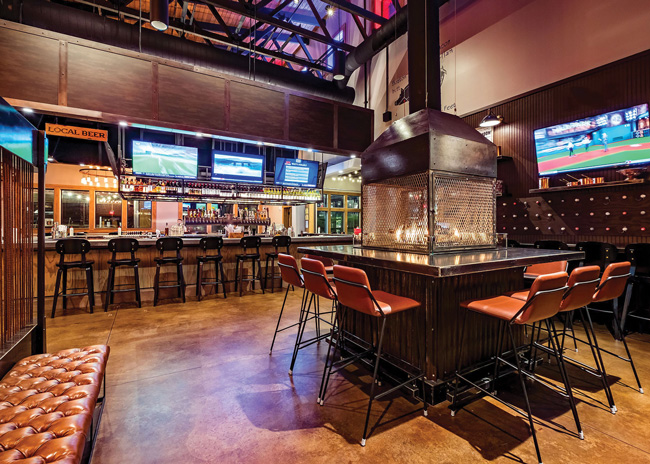 An enclosed indoor fireplace is an essential experiential element of the design.
Flexible Spaces, Multiple Experiences
Right as guests walk in, it was also important to Griffis and Keeler that they get the full measure of what Liberty Station has to offer. The restaurant's open layout and strategic sightlines ensure visual access to multiple areas and design highlights at a glance.
"One of my favorite features of this restaurant is the fact that there are multiple features," Keeler says. "I love the scope of the space when you first walk in, the fact that you can see indoor and outdoor, that you can see the smoker, the bar booths with local craft brew kegs above, the fireplace and the dining room through the wine display. We have a motto at our company that we call 'exceeding guests' escalating expectations,' because, if we do it right, each time they come in their experience should be better for a different reason. It's not cluttered or overdone, but there's something to see and discover in each area."
The various spaces and experiences within Liberty Station also help ensure the restaurant attracts repeat visits for multiple types of guest occasions, from family outings to fans seeking a sports bar vibe to groups or couples enjoying happy hour and/or dinner on the patio. Its flexibility also ensures that KHG can tap multiple revenue-generating opportunities.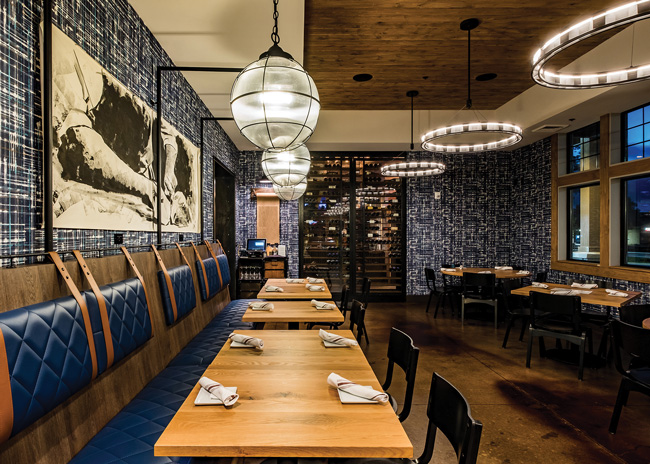 The more elevated main dining room features custom lighting, banquette and flexible seating, and a mural depicting a butcher at work. A wine display wall gives visibility to and from the entry vestibule.
"It was important, particularly with a space this large, that we maximize flexibility for different occasions," Griffis notes. "The seating and the dining zones are very flexible, and they're well positioned to serve everyday local dining and bar guests in a variety of ways as well as more transient business from the nearby convention center and the business hotels around."
The main dining room, designed for a slightly more elevated experience, is divisible via draping to accommodate private dining functions and can be fully reserved for larger business meetings and events. The fireplace room, too, can be reserved for special events and semi-private functions. The transition space between bar and patio can likewise be closed off and rented for private use.
The 29-seat bar, faced in wood and topped in quartz, is extra deep to accommodate comfortable dining, and the room provides high-top communal tables as well as elevated booths. A state-of-the-art sound system enables variable control by zone. "If the Green Bay Packers are playing, for example, we can isolate the sound outside, inside, however we want," Keeler says. "And we have different music playing in the restrooms."
Despite the fact that Liberty Station opened just a couple of months into the COVID-19 pandemic, business has been brisk thanks to barbecue's suitability for takeout and the fact that there is little competition in the area. As restrictions continue to ease, as hotels and office buildings fill to capacity again and the convention center resumes events and concerts, expectations for strong volume growth are high. So is Keeler's optimism about bringing Liberty Station to more new markets.
"We're all very pleased with how this location turned out and, while we may not do subsequent units quite this large, we'll definitely tap a lot of the elements that have come together to make this a very special restaurant," he says. "What we don't want to do, however, is to say, 'Ok, this is it,' and start stamping them out according to a prescribed prototype. We want each location to take on the scope and integrity of wherever it is. That's what we've done here, and that's what makes it so successful." 
The large, central bar is the heart of the front of the house, offering plenty of space for dining, a large liquor display and banks of TVs.
Snapshot
Location: Madison, Wis.
Concept: BBQ-centric American tavern and smokehouse
Opened: June 15, 2020
Project type: New build
Size: interior 5,733 square feet, patio 2,221 square feet; 258 seats total
Average check: $35 per person
Project duration: 14-16 months
Aesthetic: Elevated rustic
Design highlights: Large central bar, indoor fireplace, varied seating styles, custom murals, exposed-beam ceilings, custom wallpaper, American flag art installation, custom lighting, see-through wine display wall, ceiling keg racks, blended indoor-outdoor, 1,000-gallon smoker, large patio with fire pit
Project Team
Ownership: Rimrock Retail Investors LLC C/O North Central Group
Restaurant management: Keeler Hospitality Group (KHG)
Architect: GBA Architecture | Design
Interior design: Type-X Design Studio
Project coordinator for KHG: Mike Rose, Rex Development
Project manager for ownership: Jennifer Koester
General contractor: Tri-North
Landscape design, civil engineering: Vierbicher
Structural engineer: Strategic Structural DesignStrategic Structural Design
Kitchen equipment and design: The Wasserstrom Company
Mechanical design: Harker Heating & Cooling
Electrical design: Pieper Electric
Plumbing design: Zimmerman Plumbing Zimmerman Plumbing 
Fire protection design: Design Build Fire Protection of Wisconsin 
Artwork: Cinque Smith, Cinque Art