Diners visiting Manhattan's City Winery get transported to a time and place in which grape vines line rolling fields and the day comes to an end with a sun-kissed adieu. While it's not quite Napa Valley, owner Michael Dorf has gone to painstaking lengths to create a little bit of wine country amidst sprawling high-rise buildings, stop-and-go traffic and busy sidewalks.
The City Winery experience pairs food and wine with music.City Winery locations can now be found in New York, Chicago, Nashville, and Napa, with each featuring a design that brings the romance of wine and music to life. Dorf plans to bring City Winery to Atlanta and Boston next.
While dinner guests eat from a smattering of globally influenced dishes, private dining and concert guests can walk within the space that keeps wine at the forefront. This includes glass-enclosed rooms that showcase wine-filled barrels. City Winery is indicative of a growing movement among restaurant operators who want to cater to a variety of diners' needs. The venue serves as a restaurant with private dining rooms, functional winery, cellar concert hall and event space that fills myriad needs on any given evening.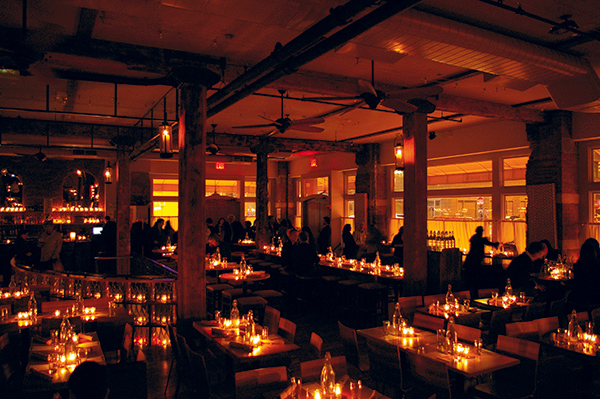 City Winery strives to bring a wine country experience to major metropolitan areas such as New York and Chicago. To that end, the space features lots of wood and soft lighting.Dorf has a background in music and was the founder of New York City rock venue the Knitting Factory. He sold the business and launched the first City Winery. "The reality is that I really wanted to, for a moment in my life, leave the music industry and get into the wine business. And I really loved the idea of creating a true, authentic urban winery in Manhattan," he recalls. "But when I started thinking about the business and the reality, there is an old saying that it's easier to make wine than sell wine. So I gravitated to both . . . and because I love music, I decided to create a multifunctional space with a multirevenue stream base."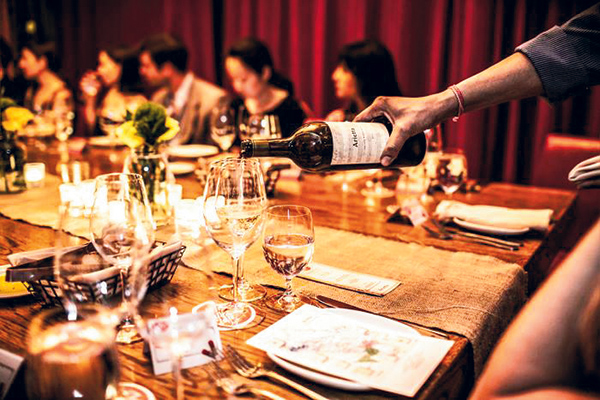 While the first City Winery location featured a large main room, subsequent locations feature private dining options for customers who want a more intimate space for events.Combining two strong interests led to vintage results for Dory. "This allowed me to bring my audience to wine making," Dorf says. "The experience is a little more sophisticated and cerebral, and the music is more listening focused than dancing focused. That works well with a more sophisticated audience, and we are certainly more focused toward a sophisticated evening out and higher-end experience."
From a business standpoint, a big part of City Winery's revenue comes from private events. The venue hosts corporate parties, private dinners, wedding parties, bat
mitzvahs and more.
While it features a music venue, bar and restaurants, City Winery doubles as a working winery. Here staff members prepare to press the grapes for the next batch of wine."We knew we were going to be doing a lot of private events, and we knew we needed to create a space that was very modular," Dorf says. "We could have six to seven different things happening on the same night. Or it could be a whole buyout for somebody. We have a tremendous amount of flexibility in the way we set it up. We're the only place where you can do a private event in wine country. While there are certainly good wine restaurants, they're not a winery. You're not surrounded by barrels and actual wine fermenting, or a sense of traditional wine making, and that makes it unique compared to any other music joint as well."
From a design perspective, each City Winery location incorporates doors and walls throughout each space that add an element of seclusion based on event needs. And each location also builds on lessons learned from the one before it.
The barrels and tap system reinforce the wine aspect of the City Winery experience.For example, the New York location's large main room taught Dorf a few important design and logistic lessons. "I wanted to wow people with the size and beauty of the main room. But we got very popular very quickly, and we started getting press," he says. "So we'd get people wanting to come in and eat and drink, but if we had a show they weren't allowed in. Or if we had a private event, they weren't allowed in. So we kind of failed the most basic 101 of Danny Meyer hospitality school: you don't turn away customers as soon as they come in. The design failed us once we started getting popular and with that level of traffic."
Dorf and his team realized City Winery needed a separate restaurant with its own access so dinner guests would not disturb the people who were there for music. They ended up adding a small side restaurant for the New York City location and made adjustments to subsequent locations.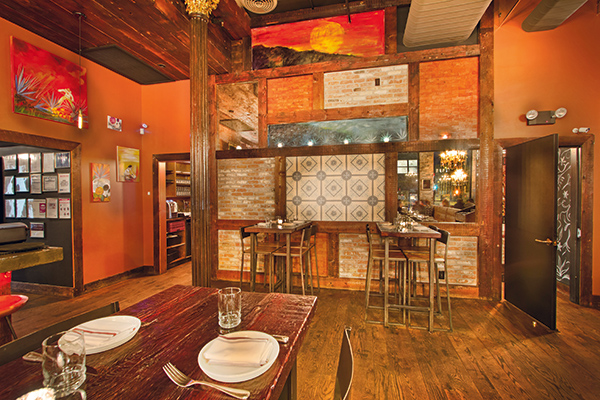 Above: Añejo in Tribeca uses intricate wall decorations to separate the space while keeping a somewhat open plan.The Chicago City Winery lobby flows into the restaurant so guests can see the main bar and the tap wine system. Guests also have a view of the restaurant because they walk through it. Meanwhile, the music hall resides in a separate space segregated by a different set of doors and multiple entrances. "The big advancement was going from New York to Chicago and designing the space for traffic to go to different events," Dorf says. "We want people to see our diners, and we want to show off our cuisine. Once in the lobby, we can direct people either upstairs for a private event on the mezzanine or into two private dining rooms. We also very much want to show off we are a real winery. So we have a lot of visual components that enable people to see inside the barrel rooms, and in the event spaces we try to encompass the barrel space in and around it."
Separate but Together
Using a combination of lighting styles, Añejo is able to distinguish the various aspects of its restaurants.When designing a space that has multiple uses, relevancy should be the main objective. The spaces also need to flow together to tell a complete brand story.
"There should be some kind of continuity throughout the space," says interior designer Vanessa Deleon. "If someone walks into a really cool restaurant with a trendy urban environment, and they walk into a back room with a more glamorous and over-the-top design, even though it's cool to mix trends, it's not really relevant. You need something that brings the entire restaurant together. Spaces can look different but still have the same vibe and that's important."
Deleon has designed spaces for the Food Network's "Restaurant Impossible" and worked on New York City's Añejo in Tribeca. "What I've experienced within the last few months is definitely a trend toward multiuse spaces," she says. "From what I've seen, operators want to keep an open floor plan, but the challenge there is [that] you're pigeonholing yourself because you can't have multiple people at different events within the same space."
To keep spaces separate and maintain the acoustic value in place within each area, Deleon uses accordion-like wall systems that create barriers between rooms. While some may view these types of wall systems as old-fashioned or outdated, design evolution can provide sophisticated updates. This includes the incorporation of textured wallpaper or walls and high-acoustic or non-acoustic models.
"These can be a little costly, but for me the end justifies the means. At the end of the day, you will have more people coming in for all of your space uses without interference. To me, it makes sense," Deleon says.
Yabba Grill uses curtains to separate the restaurant's various spaces.Velvet curtains or other types of heavy drapery provide restaurant operators another way to separate open dining spaces from private party rooms.
For example, the owners of Culinary Concepts, a restaurant group with five eateries in the Naples and Estero, Fla., region, use velvet curtains to divide the spaces at Yabba Island Grill and Chops City Grill. Of the five locations, Yabba Island Grill and Chops City Grill in Bonita Springs have private dining spaces, and both restaurants offer a full space buyout for wedding functions or corporate events. Yabba features a party-like atmosphere, says CEO Skip Quillen, while Chops City Grill provides a more upscale atmosphere.
The curtains at Yabba Island Grill divide the main restaurant from its private party and event space, according to Keith Cronebach, Culinary Concepts' director of reservations and customer relations. In contrast, Chops City Grill uses a retractable wall to separate private parties from regular dinner guests.
Yabba Island Grill seats about 250 guests and uses a wine rack to close the private room. It also has the equivalent of a rolltop desk wall, which goes around the room. The room can hold up to 50 people, and the restaurant keeps it closed during off-peak hours.
"At Yabba, we like to tell the guests up front the room is separated by linen curtains. When private parties are there, so much is going on they don't notice what's happening outside that space. Yes, they can hear back and forth, but once the party gets going they're not going to notice it so much," Cronebach says. "We do a lot of rehearsal dinners and wedding receptions there because it's next door to a boutique hotel that holds a lot of weddings."
At Chops City, the private dining space also seats up to 50 people, and another outdoor patio and bar can host additional private functions. "Chops City is two miles from Hyatt Coconut Point, which is a huge destination property and is popular with convention groups," Cronebach says. "And we can visually make our spaces so you don't see other guests. You may hear them, but you don't see them." The spaces offer an extension of their dinner menus, and guests can choose the items they want to serve.
Culinary Concepts created the private dining spaces because the two locations had additional square footage. "The availability wasn't there in the other locations, and the flexibility to have private dining is huge," Quillen says. "We get a lot of corporate CEOs who pick Yabba because their guys want to have fun but in a controlled manner. At Chops City we do more smaller parties and things like that."
Quillen is working on a new location and says he has six to seven rooms planned for private dining functions. "I would call it more transitional space because you want the best of both worlds," he says. "I want to be able to turn spaces into private or public ones. I think the curtains and half walls work just as good as regular walls. Regular walls cut down a restaurant so you ruin that experience for any planned excitement. If you go into a restaurant and it's all cut up with walls, that decreases the energy customers give out and how it looks."
Design Well
Making the decision to incorporate a private dining area should depend on space and also on region, says Susan LaFleur, an interior designer with Miami's Stantec. LaFleur and her team are behind the recently opened Red Ginger restaurant in Miami Beach, as well as the new Aloft South Beach and the Gale Hotel. "If you look at New York, the whole idea of multiuse is amazing up there because the spaces are so small. For us down here, when you go to South Beach or Miami, you want to be seen and see people."
LaFleur is working on a restaurant in Miami's Brickell City Center that initially included a private dining area, however, the owner decided that separating rooms was not a priority. They decided instead to open up the space and create multi-purpose areas within one room. Those areas will include a juice bar, taco bar, regular bar and cold bar. "This owner has 50 restaurants in Mexico, and this is his second one in the U.S. For us, the idea to separate something off doesn't work because it's all about being seen," LaFleur says.
With that in mind, the restaurant's juice and regular bar will sit near the front door so people can grab a nonalcoholic drink on their way to the movies and other events, or stop in for a cocktail. The taco bar is on the other side, and seating is spread throughout to create an active space. Yet while private dining functionality is not a component at this particular restaurant, LaFleur's Berkeley Shore Hotel project includes private areas for wedding parties, receptions and the like. For example, the hotel's rooftop swimming pool and bar can be rented out for private functions, and its Zen garden has moveable furniture to accommodate multiple needs.
"This is the space we will use during the day as a lounge area for guests, but at night people can use the space for private parties," LaFleur says. "It's the best location because it's in the front of the building and looks at the water."
The inclusion of private dining spaces is about utilizing the full capabilities of a space to further drive guest use. These spaces tend to be relatively larger in size and a bit more expensive overall. However, they can drive increased revenue if done well.
"For operators, it's about having the space work for them instead of vice versa," says Deleon. "So if you can do a hookah bar, small lounge, or cabaret . . . you get more bang for your buck because you can speak to different demographics and work toward that angle."