Sausalito, Calif.-based Barrel House Tavern took top honors in the "Play" category in the 2014 International Interior Design Association Northern California chapter's awards program.
Designed by CCS Architecture, the 5,000-square-foot, 140-seat restaurant occupies space in a historic building that was once the original ferry terminal that shuttled passengers from Sausalito to San Francisco before the opening of the Golden Gate Bridge. After sitting vacant for the past several years, building owner Chris Henry spent nearly two years renovating the space into Barrel House Tavern, his own concept.
Acting as the owner and the contractor, Henry and his team handcrafted as much of the space as possible, from the walnut slab dining tables to the leather belting that lines the bar. Efforts were made to retain the building's historical character, including the handcrafted reclaimed maple ceiling that curls in like a barrel, expansive windows and a deck overlooking the water. Existing cement plaster arches were refinished and polished, and lined with formed bronze.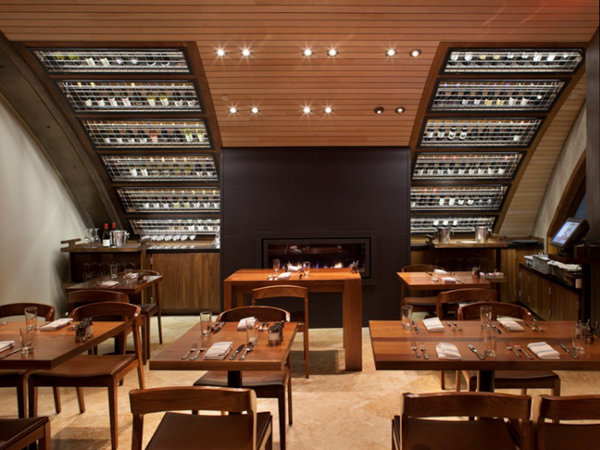 A long Carrera marble-topped bar centers the space, flanked by an intimate lounge on the left, where plush banquettes and ottomans surround a blackened steel fire orb. Custom curved shelving acts as a champagne display in the main dining room.