The new Taco Bell Cantina prototype drops drive-thru for alcohol service and an open kitchen to create a new experience in urban markets.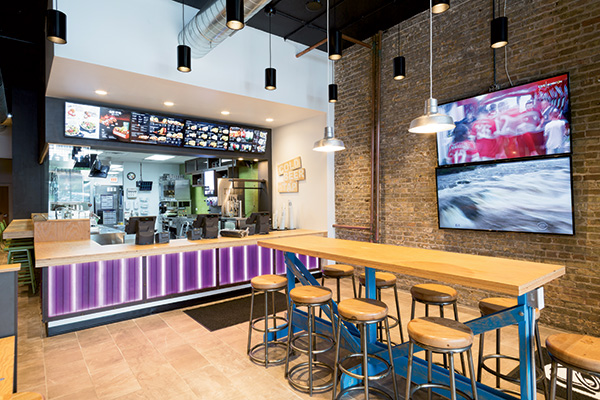 The first of these restaurants opened in Chicago's Wicker Park neighborhood this fall and serves alcohol alongside the brand's signature items. The second Taco Bell Cantina will open in San Francisco.
The new concept was developed to meet the needs of the next generation of Taco Bell fans. "These new urban restaurants are a critical part of our growth strategy in markets where people experience our brand differently," said Brian Niccol, chief executive officer. "Today's consumers are living in more urban settings, and our new restaurants cater to their lifestyle in adapting our traditional restaurant concept to fit their modern needs."
Designers incorporated five major consumer trends in the development of the concept, beginning with the urbanization of the space to cater to a largely Millennial customer group. The restaurants' design makes them a natural fit for urban areas with high pedestrian traffic and showcases urban-inspired, mural artwork on the interior walls as well as local architecture to fall in line with the neighborhood setting.
To provide a more modern appearance, the new prototype includes various technological features, including digital menu boards, TV monitors and apps for mobile ordering, payment and pickups. The new urban locations will use reclaimed elements where possible. An open kitchen design and food served in open-face baskets will lend a more transparent feel to the space and food.
At the Wicker Park location, brick walls and prismatic glass were restored to help preserve the 100-year-old building. The location also features a mural designed by local artist Revise CMW, which serves as a nod to the neighborhood's history as an artistic hub.