Innovation leader in construction, equipment design and process improvements, Captain D's
Captain D's needed to change things up. It wanted a smaller footprint for its restaurants, but it also wanted a more efficient kitchen. The result has been a dramatic change in both front and back of the house.
The Nashville, Tenn.-based brand, which has 535 units across the U.S., will have more restaurants featuring its brand-new Mach 1 design and new kitchen by the end of the year.
Larry Jones, innovation leader in construction, equipment design and process improvements for the chain, discusses how he went about implementing these changes.
You worked with two different brands from a multiline foodservice equipment manufacturer to develop your new Energy Star-certified countertop electric fryer to replace your gas fryers and freezers to go under those fryers. What were your goals in working with these two separate equipment lines that are owned by the same company?
LJ: We wanted more efficient fryers, and we wanted cold storage underneath them, not flanking the row of fryers. Captain D's core menu products require frying, and I found there were no commercial-grade high-volume countertop electric fryers with refrigeration underneath them, which we wanted.
I wanted to reduce the overall footprint and make the best use we could of vertical space in our kitchens; we had to figure out how to get fryers on top of freezers because 80 percent of what we put into the fryers is frozen, and it took too much time for employees to walk to the freezers that flanked each end of our line of fryers. We wanted to save time and labor.
So, I challenged three fryer manufacturers, and one came up with the electric fryers in a couple of years. Since we were reinventing the commercial fryer, we decided to improve the dimensions of the vessels, which had been largely unchanged for decades. We configured them to be more shallow, wider and with less front-to-back depth so employees could reach to the back of the fryers more easily. The reduced depth allowed us to design pan holders into the front bullnose of the fryers to accommodate breading and battering pans. Existing fryer design required pan holders hang onto the front of the fryers, jutting into the aisles. This caused us to build larger kitchens just to facilitate the necessary aisle width. Essentially, less than $100 in breading pans was driving thousands of dollars in kitchen construction.
What efficiencies have the new fryers and freezers led to?
LJ: In our previous designs, we used as many as three separate exhaust hoods so cooking activities could be broken into islands with supporting refrigerated food storage. The fryers and freezer bases allow us to deploy our entire cooking platform under one continuous exhaust hood with our cold storage beneath. This created the opportunity to wrap our kitchen around our equipment and take approximately 200 square feet out of our smallest kitchen to date.
Another benefit is that our customers are served their food more quickly because of faster fry times through improved temperature recovery and employee efficiency due to fewer steps. Faster fry times translates into less oil-to-water migration. Our signature menu items, like our battered fish, are lighter and crispier. We are also seeing increases in fry oil yields.
We've also been able to reduce the tonnage of our air conditioning and reduce the air volume of our exhaust fans by approximately 350 cubic feet per minute. These benefits result in a significant ongoing savings for us and our franchisees.
Though our goals included efficiency and lower construction costs, our overarching desire is to always serve the best food possible. We've achieved our goals through continual innovation and successful collaboration with forward-thinking manufacturers.
Additionally, we've been successful in partnering with utility companies to incentivize our franchisees to retrofit or build new with countertop electric fryers. Southern Company and Tennessee Valley Authority currently have incentive programs with us.
Do you have to commit to buying a certain number of these products from the manufacturer?
LJ: No, because we both went into this project based on prior relationships and the belief that if we came up with something that could be industry altering, we would both benefit. I do ask for one year of exclusivity in the marketplace in exchange for the intellectual property we bring to the collaboration. Manufacturers are usually happy to do that.
Obviously, this has a great outcome because we have committed to this on all new builds.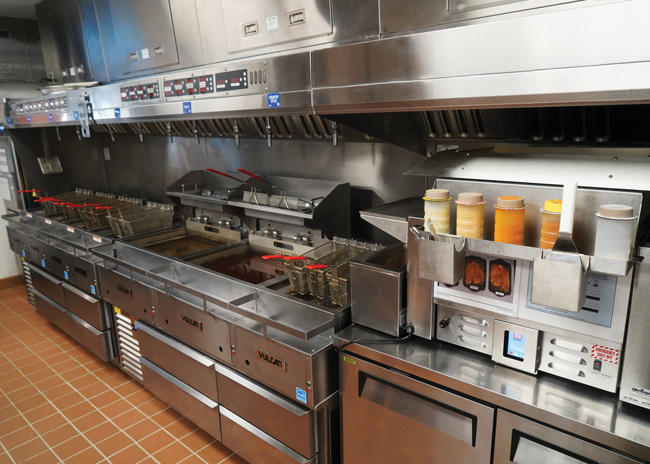 Captain D's worked with a manufacturer to reimagine their refrigeration and fryers. Image courtesy of Captain D's
You have saved labor under your new model. Have you eliminated positions?
LJ: We've taken the labor efficiencies and re-invested them into guest-facing positions such as cashiers and servers to enhance the customer experience. We're doing our best to become more efficient in preparing meals so we can keep our focus on delivering great hospitality. We're not trying to take labor out; rather, we are seeking to moderate rising costs and enhance service by building an inviting, more efficient facility.
Describe your new smaller-footprint prototype.
LJ: The Mach 1, our new prototype, can now operate from 0.7 of an acre. We used to need about an acre and a half. We accomplished this through a combination of taking out some seats and reducing the size of the kitchen. Now, our average restaurant size is 1,950 square feet; previously, it had been 2,800 or more. It's hard to cut the proportional amount of the kitchen to the overall building size, especially when dining rooms are becoming smaller. Our end result, however, is a kitchen that's roughly 35 percent of the building compared to the previous 50 percent or more.
The Mach 1 features 16 tables and 44 seats in the dining room, whereas our previous prototype had upwards of 84 or 86 seats. We focused on occupancy and average party size, not just seat count. We changed the mix of tables, adding two-tops in place of four-tops, overall optimizing dining room space, considering people sit at tables, not chairs. The building can be easily modified to enlarge the dining room should dine-in demographics warrant.
Will these be used in all new builds?
LJ: Yes. This year, we will complete more than 25 new restaurants. Most will feature the Mach 1 design, depending on when the project starts. All future ground-up construction will feature the countertop electric fryers and Mach 1 building design.
Are you retrofitting restaurants to feature the electric fryers?
LJ: We're retrofitting in a limited way because in most cases, it requires an electrical service upgrade.
Another challenge in a retrofit is that the average Captain D's has seven fryers, and switching from gas fryers requires replacing all seven. However, you rarely have a situation where you need to replace all seven at once. We're doing some retrofits by taking into consideration the overall volume of the restaurant with the ROI and any electric company incentives we have available.
Can you give me a little background on yourself — how you ended up in this position at Captain D's and what you like about your role?
LJ: I'm enjoying my eighth year at Captain D's, and I was with Cracker Barrel for 20 years before that as vice president of innovation.
I've always been interested in the design side of restaurants. I started my career in restaurant operations at the unit level, and I've always been fascinated by workflow, equipment design, internal processes and how employees integrate with equipment.
I've been very fortunate that my insatiable curiosity and meager talents have allowed me to enjoy meaningful work. I'm not an engineer by trade, or a contractor — just an operator who has a bit of mechanical sense and is always trying to make things better, faster and easier.