New prototype elevates the fast-casual dining experience.
As fast-casual dining kicks into high gear and many restaurant operators scrimp on ingredients to cut costs, Sharky's Woodfired Mexican Grill stays true to its mission of offering fresh, healthy food with quality ingredients. These attributes have been the key ingredients in the restaurant chain's recipe for success since opening the doors of its first location in 1992, long before eating local and organic became a trend.
Sharky's newest location opened in Northridge, Calif., in July 2015, costing $1.8 million. This marks the first design prototype of its kind for the franchise and embodies Sharky's philosophy of honesty and integrity in every ingredient. "Our food is real," says Sharky's CEO and founder Steve Paperno. "We strive to source organic, natural and local ingredients. We probably have more organic ingredients than any other chain, period. We take a lot of pride in sourcing our ingredients. I know a lot of people talk about it and use that as a branding element, but we really live it. What we wanted to do was create an environment that's conducive to the food we're offering."
The Westlake Village, Calif.-based chain has 23 locations concentrated in Los Angeles, Ventura and Orange counties in neighborhoods where active, health-conscious consumers reside. Sharky's serves fresh-to-order foods from tacos and burritos to superfood salads and stone-fired pizzas. The dishes mainly consist of local, organic and natural ingredients, including several different varieties of organic lettuce, GMO-free corn, wild-caught Alaskan salmon, hormone-free chicken and Angus steak, and organic rice and beans.
A Ripe Opportunity
The new single-story, stand-alone restaurant resides in a retail center across from California State University–Northridge and the Valley Performing Arts Center. While the land previously housed a dilapidated, 1960s-era Mexican-themed restaurant that vacated the area after the neighborhood began to deteriorate, Sharky's management saw the potential in the retail location. This was a departure from Sharky's usual approach of setting up shop in affluent neighborhoods.
Located near the corner of Nordhoff Street and Reseda Boulevard, these two cross streets had been targeted by Mayor Eric Garcetti as part of his Great Streets Initiative and were ready for a revitalization. When time came for Sharky's management to meet with the property owner, they were prepared to prove that they weren't simply another "me too" establishment.
"We sat down with him and showed him our vision, and he immediately got it," says David Goldstein, Sharky's chief operating officer. "He said Northridge could be a great pedestrian neighborhood if we had great places for outdoor dining. For us, the draw was the [the proximity to] the university and what was becoming a vibrant retail community and pedestrian- and bicycle-friendly environment. We had this vision to take this building and piece of land and turn it into an icon in the community."
Northridge represents Sharky's first ground-up building, which is unique in building fast-casual restaurants. "Very rarely do you have the opportunity to design a building from the ground up for a smaller-sized concept like this," says Eddy Bitton, president of Bitton Design Group and designer on the project. The initial plan was to remodel, but after studying the amount of the structural changes involved, knocking it down and building it from scratch would cost roughly the same. "And it would allow us to do something dynamic and define what the concept looks and feels like from an exterior as well as an interior standpoint."
Curb appeal was especially important for this very visible location. One end of the building faces busy Nordhoff Street, and the team took advantage of being able to start with a blank canvas and design every aspect of the restaurant.
"We have these horizontal, streamlined eyebrows going all the way around the building in stainless steel, and this eye-catching soaring patio roofline with these diagonal wood Douglas fir beams," Bitton says. This design feature announces to passersby that Sharky's does not represent your typical Mexican-inspired or fast-casual restaurant. Additionally, an outdoor patio seating area with a fire pit feature out front creates an enticing invitation to guests.
Keeping It Real
Community tables do more than support quick use for customers who want to come in with their electronic devices to grab a fast lunch. They serve as a visually dynamic element in the center of the restaurant.Each Sharky's location reflects the same brand image yet remains unique in its own right, and the new Northridge restaurant is no exception. For the interior, a new and modern twist on the design scheme takes cues from Sharky's fresh, natural food and how the chain sources it. "We wanted to elevate the experience to support that idea, so we used this juxtaposition between the natural materials but presenting it in a streamlined, contemporary and clean way," says Bitton. "It feels current and hip but also warm and comfortable."
A signature design element in the new restaurant, several rustic, sandblasted Douglas fir beams arch over a row of high-top communal tables to create the appearance of a wood screen beneath an earthy green–painted soffit. Black oak wood beams that connect to the roof structure above accent the rustic beams.
Mixing up the seating options helps Sharky's cater to a diverse demographic, which includes families, couples, singles and students. "A lot of times we've found that one person would take up a whole booth, which would take up an opportunity for four people to sit there," Bitton says. "The community tables support that quicker use for somebody who wants to come in with their iPad and grab a quick lunch. It also breaks up the restaurant; you have this element in the middle of the restaurant that's visually dynamic, and around the perimeter, you have more traditional seating."
Tufted leather booths with a slight retro feel and galvanized metal tabletops with diamond-studded accents make up the rest of the dining room. Hanging glass jar pendant light fixtures and chalkboard signs framed in metal pipes add industrial character, while Carrara marble countertops with a waterfall design combine to create a contrasting palette. Above the bar, which features a selection of local craft beers, a vintage-style neon sign pops against a reclaimed wood background with the company slogan "Feel Good About Eating."
The design celebrates the chain's use of natural ingredients by putting them on full display. Case in point: striking black-and-white close-up shots of onions, garlic and beans were transformed into a collection of oversized photograph canvases set in rustic reclaimed wood frames and hung on the wall in the vestibule area along with a round antique mirror.
At the front counter in between two POS systems, a custom refrigerated display attracts attention to Sharky's enticing beverages, which feature jars of freshly made sangrias, seasonal handcrafted lemonades like watermelon basil and pineapple lime, and hibiscus teas, and a farm sink brimming with ice-filled cups ready for guests to grab and go. "That was one element they were really trying to incorporate in the design that people weren't aware of," says Bitton. "It adds a lot of color and texture and emphasizes this whole idea that 'I don't need to get a Coca-Cola; I have a lot more choices.'"
That freedom of choice in healthy dishes and drinks has won the loyalty of many Millennial customers in recent years, who were never the chain's main demographic. "Millennials are looking for places they can trust and trust the quality and ingredients," says Paperno. "We're also seeing a higher percentage of the Hispanic clientele ... a lot of whom have been growing up with their parents having diabetes, obesity and high cholesterol. That's a small part of our audience, but we're seeing that grow."
All about Transparency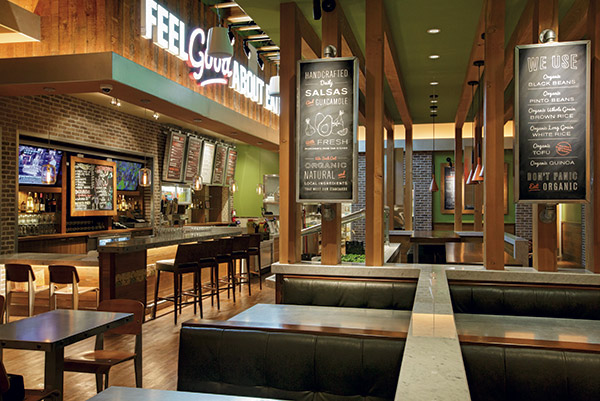 Sharky's interior design features plenty of natural wood tones and signage that pays homage to the chain's use of natural ingredients. Twenty-two-foot ceilings, plentiful windows and booths providing some intimacy make the dining room feel spacious and generous. To maximize space in this high-volume restaurant, all of the mechanical and HVAC equipment sits above the kitchen area to create height and maximize the use of the overall space.
The open kitchen, pizza oven and cook line sit next to where customers order, making it easy for guests to see their food freshly prepared right before their eyes. "It's all exposed to the customers, so you get the smells and the visual of the fire," Bitton says. "You're connected with the culinary side of it. This emphasizes the fact that it's from scratch and natural. They don't do anything that's bought out — everything is freshly prepared there every morning, and they're proud of that."
The typical Sharky's location features a 1,000-square-foot kitchen, but for this location, the company worked with the kitchen designers to streamline this back-of-the-house space as much as possible. This included putting in a smaller walk-in cooler. "We worked with our distributor to take more frequent deliveries in order to do that," Goldstein says. "Because we don't have freezers and buy so much fresh product, having a lot of regular deliveries is not a bad thing, but we utilized 100 percent of the square footage in the back of the house to ensure that we didn't waste any space."
Sharky's management hopes this first freestanding model for the chain will help distinguish the concept from the competition. While Sharky's tests each model before it allows franchisees to use it, Northridge has already shown signs of success. "We do a good amount of business in the evenings as the Valley cools off and people come out to use the patio and fire pit area," says Goldstein.
At this location, beverage sales are up, and overall sales are 15 percent better than projected after a strong opening. As students return in the fall, Sharky's expects sales will continue to grow. "We're really excited to keep that momentum going," Goldstein says.
Sharky's recently opened a new location in Thousand Oaks. Next, others will debut in Studio City and Tualatin, Oregon.
Project Team
Project lead: Steven Paperno, CEO and founder, and David Goldstein, COO
Design: Eddy Bitton, Bitton Design Group
Kitchen design: Gregg Golem, Interactive Restaurants Consulting Inc.
Snapshot
Headquarters: Westlake Village, Calif.
Owner: Sharky's Woodfired Mexican Grill
Concept: Healthy, fresh Mexican-inspired
Segment: Premium fast-casual
Average check: $13.50
Location: Northridge
Units: 23
Opened: July 2015
Size: 2,800 square feet
Real estate: Freestanding, retail center
Design highlights: Sandblasted Douglas fir beams, Carrara marble counters, galvanized metal tabletops, tufted leather booths
Build-out: 18 months