Newly opened in the Kimpton Monaco Hotel in Pittsburgh, The Commoner pays homage to the Steel City's industrial past, taking its name from William Pitt, First Earl of Chatham, for whom Pittsburgh is named and who was also known as "The Great Commoner."
The 4,500-square-foot space, developed by Designer/Architect Mark Zeff, used simple furniture, subdued lighting, rustic materials and a dramatic bar to evoke a traditional Pittsburgh beer hall where steel workers and politicians might have rubbed shoulders.
Located below street level with only diffused natural light, Zeff collaborated with Mirror-Tique to custom-design an oversized antiqued mirror hung across the back wall with an inlaid map of the city to reflect light from the high windows.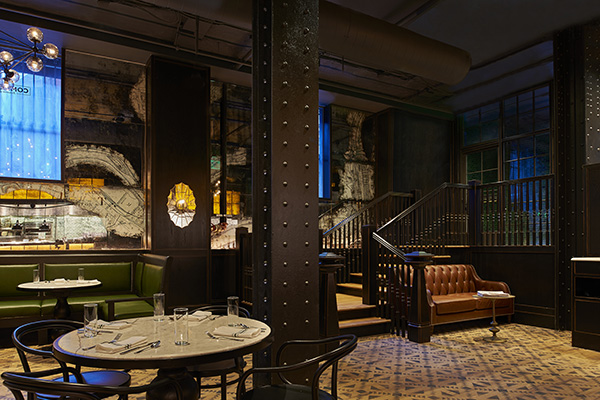 To further the homey tavern feel, wooden, bar-height communal tables with marble tops were set in front of the bar for a mixture of seating options, while the exposed kitchen allows guests to eat at the counter. Reclaimed wire amber glass lights up the back bar, and all of the bar stools, tables and banquettes are custom-designed by Zeff. The space also features steel I-beams from salvaged architectural columns as well as work by local artists.