Burger chain Johnny Rockets is built around two things: a classic all-American menu featuring burgers, shakes and fries; and an environment that helps create a memorable experience.
In its traditional units, this environment focuses on nostalgia, including waiters dancing to classic rock-and-roll and ketchup squirted into a smiley face that's served with every order of fries. These elements are reinforced with a 1950's style decor featuring red barstools for counter seating and Norman Rockwell-style paintings.
The chain recently announced a push into the college and university segment with its new Express prototype. Working with either self-operators or contract feeders, these locations will range from 500 to 1,100 square feet, and are designed for food court style spaces with little to no captive seating. While Johnny Rockets declined to forecast how many of these stores it expects to open, the first should be operational in the coming months.
While the food at these stores will remain the same, the experience will be customized to each diner and the design customized to match the location.
Start with the experience. "[Singing, dancing and smiley ketchup faces] are how we engage with Boomers and Gen-Xers, but is that really what Millennials want?" asked James Walker, the chain's president of operations and development. "Millennials are what is driving casual and fast-casual today. When we think of the Millennial customer and how to drive that experience, it's really engagement more than entertainment...We're talking consumer-facing technology, the ability to speak to their friends who might be in another Johnny Rockets using social media, the ability to control and manipulate their environment."
Whether customers get a dedicated seat or are in general seating nearby, they will be able to interact with the restaurant through either a tabletop tablet or a smartphone app, said Walker. Their options will include customizing and placing their order, playing games on the tablet and even choosing a song to play on the restaurant's overhead speakers.
"Think of it as a modern-day equivalent of a jukebox, which is obviously part of that historic, nostalgic Johnny Rockets environment. Instead of putting in a nickel and playing a 45 record, now you're pressing a button to queue up the next song to be played," said Walker.
In addition, customers will be able to order by kiosk. One advantage of this technology, especially in a university environment, is that a kiosk can be located anywhere. The chain, said Walker, may place ordering stations at different locations throughout the school. This would allow customers to place an order across campus and have their food ready by the time they walk to the restaurant.
Technology is also making its way into the Johnny Rockets' decor. The chain's Norman Rockwell-style paintings are out, with two new design elements taking their place. Video monitors will rotate images of the chain's food with other images and information, such as highlights from one of the school's recent sporting events or celebrations of famous alumni. As for art, the chain will start using food photography along with text that highlights its use of fresh produce and never-frozen beef.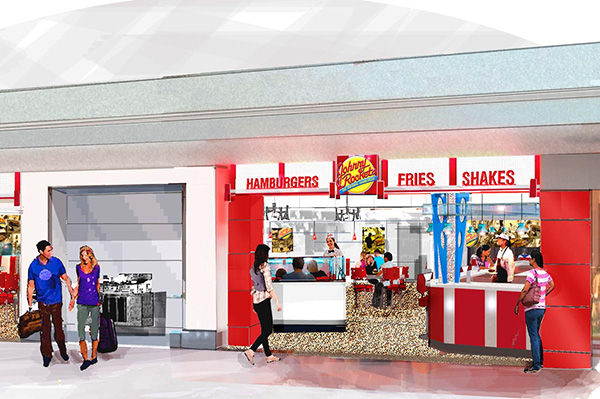 More basic elements of the decor, like the chain's color scheme and materials, are also changing in the Express prototypes. While the logo will stay the same, instead of the bright reds the color palette will start with an earth tone. Other colors will then be added to match dependent on the location. This will let each new store emphasize its connection to the community by adopting the colors of the school where it's located.
In addition, these locations may use materials not found in the traditional Johnny Rockets. Based on what fits with the store, these materials may include bamboo, reclaimed wood, stainless steel and galvanized metals.
Essentially, said Walker, the Express concept will be "true to Johnny Rockets as a brand but also speak to the individual location. If we're working on a location in Hawaii, we'd want a decor package that speaks to the island culture...For us to build the same prototype in Manhattan that we would in Hawaii, I think we'd be missing an opportunity to speak to the local community."