New York's Times Square now has its own unique urban food market, City Kitchen. Opened in March in the artsy Row NYC hotel, City Kitchen gives guests and locals alike a taste of some of the city's most buzzed-about food concepts all in one central location.
Housed on the second floor, with entrances from both 44th Street and 8th Avenue (as well as from Row NYC's lobby), City Kitchen features nine permanent and seasonal vendors who serve up specialties from their original locations around the city.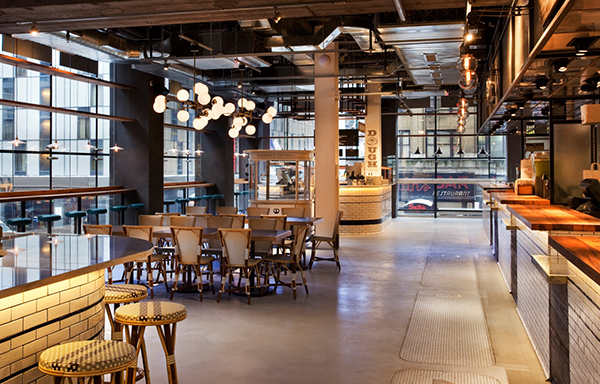 "We searched the city for authentic and dynamic vendors across a variety of categories and tasked them to pare down their menus to the best of the best. The result is a menu of crave-worthy options, cherry-picked for both travelers and the locals who know these purveyors so well," says Heidi Avedisian, Row NYC's brand strategist, who designed the space and curated the food concepts.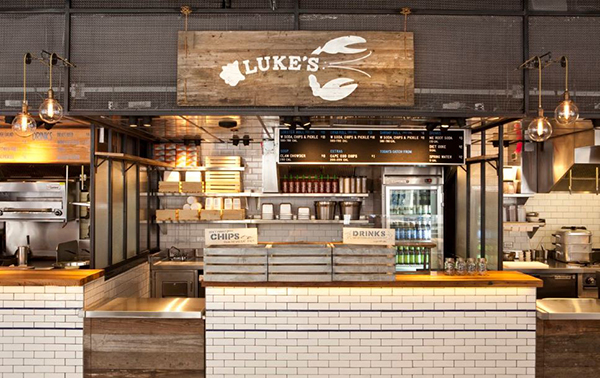 Permanent vendors include Azuki (sushi), Dough (donuts); Luke's Lobster (lobster rolls); Whitman's (burgers); ilili Box (Mediterranean street food); Gabriela's Taqueria (tacos); and Kuro Obi (ramen bowls). Initial seasonal attractions include Wooly's Shaved Snow and Sigmund's Pretzels.
The City Kitchen concept, Avedisian says, targets both eat-in and takeout occasions. "Although the space is only 4,000 square feet, it feels a lot larger with the floor-to-ceiling windows. I wanted to create a space where people could congregate and enjoy, whether stopping by for a quick lunch or staying for a while and having a bite and drinks with friends or family," she says. "The seating also spills into the Row NYC hotel, which gives people another dynamic environment to sit down and eat, whether it's on the stadium stair steps or in the District M bar and lounge."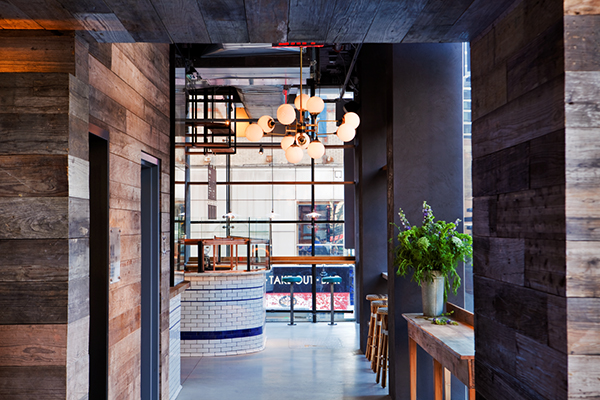 Key design finishes throughout City Kitchen include white subway tile, marble, reclaimed wood, gingham and dramatic Italian glass chandeliers. Seating styles are varied for individuals and groups, and fixed steel and turquoise leather stools along window counters provide customers with unobstructed views of Times Square.
"For the most part, the space has uniform design," Avedisian notes. "It's both nostalgic and modern at the same time and provides a clean, smooth backdrop to the hustle and bustle. However, it feels inviting and layered with the individualized custom signage and menu presentations inspired by each of the vendor's brands. Of course, the actual product that each vendor offers adds additional layers of individuality and interest – lobster crates, steaming ramen pots, a cast iron tortilla press. These all reflect the authenticity and drama of City Kitchen."
The biggest design challenge, she says, was creating a functional, warm and vibrant space that would feel welcoming both inside the space and also as viewed from the street. In addition, "We were always focused on overcoming a second-floor location. This is where lighting and textures of materials played such a critical role. Coming down 8th Avenue toward City Kitchen is a triumph, especially at night when you see it all aglow. It's magnetic."