LAGO, the third Las Vegas restaurant by Michelin-starred chef Julian Serrano, builds on the Bellagio Las Vegas tradition of offering world-celebrated chef restaurants overlooking the hotel's iconic fountains.
The contemporary, Milan-inspired Italian restaurant opened in mid-April.
"I remember when I was approached about opening my first Bellagio restaurant, Picasso, in front of some 'wild fountain.' It was unheard of at the time, but the potential was undeniable," said Serrano. "LAGO is a continuation of what Jean-Georges [Vongerichten], Sirio [Maccioni], Todd [English] and I started here – executing exceptional, thought-provoking cuisine in a setting you can't find anywhere else in the world."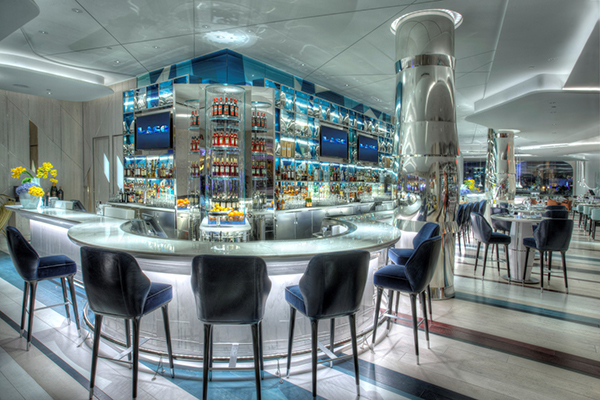 Inside LAGO
Boasting a new outdoor patio with front-and-center views of the Bellagio fountains, LAGO's design is inspired by Italian Futurism. Highlights range from the bold 1,500-square-foot mosaic map of Milan at its entrance to the sleek marble "mixology counter." The dining room, designed by Munge Leung, features large arched window views of the fountains from every seat.
LAGO's menu focuses on creative small plates and Italian cuisine in the 21st century.