While distinctive wall murals seem to be en vogue in many new and refreshed restaurants, they have long been an iconic part of Firehouse Subs' décor package. With the exception of a few that lack wall space, every unit in the chain's system sports a custom-designed, hand-painted mural. And every one of those murals has been created by Joe "Art Brush" Puskas, who heads up the chain's in-house art department. Puskas shares the backstory of the murals, which now number more than 850.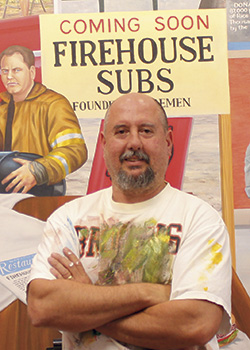 Joe Puskas, Chief Mural Artist
Firehouse Subs
www.firehousesubs.com
rd+d: How did you get started painting for Firehouse Subs?
JP: I've been a commercial artist for about 25 years, and early on in my career I did a mural at the back of a local restaurant that got some media coverage. Firehouse Subs founders Chris Sorensen and Robin Sorensen were getting ready to open their first restaurant back in 1994 in Jacksonville, Fla., and were looking for someone to paint a faux brick wall to lend a firehouse feel. They approached me and I suggested that instead of just painting bricks, they do a mural. They loved the idea and the rest is history. I did the first 15 units or so right on the walls, traveling to each location, but as the company started to grow so fast that became impossible. We brought the mural painting function in-house and built an art department to handle the demand.
rd+d: What does that department look like today?
JP: I'm an independent contractor and I have six full-time employees. We have a studio at Firehouse Subs' headquarters and do all of the murals there. We always have five murals at a time up and in progress and the company loves to bring franchisees in to get a peek at the action.
rd+d: Each mural is still created by hand, and each is different?
JP: I design and draw all of them and my crew paints in various portions. I do all of the portraits and all of the finishing touches. If there's anything I don't like or that needs extra love, I do that at the end. The murals are an important part of the interior branding and each one is designed to incorporate local imagery.
rd+d: Do franchisees get to choose what goes on their mural?
JP: They have input. I have them send pictures of local landmarks or community institutions and then I put together some ideas of what I'd like to do and run that by them. Sometimes they have specific buildings or people they want included, but the more complicated their requests are the more the murals cost so we try to keep them somewhat simple and affordable.
rd+d: Does corporate get involved, as well?
JP: Not really, other than requiring that every restaurant has a mural. We have a lot of creative license but the whole idea is to pay homage to the local fire department, so they all have trucks and firefighters.
rd+d: What materials does your team use and how long does it take to create a mural?
JP: They're all painted on canvas that we roll up and ship to the restaurants. The paint is exterior house paint, which is an acrylic product that dries fast and has a nice semi-gloss finish that can be wiped clean with a damp cloth. Each mural takes about 60 to 70 hours to create.
rd+d: Do you help with installation?
JP: Once they're shipped I'm done; the contractor handles installation. But I did put together a YouTube video to show them how to do it right. We've done so many that I figured I'd do a video to share my technique.