Desserts are big business and today, more than ever, consumers are seeking restaurants that specialize in them.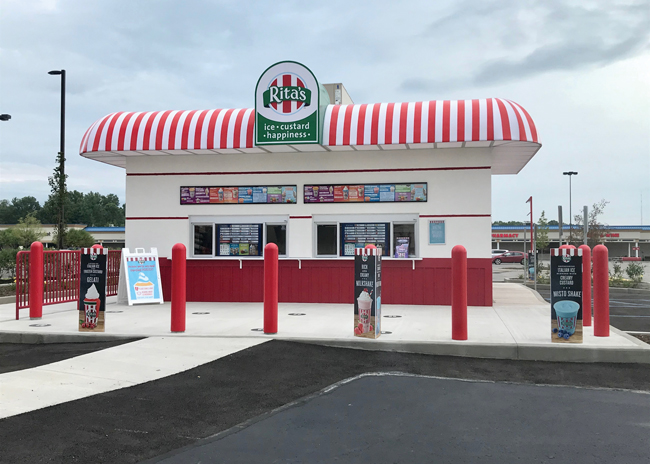 Images courtesy of Rita'sThere are concepts selling cookies, cupcakes, pies and frozen desserts and they're trending. According to Chicago-based market researcher Datassential, dessert concepts grew their total sales by 12.3% in 2021, and some of them, like Crumbl Cookies and Salt and Straw, were among the most rapidly growing of all restaurant segments. Indeed, in 2022, Crumbl Cookies alone opened 365 locations.

Desserts became really popular during the pandemic, says Huy Do, research and insights manager, Datassential. "They are a mood booster and indulgent but also affordable and easy to find," he says. They're also popular because they look so good, he adds, enticing customers, especially younger ones, with social media photo ops.

However, Do warns, if we enter into a recession, dessert concepts are likely to start hurting. "They face a lot of competition from retail shelves [and] dessert can also be an easy thing for consumers to skip." Until then, here's a peak a one growing dessert concepts: Rita's Italian Ice & Frozen Custard.
Rita's Italian Ice & Frozen Custard is planning to bolster its current 550 stores with another 200 to 300 over the next five years.
The concept operates in 35 states and with the new development hopes "to connect Pennsylvania with Florida,"' says Jonathan Baske, senior director of development. He's also finding a lot of interest from franchisees in the Midwest and the Southwest. A lot of the development will be in new markets.
Rita's first store opened in Pennsylvania, then the concept spread across the state "and saturated the market," Baske says. Next, it developed in Delaware, Maryland and northern Virginia, eventually transforming its first four corporate stores into franchised operations so the chain is now 100% franchised. Because there are no corporate stores, Rita's has a group of good franchisee partners in different markets where it can test new offerings and ideas.
When Rita's goes into new states it has a master plan. "When we open new states, we definitely want to have some kind of structure, a one- to three-year plan to build out that area," Baske says. "We want to have a game plan so nobody feels like they're stuck out on an island."
Rita's plans to include a drive-thru in at least a third of its locations in the future.
Although Rita's is seasonal, by dint of its offering, the chain is looking to "flatten that curve," Baske says. A big part of that will be drive-thrus and third-party delivery. The latter, Baske says, "is leveling the playing field," meaning Rita's is now available to customers who want to order digitally and have their food delivered. "It opens the door to customers who potentially couldn't get the product," he says.
Drive-thru is expanding on Rita's traditional walk-up format and Baske plans on at least a third of locations having drive-thrus to offer convenience, especially in colder months.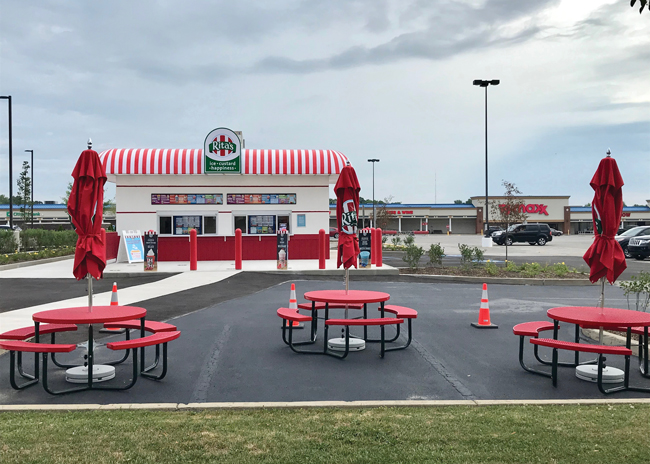 Rita's looks for franchisees with a strong entrepreneurial spirit and will partner with people who just want to open one unit, but ideally, they're looking at more, Baske says. 
Before franchisees open a store, they spend a week at Cool University at Rita's headquarters, and a week in a designated store to learn the ropes. Rita's also provides continuous education via training tools such as online classes. 
Rita's stores are typically 700 to 1,200 square feet and are very flexible, able to go into locations ranging from endcaps to freestanding stores or retrofits. And they don't necessarily require less equipment but are simpler in terms of what they do need, Baske says, since no baking happens on-site.
Each unit typically has eight to 12 indoor seats and another 12 to 16 outside if there's a walk-up window, and Rita's likes to have customers dine-in. "We talk of FOMO [fear of missing out], so that also helps other customers who are interested in a treat — they see the lines, they see the camaraderie, and that brings people in," Baske says.