Among the largest mixed-use mass timber buildings in the United States, INTRO opened in Cleveland's Ohio City neighborhood early last year. Home to nearly 300 luxury apartments, an acre of greenspace, a rooftop event venue and 35,000 square feet of retail, it's the brainchild of Chicago-based real estate development firm Harbor Bay Ventures, which, with this project, also became a hospitality company.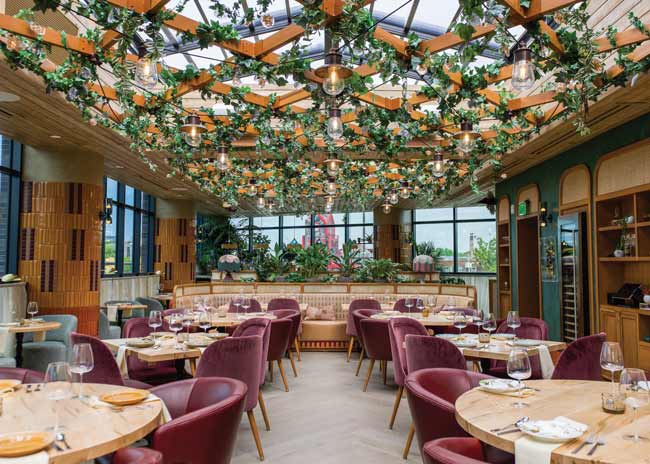 A trellis-style ceiling installed beneath the glass retractable roof leaves openings to the sky and creates a framework for greenery and lighting, evoking a dining-in the-garden feel at brunch and at night creating a sultry, exotic vibe. Images courtesy of Marina Pia Goldi; Instagram: @marinapiagoldi
Constructed on a prime corner just steps from Cleveland's iconic West Side Market, INTRO houses three foodservice operations in addition to the event space. All were developed and are operated by Harbor Bay's new hospitality subsidiary, led by Cleveland native Dan Whalen. Edda Coffee Roasters, a "third-place" coffee shop and cafe, and Pioneer, a casual sports bar and restaurant featuring live-fire cooking, opened last June and occupy street-level spaces. Jaja, which opened in October, offers a unique twist on the steakhouse and craft cocktail experience. Intimate, feminine, and just a little bit wild, it's the crown jewel at INTRO, and in Harbor Bay's nascent dining portfolio.
Tucked on the second floor, Jaja's specialties include Mediterranean-inspired small plates, steaks and seafood cooked on a 20-foot-long wood-burning grill housed in the building's main first-floor kitchen. Its design, like its steaks, sizzles, with floor-to-ceiling windows framing the long, narrow dining room and an eclectic array of materials, lighting styles, accessories and finishes artfully arranged beneath a large retractable glass roof.
Design First
"From a design standpoint, we knew early on that we wanted Jaja to feel very feminine, eclectic and busy but at the same time sophisticated," says Whalen, vice president of design and development at Harbor Bay Ventures and president of Harbor Bay Hospitality. "Conceptually, we wanted to leverage the Argentinian grill and feature wood-fired steaks, but we didn't want a traditional steakhouse. We wanted to go lighter, more contemporary and create something that would be very different in this market. As we're building our hospitality company, our focus is on design first as a way to stand out and that was definitely the case at Jaja."
To bring the concept to life, Harbor Bay partnered with Chicago-based Studio K Creative for interior design, procurement and branding, the latter through Wow & Flutter, a branding firm also owned by Studio K founder and principal Karen Herold. The teams had worked together on previous, non-hospitality projects, and, with restaurants being Studio K's specialty, the fit for the INTRO projects was a good one, Whalen says. "The idea we presented to them for Jaja was to focus on creating a really beautiful room, one in which guests feel transported to somewhere different — not quite Mediterranean or Argentinian, per se, but exotic, exciting and relaxing, like a vacation destination. I had a lot of examples of dining rooms in London, Chicago and other places that I'd been to and was really excited about. I wanted to meld elements of them together and make things that maybe don't feel like they belong together actually belong together."
The intimate six-seat bar is topped in pink quartzite with multi-layered edge detailing. It's face is covered in deeply channel-tufted vinyl.
Led by Herold and Creative Director Alicia Kelly, Studio K's team took that challenge and ran with it. Working closely with Whalen, they helped refine the concept, develop branding and create a design vision. That vision was inspired largely by a character the designers conjured as the muse for Jaja — an eclectic, creative, sophisticated and exceedingly well-traveled woman.
"The concept taps influences from the Mediterranean, the Middle East and Latin America, so we wanted the design to reflect that," Herold notes. "We wanted to incorporate elements from many different locales, without being too specific, and that's where this idea of a well-traveled, nomadic woman with eclectic tastes and personality began to take shape. She's a bit like our female version of the 'most interesting man in the world' from the Dos Equis advertising campaign."
The resulting design for Jaja, Kelly adds, shows little restraint. "The palate is very lively and it's how we think of this woman," she says. "The hues are rich and saturated, there's a lot of pattern on pattern, texture, lush greenery, and artwork and collections, including faux taxidermy butterflies and birds, that were loosely inspired by her travels."
Custom banquettes are covered in patterned fabric and topped with caning, while curated art works support the Jaja's nomadic traveler storyline.
Open, Yet Intimate
Among the elements that Whalen had seen and liked at a handful of restaurants while developing Jaja was a retractable roof. Construction of the INTRO building was already well underway when the decision was made to add one over the space that would eventually become Jaja's dining room. "We felt that it was another way we could make the room very dynamic," Whalen notes. "Being able to have the roof open and close is really exciting and a big draw for guests. Ours is the only one we know of in Cleveland, so it's a real differentiator."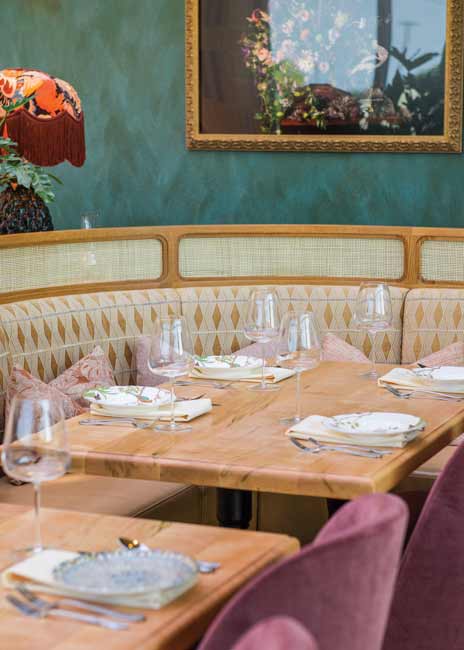 Emerald green plaster walls and wine-colored upholstered dining chairs add distinctive rich, saturated colors to the room, designed for intimacy and date-night comfort.For the designers, adding a retractable roof and essentially creating an atrium dining room presented challenges and opportunities. Controlling for acoustics, temperature and lighting had to be addressed. And creative efforts to ensure a feeling of intimacy while at the same time maximizing the impact of the retractable roof came into play.
The solution Herold and her team settled on was a trellis-style ceiling installed beneath the glass roof, leaving ample openings to the sky and creating a framework for greenery and lighting that evoke a dining-in-the-garden feel during brunch and create a sultry, exotic vibe at night. Inspired by leaf sculptures Herold and her team designed for Nobu Chicago, vines of greenery wrapped around the trellis are interspersed with handmade clear resin leaves and feathers that catch the light and twinkle, some with drops of gold, black or copper added in. "For some concepts, having the simple, exposed retractable roof with big black beams works well," Herold notes. "For an intimate, cozy setting like Jaja, however, we were very nervous about it at first. Later, as the vision for the trellis and leaf sculpture came into focus, it became really exciting. It's a dynamic design feature, but also helps with things like managing light, temperature and noise."
The space beneath that distinctive ceiling presented additional design challenges. Namely, it's odd, trapezoidal shape demanded what Herold describes as a Tetris-like approach to space planning. Inside, Jaja's main dining room occupies the majority of the central, rectangular space along the front of the building, while a small bar area is tucked into a sharply triangular corner. At the back of the restaurant, beyond an elevator shaft and stairwell, coat check, small finishing kitchen and restroom corridor, an outdoor patio and bar nearly doubles capacity in warmer months. The patio, like the retractable roof, was a late addition to the plan.
Whalen says initial operational concerns over having Jaja's hot cookline in the downstairs kitchen have proven to be unfounded. "We thought that might be a major headache, worrying about how we were going to get food up and down in a timely fashion and at the quality standard that we wanted," he says. "We had thought about installing a dumbwaiter but decided against that in favor of having food runners, which turned out to be a simpler, faster, more effective solution. Staff communicate with earpieces. We have a landing area upstairs where everything's checked and expedited, and all of our 8-inch sharing plates, extra dinner plates, glassware and silverware — everything needed for service — stays up in that second floor back-of-house area."
Comfortably Eclectic
While Jaja's retractable roof and trellis ceiling create big design moments, they're just jumping off points for what became a richly layered, multidimensional aesthetic that Kelly describes as "plus, plus, plus," with every individual element carefully considered for its contribution to the whole.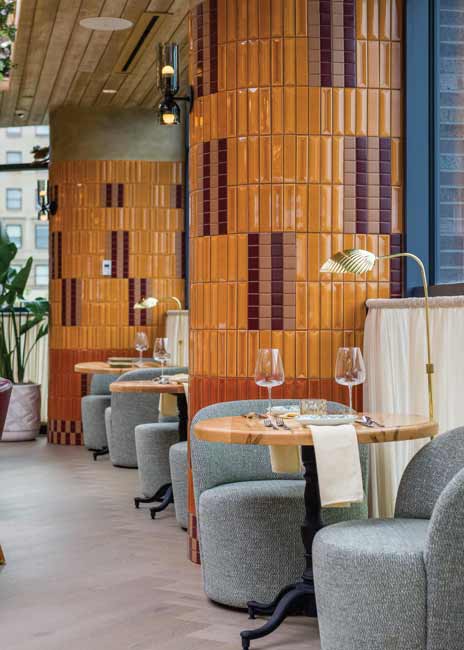 Cozy swivel chairs are set at tables along the window wall, where knee-height cafe curtains soften the impact of the floor-to-ceiling glass. Deep emerald green plaster covers the dining room walls, against which curated art works support the eclectic, nomadic traveler storyline. Lush synthetic greenery and playful accessories throughout, including faux taxidermy birds and butterflies, help tell that story, as do whimsical fringed glass light fixtures. Millwork evokes island-style teak along the interior wall, surrounding wine refrigerators and a front-of-house service station.
Curved banquettes are covered in contemporary patterned fabric, adorned with pillows and topped with caning, which also appears as an accent wallcovering. Wine-colored upholstered dining chairs add more rich color to the room and help to achieve Whalen's desired sense of "date-night" comfort, as do cozy swivel chairs set at two-top tables along the window wall. To soften the impact of being surrounded by so much glass, cafe curtains hang around the lower portion of the dining room windows. Orange, yellow and wine-colored tiles, used in different sizes and patterns, cover large columns. And tabletops, crafted locally from exotic wood species such as highly dimensional fiddleback maple, add warmth and additional pattern to the space.
Although small, Jaja's six-seat bar packs big punches, both in concept and design. "We didn't have a ton of space to work with, but our bar program is a major feature," Whalen says. "We wanted it to be like a hard seat to get, a place where couples could sit and enjoy watching the bartenders crafting these beautiful, really complex cocktails. We kept it small, out of both necessity and intent, but made it a real gem."
A slab of richly patterned pink quartzite with deeply detailed edges tops the bar and backbar, which occupies the sharpest corner of the triangular space. Thick art glass lamp shades trimmed in heavy fringe hang above the bar, and the front of the bar is covered in deeply tufted vinyl. Pink and brass barstools sit atop colorful patterned concrete tile flooring around the bar.
"It may be small, but this is really the most over-the-top sexy bar we've ever designed," Herold notes. "The quartzite is pink and swirly and so beautiful. It's curved on one end and the edge detail is really complicated. We used the same product in the restrooms, which was amazing to get the green light to do. And because of the shape of the space, the back bar here is really deep. That allowed us to do more layers of bottles and add a lot of lush greenery and decorative accessories, which again helps to soften all of that surrounding glazing."
Jaja's many unique design elements, from the retractable roof, bar top and trellised ceiling to curated artwork and eclectic materials and accessories, were well worth the investment, according to Whalen, who feels the net result more than met his goal of bringing a next-level dining and design experience to Cleveland.
"I love the detailing on the banquettes, the upholstery, the millwork and the pattern-on-pattern design elements throughout," he says. "And the little discoveries, like the birds and butterflies and eclectic light fixtures add so much. It was a bit of a risk, because we didn't want to go too far — just far enough. We wanted Jaja to feel wild and free-spirited, but also sophisticated and that took a lot of creativity and finesse on the part of the design team." 
Snapshot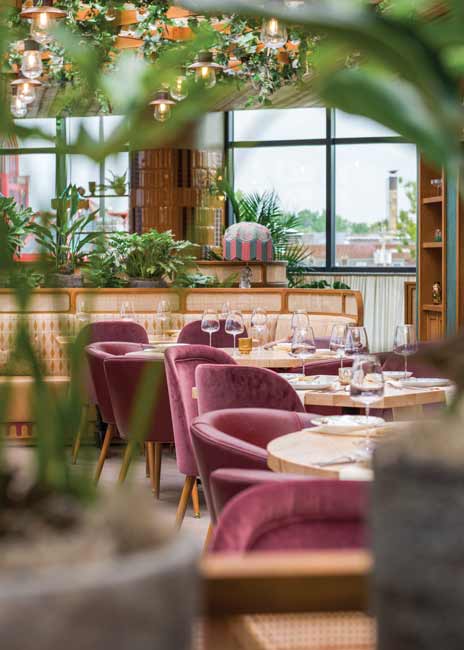 Concept: Contemporary small plates, wood-fired steaks and seafood, craft cocktails
Opened: October 2022
Location: Cleveland
Project type: New construction, within multi-use building
Total square footage: 4,6140 (3,020 front of house)
Seats: 82 main dining, 6 bar
Dayparts: Dinner, weekend brunch
Average per-person check: $75 dinner, $37 brunch
Design highlights: Floor-to-ceiling windows, saturated hues, eclectic pattern-on-pattern finishes, retractable roof with floating trellis below, lush greenery, varied textures and accessory styles, colorful tiled columns, cane accents, exotic woods, faux taxidermy collections, fringed light fixtures, pink quartzite bar top
Project Team
Emerald green plaster walls and wine-colored upholstered dining chairs add distinctive rich, saturated colors to the room, designed for intimacy and date-night comfort.
Owner: Harbor Bay Hospitality, a subsidiary of Harbor Bay Ventures 
Design: Studio K Creative
Architect: Bialosky Cleveland
Branding: Wow & Flutter
General contractor: Harbor Bay Builders
Procurement: Studio K Procurement
Millwork: Reserve Millwork
Tile: Elm Surfaces
Plantings: Exotic Plantworks
Art consultant: Johalla Projects
Foodservice consultant: Food Facilities Concepts