This May, Denver-based multi-concept operator Sage Restaurant Group (SRG) brought its Urban Farmer steakhouse concept to Cleveland, in space adjacent to the newly renovated Westin Downtown hotel.
Like the original Urban Farmer restaurant, in Portland, Ore., the Cleveland iteration is a modern farm-to-table concept with a "rural-chic" aesthetic.
Designed by David Ashen of dash design, the restaurant occupies nearly 6,000 square feet and seats up to 255 guests between its dining and pantry area, private dining room, bar and lounge, 12-seat communal charcuterie station and street-side outdoor dining area. Though it bears the same name as the Portland location, every aspect of the restaurant was custom tailored for the Cleveland market, notes Peter Karpinksi, cofounder and chief operating officer of SRG.
"The design décor is realized through a layering of textures, colors and materials, all collaged together under one roof," says Ashen "The experience begins at the restaurant entrance, which is marked by a four-story sign inspired by 20th century neon industrial signage and a faded two-story mural on the building's exterior, all reminiscent of early rural style. It continues as you enter the main dining area, where a series of videos commissioned by artist and filmmaker Matt McCormick capture Cleveland's lakefront landscape and create a happening 'sense of place' for the restaurant's visitors."
Other design highlights include: a theatrical open kitchen; blackboards to tell the story of the locally sourced food and drink; and a mix of décor elements, including large chicken-wire chandeliers and an eclectic blend of vintage carpets and furniture. The bar and lounge (above) is wrapped with reclaimed wood from local barns, soaring 20-foot ceilings and a wall of glass that looks out onto the street. Paintings and photographs from country artists of the last century adorn the space and add interest.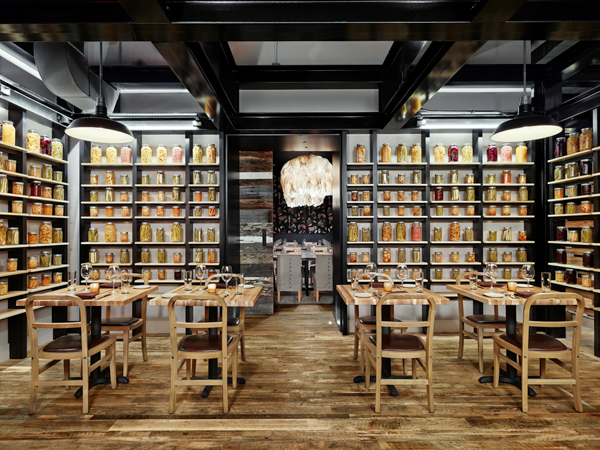 dash design also re-interpreted the popular "pantry" it developed for the Portland restaurant, erecting a steel structure filled with shelves, which hold pickled vegetables and fruits that are regularly rotated and utilized by the kitchen. Alongside the pantry is a private dining room, designed to be a separate experience, with customized wall coverings, an oversized dining table and a dramatic chandelier fashioned from chicken feathers (below).