In developing Kilroy Oyster Point (KOP), a new 3-million-square-foot life sciences campus in South San Francisco, Kilroy Realty Corporation is keeping a tight focus on narrative themes including health, wellness, active lifestyles and the natural beauty surrounding the 50-acre bayfront development. A multi-tenant corporate neighborhood intended to integrate with the growing life sciences and biotech community around it, KOP is incorporating many of the types of amenities that set tech industry employers apart, including a tempting array of foodservice options.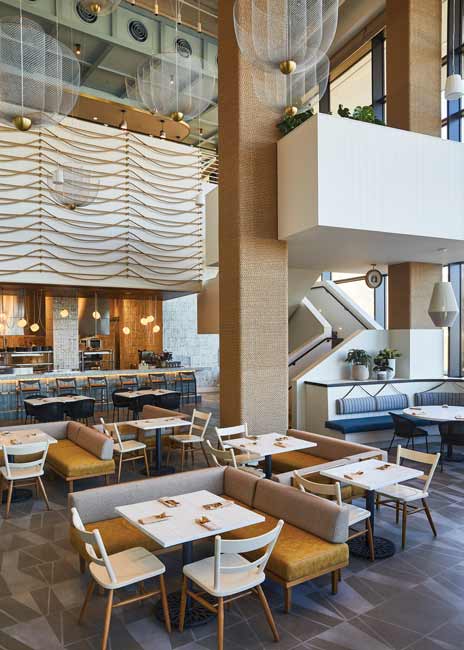 Rope art and finishes and patterned concrete flooring add texture in the main dining room, where seating styles nurture a sense of privacy in the large, open space. Images courtesy of Aubrie Pick and SkB ArchitectsThe Anecdote, a full-service restaurant that opened last April, is among them. The signature amenity in KOP's recently completed first phase (one of five planned), the operation is the product of a partnership between Kilroy and Bon Appétit Management Company. Known for its work in noncommercial market segments, including workplace dining and higher education, Bon Appétit in this case is tasked with developing foodservice venues that serve as corporate dining amenities, in some cases subsidized, for tenant employees as well as public-facing commercial businesses serving the broader community.
"We try to create experiences that people enjoy, that improve their productivity and quality of work, and make them want to stay at the companies they work for," says Bianca Doerschlag, senior vice president, design, at Kilroy Realty Corp. "In thinking about The Anecdote, we knew many of the individual tenants would be offering food services to their staffs — small on-site cafes or more traditional cafeterias. But we also wanted to diversify from that to create a very unique, bespoke restaurant experience that would appeal to our tenants' employees, families and guests, as well as to employees and guests of other life sciences companies nearby and even the general public."
Located in one of three buildings completed in the first phase of KOP construction, The Anecdote faces a large outdoor plaza that serves as a gateway to the rest of the campus. It currently offers breakfast, lunch and happy hour; provides catering; and serves as an event space. As additional phases of the development are completed and return-to-office increases, dinner service will be offered as well, according to Alison Harper, district manager at Bon Appétit, whose team worked with Kilroy and SkB Architecture & Design to develop the restaurant.
"This was an interesting project because we got to see the future vision for the campus and say, 'OK, what does this restaurant need to be right now? But also, what can it be in the future when there are other options available on campus?'" Harper notes. "How do we design it and set it up so that it can evolve with the needs of the population around? Right now, it's more fast-casual, a gathering and meeting place, a quick solution for breakfast, lunch, or after-work drinks and snacks. In three years, it's likely going to be more of an elevated table-service restaurant. We designed it to be able to do and be both."
Comprising 5,700 square feet, The Anecdote has an 84-seat main dining room and a 44-seat patio on the building's ground level, plus a mezzanine with a 38-seat bar/lounge and a 16-seat private dining room. The kitchen, on the main level, is open and fronted by a 6-seat counter.
Harper notes that the space itself, and the aesthetic that Kilroy committed to for the entire KOP campus, helped drive both concept and design development for the restaurant. "It needed to harmonize with the brand aesthetic of the campus, which is very natural and coastal. We really leaned into that at The Anecdote, celebrating the coastal vibe but without pigeonholing it as a seafood restaurant," she says.
"We're on the coast — not the coast that everyone thinks of, but we're waterfront, on the bay, with direct access to the marina. We wanted to play up the idea of coastal in an elevated casual experience but didn't want to be slavish to the idea of seafood or to any particular locale," adds Shannon Gaffney, founder and senior principal at SkB Architects, who led interior design at The Anecdote. "We took a little broader interpretation of coastal while playing up the strengths of the space."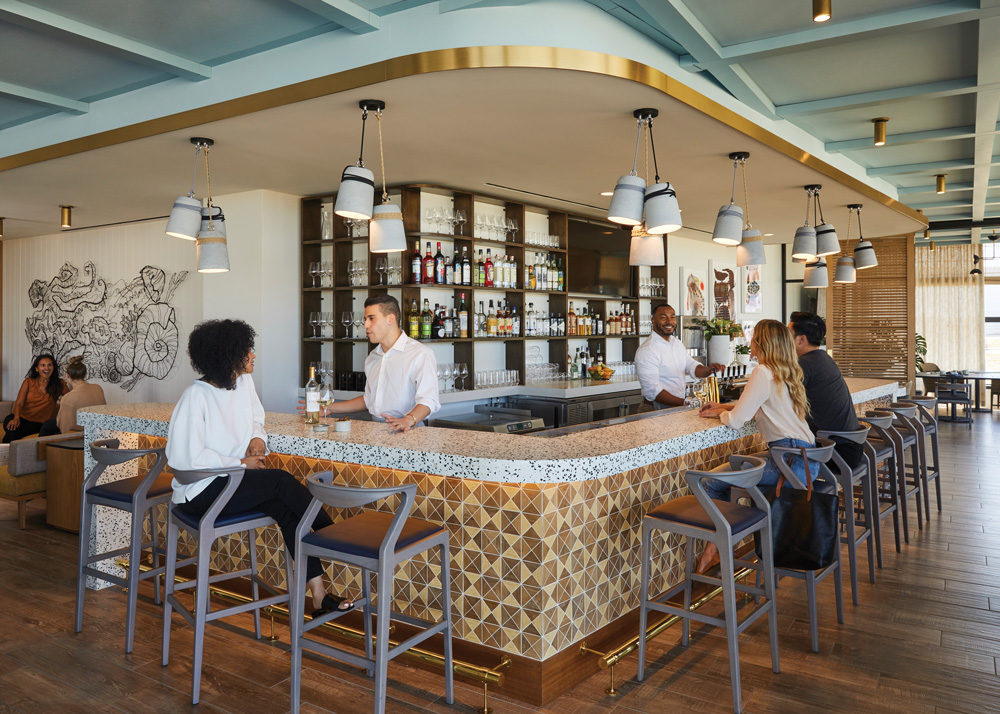 Faced in patterned teak tiles and lit with buoy-style fixtures, the upstairs bar is a popular spot for after-hours gatherings.
Stage-Setting Solutions
While not particularly large — at 4,900 square feet of public-facing areas — the space held two powerful strengths that presented both opportunities and challenges: 30-foot-high ceilings and a wall of tall windows overlooking the waterfront. Though initially attractive, the ceiling height was quickly determined to be a problem in need of a solution. And the windows, while affording great views, were simply too much for creating a sense of intimacy in the space.
"What might seem like the most wonderful things turned out to be problematic," Gaffney says. "The space felt so vacuous. We had to figure out how to give it some sense of soul and to not have it feel formal, big and heroic, especially since we wanted it to be an elevated-casual experience and one that works from morning to night."
Two solutions emerged, both of which Gaffney says ultimately fell into the "worth-it splurges" category of project expenditures. First, shades were installed on the top portion of the windows to reduce the effect of there simply being too much glass. They add just the right amount of warmth, she says, without detracting from the light, airy and open feel the design team was going for.
Second, SkB added a "crow's nest" mezzanine that has views of the water and the city but that also overlooks the dining room below. A bold staircase connecting the two levels is strategically positioned along the window wall rather than front and center, keeping the mezzanine integral to the overall space and vibe but also adding a bit of a discovery.
"Guests up there have nice outside views, but from that crow's nest, they also look down over the deck, the dining room," Gaffney says. "We were very mindful of the internal views that we were creating, offering layers of texture, interest and detail looking up and looking down."
And the mezzanine, while contributing significantly to the overall interior aesthetic, added operational benefits that enhance The Anecdote's ability to be a multi-occasion venue. There, the team was able to install a separate bar/lounge area and a small private dining room.
"The fact that we have both a mezzanine and ground floor are huge assets to how that space can work," Doerschlag says. "We're able to host events upstairs while also doing dining service downstairs. We can easily do takeout orders, mobile order pickup and coffee service from the kitchen's chef's counter. We can rent out the full space for tenant use or public functions. We can do catering. It's really a flexible operation, and I think that's the result of design working in tandem with menu programming from the get-go."
Initial concerns about the logistics of offering foodservice on the mezzanine from the ground-floor kitchen so far have proven unfounded. Between the stairs and an elevator connecting the two levels, service has run smoothly, Harper says. And installation of tap systems downstairs helps ensure smooth bar service in the dining room. "We don't see much demand for specialty cocktails at lunch, so we didn't worry too much about having to bring a lot of drinks down from the bar. But we did build in the functionality of a tap system downstairs so that we can easily serve beer, wine or even a cocktail on draft on both levels," she adds.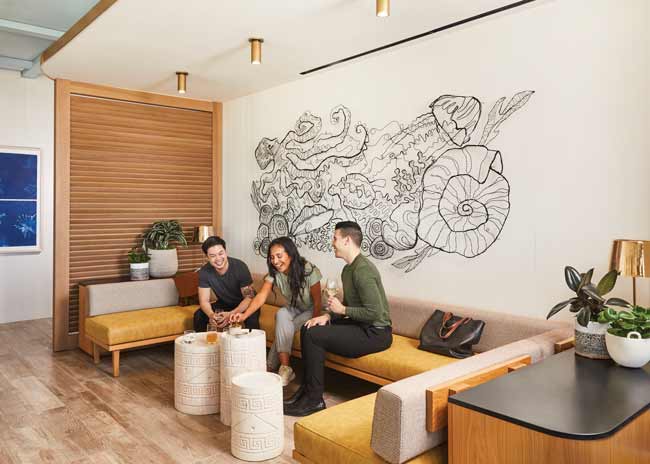 A sea-life wire art sculpture adds visual appeal to a small seating alcove adjacent to the mezzanine bar.
Artfully Coastal
To achieve the desired elevated-casual, coastal-inspired vibe for The Anecdote, Gaffney's team created an open and airy aesthetic with nautical references throughout. Against the backdrop of soaring ceilings and floor-to-ceiling views, a color palette that evokes warm sand, sea and sky; textured materials; and custom artworks and lighting combine to bring the concept to life.
"We kept saying it needs to have a light, fresh, clean feel, which is how we'd describe the sensibility of the cuisine as well," Gaffney notes. "We incorporated elements in the design that link back to water, or a boat or a water's edge. But in doing so, our intent for the most part was to present those elements in sophisticated ways and avoid being kitschy."
Created from 200 hand-painted ceramic plates, which together depict an abstract illustration of a Pacific coral reef, a custom art installation lines a dining room wall.Rope plays a big role in providing nautical nods, for example, but it's used in unexpected ways. Wrapped tightly around structural columns, it adds natural color and texture; draped in an art installation along a wall that floats above the kitchen, drawing the eye up to the mezzanine, it subtly evokes waves.
Walls around the open kitchen are clad in textured ceramic tiles in soft, earthy colors. The first level's concrete floor was kept but enhanced. "We thought long and hard about the floor but ultimately decided to keep the concrete," Gaffney notes. "It's basic and a little bit industrial, which we liked, but we made it its own design moment by layering on a geometric pattern. It adds texture to the space, and even though the pattern will begin to rub off in time, we felt that will add a nice, softly weathered effect."
Above the mezzanine bar, light fixtures evoke buoys hanging down, while pendants inspired by wire crab pots hang from the 30-foot dining room ceiling. "We focused a lot on lights as decor elements and on the notion of things hanging down, floating and occupying space," Gaffney says. "There's string, rope and wire, which are pretty low-brow and utilitarian, but the way in which they're crafted and the shapes that they're in elevate them into something surprising, unique and special."
Also special and unique are the works of art curated and, in some cases, commissioned for the space. A marquee example is a 20-foot-tall installation on a wall just inside the front entrance. Created by ceramics artist Molly Hatch, it's comprised of 200 handmade, hand-painted plates. Each has its own design, but together they combine to depict an abstract rendering of a Pacific coral reef with colorful fish, flora and fauna. Another impactful art piece, a wire sculpture that depicts various forms of sea life, hangs in a seating alcove adjacent to the mezzanine bar.
"The art program is so impactful, and that's evident from the moment you walk in," Doerschlag notes. "The plate installation is a showstopper, and interesting art runs throughout the entire space. A lot of time and energy went into curating the right pieces, and it paid off. Along with all of the little details, the brass hardware, the materiality, the open kitchen, the lighting — it helps to create such an immersive and energetic space that at the same is soothing and relaxing. It all combines beautifully to support the narrative."
Snapshot
Location: Kilroy Oyster Point life sciences campus, South San Francisco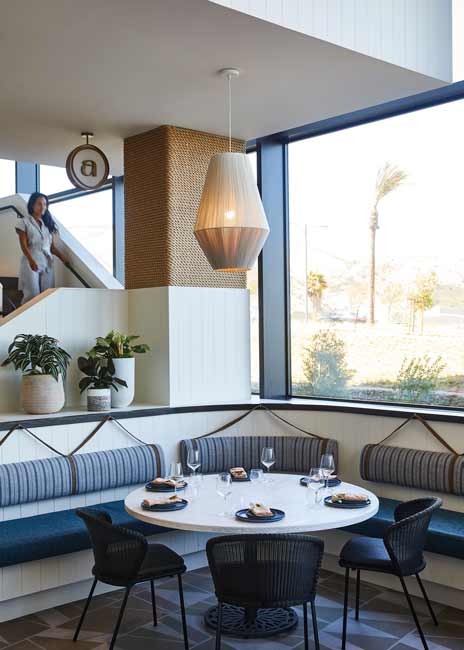 A curved banquette with round table and views to the front plaza tucks neatly beneath a landing in the staircase to the mezzanine.Concept: Elevated-casual, coastal-inspired restaurant and bar
Opened: April 2022
Current dayparts: Breakfast, lunch, happy hour
Size: 5,700 square feet
Seats: 182 (main dining, 84; bar/lounge, 38; private dining, 16; patio, 44)
Build-out: 2 years from start of initial design process
Design highlights: Coastal-inspired colors and materials, 30-foot ceilings, floor-to-ceiling windows, mezzanine bar and private dining room, open kitchen with counter seating, painted plate and wire sculpture art installations, patterned concrete floors, textured ceramic tiles, custom lighting, varied seating styles, sophisticated nods to nautical themes 
Project Team
Developer/owner: Kilroy Realty Corporation
Operator: Bon Appétit Management Company
Interior design: SkB Architecture & Design
Architect: DGA
General contractor: Hathaway Dinwiddie
Kitchen design and equipment: NGAssociates
Art curation: DPA Fine Art