Fondue chain The Melting Pot is naturally an experience-based concept. Historically, those experiences ran toward celebrations or romantic evenings. The chain recently rolled out a new design meant to expand on those experiences and give guests more reasons and more occasions to visit.
According to Deborah Ramos, design manager for Melting Pot parent Front Burner Brands, the new design includes new spaces built with new materials, "that are really true to what The Melting Pot is. For us that meant bringing the colors of cheese and chocolate, which are our two pillars. We're also working with materials like Corten steel, which transforms and changes over time, similar to how cheese transforms in the pot."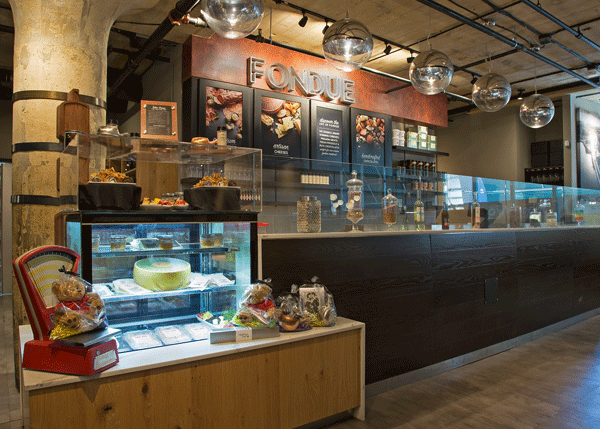 One new experience the chain is offering can be found at the new chocolate and cheese bar, where team members begin the melting process for both of these ingredients.
The new wine bar.This represents a process change for The Melting Pot. Previously cheese and chocolate were melted at guests' tables. Now they just finished there. By shifting work to a dedicated front-of-the-house display area, the chain is able to show off the beauty of its ingredients, says Melting Pot President Mike Lester. Guests are also encouraged to approach the bar to watch the melting process, talk to the chocolate- and cheese-tenders, and maybe get a sample.
One other features of the bar is a new retail section, where guests can buy meats and cheeses used in featured offerings and even get desserts like chocolate-dipped rice crispy treats to go.
A highlight of the new design is a dedicated wine tasting area. This space feature chairs covered in richly colored upholstery, placed at high-top tables. The chain chose high-tops, says Ramos, to allow guests to sit or stand while sampling their drinks.
This space was designed with samples of higher-end wines in mind, added Lester.
"It gives our guest a low-risk entry point. They might have wanted to sample a glass of really nice, expensive wine, but they didn't want to commit to an entire bottle because of the price. Here they can have a sample of just one ounce and understand if they might like it. Guests have really been able to explore and try really interesting wines. If they find a wine, they'll get a glass of it after they've had a sample of a few."
In addition to adding a wine area, the chain upgraded its traditional bar. Some of the chain's signature cocktails are highlighted in shelving units showcasing the spirits used in their creation.
Melting Pot 3
The bar top itself has been converted to white quartz, while new peninsula tables have been attached. These additions have proven popular with larger groups, just as intended, says Lester.
"If you are in a party of four, it's impossible to engage in good conversation [at the bar] because there are four people all in a row. The people on the ends are not going to be talking to one another. These Peninsula tables are the answer to that. They get the bar experience but they also get the engagement."
Where possible, attached to the bar in this new design is The Melting Pot's new outdoor patio. This space can connect to the interior bar through elements like garage doors or bifold windows.
While the chain has had patios before, in the new design they feature upgraded furnishings and may be fully enclosed for all-season use.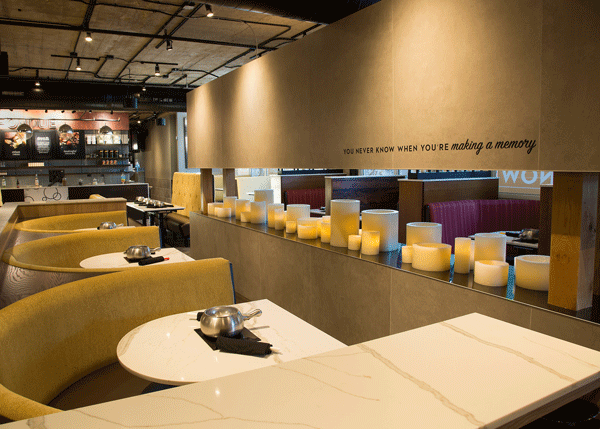 Another Melting Pot space that got an upgrade is it's "lovers' lane." This has historically been a square space, sometimes made private with a curtain.
The new design features more of a genuine lane that's a bit more open. Romance and a certain level of privacy are achieved through a candle wall.
"Making the area a little more romantic and a little bit more thoughtful was really important to this design," says Ramos.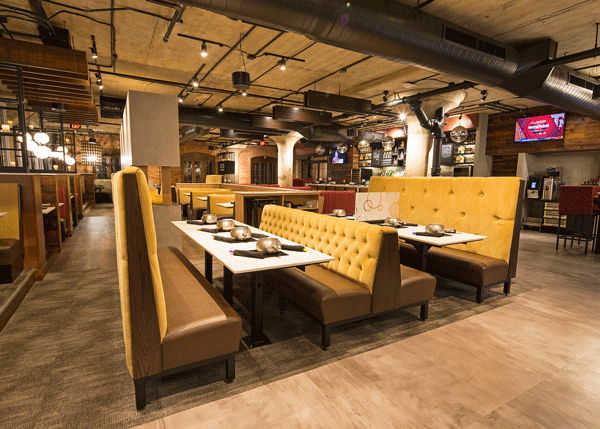 The more traditional dining areas of The Melting Pot were overhauled in this new design as well. In the previous design, the power demands of tabletop burners meant tables were stuck in place. A new electrical cord and outlet system, though, now allows the chain to move tables to accommodate larger groups.
The operator also added large community-style booths. These can seat larger parties of up to eight or two smaller parties of up to four, thanks to a removable divider. "It's kind of a communal social element, but it gives us that flexibility also," says Ramos.