Before the pandemic, drive-thru locations were losing steam. Fast-casual concepts with their elevated in-person experience had taken hold, and many industry experts were ready to declare the drive-thru dead except among the biggest and busiest fast-food leaders. Ghost kitchens were a novelty and ordering via an app was just gaining steam.
Of course, the pandemic changed how consumers acquire their meals. Hungry but germ-weary guests wanted every kind of meal available for consumption — but only off-premises (whether by choice or mandate hardly matters now). From in-store and curbside pickup to third-party delivery, eating on-site quickly became a thing of the past for many diners. 
Restaurant chains responded by offering a flood of new prototypes that cater to the off-premises-only diner. Here's a sampling.
---
Image courtesy of Freddy'sFreddy's Frozen Custard and Steakburgers debuted its first prototype design without a traditional dining room last summer. It offers a walk-up ordering station and a double drive-thru for diners to place and acquire their orders. Features of the new restaurant design were determined following a brand study on drive-thru operations and guest habits. In addition to the double drive-thru lanes, the prototype features parking stalls for curbside pickup and some patio seating for those who simply must eat right away.
---
Image courtesy of Wingstop Wingstop's "Restaurant of the Future" is a digitally focused cashless prototype that recently debuted in Dallas. Measuring around 1,300 square feet — nearly 400 fewer square feet than the chain's average footprint — Wingstop's latest iteration also serves as a test kitchen and blueprint for future locations.
With delivery and carryout accounting for nearly 100% of Wingstop's total orders, the restaurant's design caters to carryout guests' digital experience and delivery drivers. This includes a lobby area without dining tables and an optimized back-and-front-of-house flow to create efficiencies for team members as they prepare Wingstop's made-to-order menu items. The modular restaurant's design promotes flexibility, allowing for rapid testing of new equipment and layouts. 
---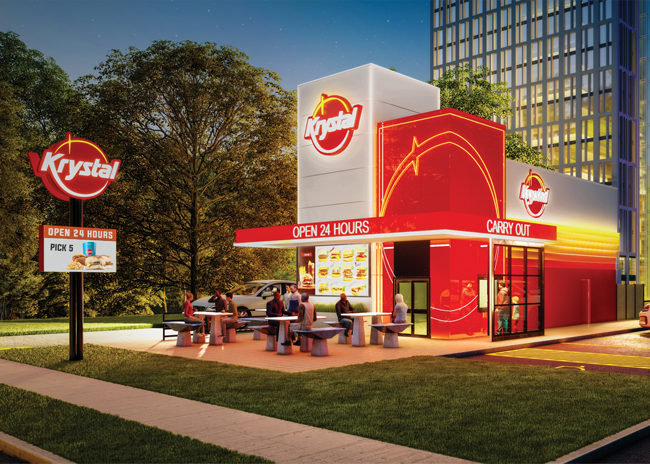 Image courtesy of Krystal Krystal's restaurant prototype features a smaller footprint than previous iterations and focuses on off-premises diners. The design does not include a dining room but instead features a double-lane drive-thru, a walk-up window for ordering, plus a pickup area for online orders and third-party delivery.
Design elements include a grab-and-go pickup and takeout area and more prominent and more efficient drive-thrus. Functional highlights of the prototype include a more streamlined kitchen and enhanced brand identity through soft and hardscape design elements. The streamlined kitchen layout optimizes kitchen flow while reducing labor costs and increasing speed of service.
---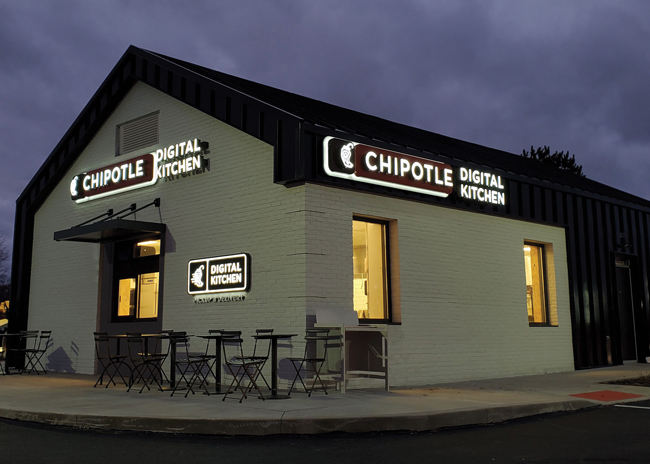 Image courtesy of ChipotleChipotle opened its first Chipotlane Digital Kitchen prototype restaurant in Cuyahoga Falls, Ohio, last year. It features a digital drive-thru — dubbed a Chipotlane — and a walk-up window for digital order pickups only. There's a small patio area outside but no indoor seating.
The Chipotlane Digital Kitchen footprint is, of course, smaller than a traditional restaurant — even one that features a Chipotlane. The kitchen is equipped with a makeline dedicated to digital orders placed through the Chipotle app and Chipotle.com, as well as marketplace partners. Guests and delivery drivers can collect their digital orders through the Chipotlane drive-thru or walk-up window. New restaurants featuring a Chipotlane open with approximately 15% higher sales compared to those opened without Chipotlanes during the same period, per a release.
---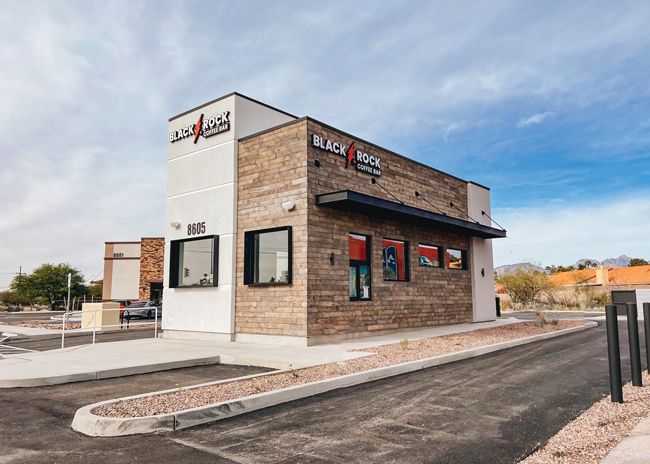 Image courtesy of Black Rock Coffee Black Rock Coffee found success with its first location in Tucson, Ariz., via a traditional unit that offered seating. For its second location, though, the chain opted to open its first drive-thru-only unit. At just 800 square feet, it caters to coffee fans who prefer to get their java on the go.
"The extremely positive reception we had with our first store in Tucson on E. Broadway confirmed our belief that Black Rock Coffee Bar would be a terrific fit for this market," says Josh Pike, CEO of Black Rock Coffee Bar. "We are grateful for the opportunity now to expand in Tucson with a drive-thru-only location, which will allow us to serve more customers with our signature drinks and fast, friendly service."