Designing and Positioning Server Stations for Efficiency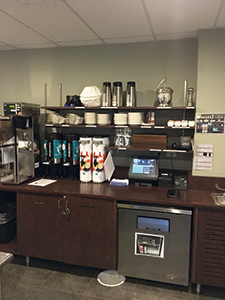 Server stations present a conundrum for many restaurateurs and restaurant designers. The stations are essential for waiters and other service staff to provide efficient service. But they can also impede service and become an eyesore in an otherwise well-designed space. Rather than avoiding planning these stations until the last moment in the layout process, paying attention to their design and position from the beginning of the planning process becomes imperative in order to achieve desired results.
How Many Service Stations?
Server stations should improve the speed and efficiency of service and provide backup for the quick resetting of tables during peak demand periods. Designers generally agree that a single service station is sufficient for every 22 seats.
"It is essential to make sure that enough stations are provided depending on the size of the restaurant," says Wendy Lambert, a foodservice designer with Food Service Design Group in San Diego. "They should be evenly distributed throughout the space so servers don't have to travel too far out of the way to access the stations. Each station must be stocked with equipment so servers can be in and out quickly, giving them more time to take care of their guests and serving them in a timely matter."
Which Supplies Are Necessary?
In more formal tabletop restaurants, stations might include plates, serviceware, glasses, napkins, a water station with a glass filler, water pitchers, table crumbers, servery trays and tray stands, check holders and tip trays, an ice bin, a roll warmer, coffee and tea makers and burners, cappuccino machines, soda machines, menus, server aprons, sinks and condiments. Many service stations also feature undercounter refrigerators for juices and milk.
In some restaurants, a soda bag-in-box may sit underneath the server station counter, requiring a carbonator and a CO2 tank. "We try to avoid this if possible if the service station is visible to the guests because changing the boxes out when they are empty is not something you typically want to do in view of your guests, especially at a fine-dining establishment," says Lambert.
In casual and fast-casual restaurants, towels, spray cleaner and extra trash bags may be sufficient. The number of supplies at any server station depends on the distance from the kitchen or back-of-house supply room and the service speed and efficiency that are desired.
Whether or not to place POS equipment at server stations is an important question. Some designers prefer to separate the POS stations from the server stations that act as busser reset consoles because they have different uses, says Philip Mott, assistant professor, Kendall College, School of Hospitality Management, in Chicago.
Location, Location, Location
The number and location of server stations depends on how designers select the flow of service over and beyond food coming in and out of the kitchen, bar areas, seating and main thoroughfares throughout the restaurant. A good design allows for the placement of server stations relative to traffic patterns and access to both the kitchen and tables.
"Location is key," says Lambert. "Server stations must be conveniently located within close proximity to dining areas while keeping them out of the public view as much as possible. These stations can be a little unsightly, especially during busy hours. They can also be loud since most servers gather here in between running to the kitchen and the dining tables or in downtime. Usually we see them located near restrooms or kitchen entrances where noise and unsightliness does not interfere with the diner's overall restaurant experience."
Indeed, managing volume around server stations can become important when trying to maintain the restaurant's ambiance. "Typically the biggest problem we see is the noise level," Lambert says. "If there aren't enough stations throughout the restaurant, the amount of traffic in the area can disrupt guests. Often if there is too much traffic in the area and the server station is designed too close to dining tables, servers will have to inconvenience the guests while getting in and out of the station."
In some restaurant designs, the footprint does not allow for positioning server stations in a good and unobtrusive location. "I'm seeing more designers placing service stations where they're not exactly hidden, but rather they're disguised," Mott says. "Instead of placing stations that are easily seen by diners along the perimeter of a dining room, some designers are hiding stations behind 4½- to 5-feet-walls. Servers can see over them to canvass the dining room, but the server stations are unobtrusive to customers."
"Some restaurants need server stations to also hold items such as high chairs and booster seats," says Gary Zechmeister, retired founder and COO, Premier Restaurant Equipment & Design in Minneapolis. "Otherwise, they just float around in a space."
Design Elements
What bothers Lambert, Mott and Zechmeister about server stations in general is that they're often dumping grounds. "Admittedly, it's rare that a diner will say that they noticed the server station in the middle of the restaurant," Mott says. "But server stations may affect customers on a subconscious level. They might be in the middle of the dining room, and when they look cluttered and messy, it tells me that something else about the operation is cluttered and messy."
"In many restaurants, interior designers select attractive furniture for server stations so they look like an intentionally designed part of the decor," Zechmeister says. "For example, you don't want a server station to be made of plastic laminate unless it goes with the decor in a fast-casual restaurant. If it is in such a restaurant, it should be high-quality laminate that can be trimmed with stainless steel and topped with quartz or a durable stone material."
Depending on the number of items the server stations require, storage often includes drawers or wall-mounted shelves. Fine-dining establishments often use drawers for silverware storage. Unless there's a specific item such as silverware to hold in drawers, Zechmeister advises designers to minimize the use of drawers. Drawers often become storage places for stuff that no one knows what to do with and is rarely used." he says.
"When we design dining rooms, we look at the tables that are producing revenue and don't integrate the support space to consider them as well as we should," Mott says. "We need to spend more time designing server stations as part of the overall design, and focus more on where they're situated and how they affect the bottom line."
Choosing POS Systems
Recognizing that POS stations can be pricey, Mott recommends one POS machine for each three to four servers.
"If servers or waiters have to wait to use a POS, orders take longer and guests get upset," says Lambert. "While servers or waiters are waiting to use the POS, their guests go unattended, and it also postpones other guests' requests they are working on. It becomes a chain reaction. Wait for a POS is very frustrating for servers/waiters. It disrupts their timing and workflow, and in the restaurant industry every second counts."
"Server stations often don't have enough POS machines, so servers and waiters often have to walk across the dining room to access them," says Mott. "As a result, many waiters will delay putting in an order to avoid taking the long walk. Or they'll take a second order and wait to put them both in. This practice increases the chance of order errors."
Many restaurateurs now use wall-mounted POS systems, which save space, or mobile POS technology, which allows a reduction in the size of server stations. "Most portable POS systems are pretty good and not too expensive," Mott says. "More restaurants are just beginning to implement portable payment stations in the form of handheld command centers that managers carry with them and contain up-to-the minute sales and labor data. I don't see widespread use of such systems in smaller independently owned mom-and-pop restaurants for a couple of years because of operator resistance to it due to expense and fear of reliability. However, large multiunit companies are embracing such systems in order to ensure better customer service because they have backup support by IT departments."
"Sometimes we have to make sure the hardware catches up with the technology providing the Internet connection," Mott adds. "I visited a restaurant this summer where portable POS units served the patio section, but the server had to walk from one end of the patio to the other to use it because my table was out of range of the base unit."