Holly and Shawn McClain have developed and operated their share of successful fine dining and casual restaurants. They include several in Chicago in their early years in the business and, more recently, in top Las Vegas casinos, as Chef Shawn's culinary star steadily rose and, with it, investor-partner interest. He's a James Beard Award Best Chef Midwest, Iron Chef and Esquire Chef of the Year winner, after all. But a 2010 move to the Detroit area, where the couple chose to raise their kids near Holly's family, started a new and more personal chapter.
In 2019, after several years of looking for the right local opportunity, the couple opened Highlands, with Shawn leading the project and serving as chef-owner. Highlands was the couple's long-planned entry into Detroit's burgeoning restaurant scene. It's a high-profile, multi-faceted venture on the 71st and 72nd floors of the iconic GM Renaissance Center, home to General Motors World Headquarters and the Detroit Marriott. It encompasses three distinct concepts: the upscale Highlands Steakhouse; High Bar cocktail lounge; and the casual Hearth71 with a wood-fired-focused menu.
A long, double-sided banquette divides the lounge from the dining room, both of which have good views of the blue-tiled open kitchen. A four-seat counter fronting the kitchen offers guests a bird's-eye view of the action. Image courtesy of Justin Maconochie
Not long after Highlands was under way, Holly, who had largely stepped back from the business while the couple's daughters were little, jumped back in with a project of her own, Olin Bar & Kitchen. Opened in late 2020 in Downtown Detroit, the restaurant — whose name stems from the Middle English word for Holly — brings to life her vision for a modern, European-inspired brasserie, a place that's both cozy neighborhood hangout and sophisticated dining destination.
"As a Michigan native, doing a concept in Detroit has always been a goal of mine," Holly McClain says. "Throughout the past 10 years, I had played less of a role in the restaurant business, while my husband opened projects in Las Vegas. While in the process of opening Highlands, a good friend presented the Olin location to me, as he knew that I'd been looking, but not actively, for a space. Now that we were close to home and family, our girls were a bit older and Highlands was almost open, I was able to seriously consider this project, which had always been just an idea. The timing was good, and the location was great."
Conceived of and largely developed prior to the onset of the pandemic, Olin occupies the ground floor and basement of a two-story Art Deco Streamline Moderne building designed in the early 1940s by architect Charles Agree. Over the years, it has served as a fur shop, art gallery and, most recently, as home to the PuppetART Theater. Its curved corner storefront was a draw, as was its prime location in an area undergoing major redevelopment and revival. The new landmark Shinola Hotel sits across an activated alley, for example, and just down the block, a new 1.3 million-square-foot mixed-use development is going up, the first phase of which is expected to be completed by late 2023.
Original brick walls and mosaic tile flooring provide a unique backdrop in the bar and lounge areas, where custom blue leather sofas and deep chairs lend a comfortable residential feel. Image courtesy of Justin Maconochie
Vacant since 2017, the building was essentially an empty shell with an old stage at the far end, drop ceilings and walls covered in dark adhesive material conducive for use as a theater. "We had to look beyond all of that to see its potential," says Michael Poris, principal at Michigan-based architecture and design firm McIntosh Poris Associates and project lead. "Once we got into it, we started uncovering the walls and discovered original brick. And there's a great mosaic tile floor that was original to the space. The building was in good structural condition, but the interior hadn't been renovated in decades and needed to be brought up to meet current fire-safety codes. Overall, however, it had great bones."
On the exterior, the architects preserved the building's original limestone facia and added a newly designed storefront, taking full advantage of its distinctive curved corner. Consisting of blue-gray metal panels with traditional decorative pilasters between large glass-paneled windows, the new storefront ensures high visibility from both the Shinola Hotel and the busy street out front.
"We added signage to the corner as well as above the front entrance to ensure strong brand visibility," Poris notes. "From either side, it draws your attention and then you see this bright, fun, eclectic space inside. It's very inviting."
Another addition, which proved particularly timely, was a walk-up window, from which a separate concept, Twist, operates. Twist offers several varieties of fresh-baked gourmet pretzels, as well as cocktails to-go, sandwiches, chili and fries. "The alley that Olin shares with the Shinola Hotel created an interesting opportunity to do something different and fun," McClain says. "The concepts are separate, but operationally, we're able to utilize an existing kitchen, space and work team to assist in the production and ultimate execution of the walk-up window."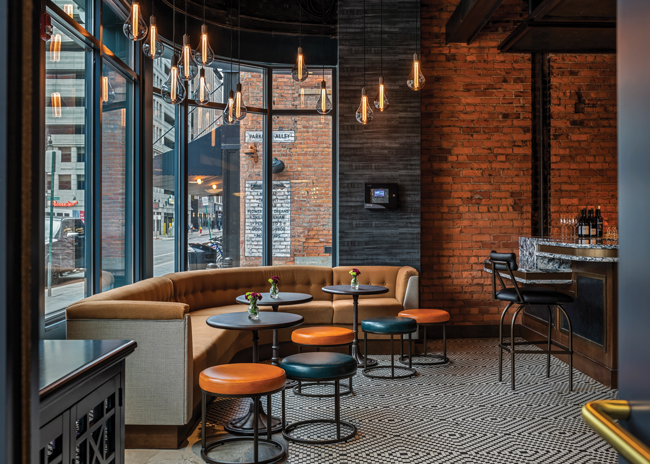 Curved booths beneath the dining room's striking mural wall provide for an intimate dining experience, while open booths along the front window offer a more social setting with direct street views. Image courtesy of Karl Moses.
Intimate and Eclectic
Inside, Olin's 3,900-square-foot main level includes a generous bar and lounge area to the left of the entrance. A custom double-sided wood and leather banquette divides the bar and lounge area from the dining room on the right side of the space. The restaurant's back wall, where the puppet stage once stood, now holds an expo kitchen that's separated by a blue porcelain tile wall from the main prep kitchen behind. "We chose that area to locate the back of house, as well as the restrooms, because it was the easiest place to install the necessary infrastructure," Poris says. "For the kitchen, we were able to vent from that back wall straight up to the roof."
Colorful custom wallcoverings in the bar and dining room, created from murals done by a local artist, are abstract, industrial and Detroit-inspired. Image courtesy of Justin MaconochieA four-seat, bar-height counter fronting the expo kitchen offers guests a bird's-eye view of the chefs in action. Supporting the main-floor kitchens is a secondary prep kitchen in the lower level, which includes space for dry storage, an office and employee lockers and restrooms.
"We were restricted to a small layout," McClain adds. "We had to be as thoughtful and smart as possible with the number of pieces of equipment we were able to fit in, making sure each served a purpose. The main kitchen contains all custom built-in refrigeration and the front line is open to the dining room. It's a great design visual, but it also energizes the room and sets the tone."
To achieve McClain's goal of creating a restaurant that would be casual and comfortable, yet elevated in both menu and design, Poris and his team focused first on uncovering and restoring existing unique elements that would lend a sense of place and honor the building's Art Deco origins. The vintage Detroit red brick walls and mosaic tile flooring delivered on both fronts, while contemporary lighting and large abstract murals were added to lend industrial-themed elements.
"Holly wanted Olin to be colorful, eclectic, active and diverse," Poris notes. "We made it about Detroit because we always like authenticity of place. Yes, you see exposed brick everywhere, but these walls are Detroit brick, which has a specific color and texture. And the murals, done by local fine artist/photographer Lisa Spindler, are abstract, industrial and Detroit-inspired."
Spindler selects images of industrial steel objects that she has photographed over the years in various locations around the city and then merges and photo-manipulates them to create vibrant, texturally rich collages. For Olin, the creative team selected two such collages from her studio that were then blown up and printed as large-format, commercial-grade wallcoverings. One, the 30-foot-by-10-foot Industrial Tapestry #1 is a focal point in the dining room, while the second, the 16-foot-by-14-foot "Industrial Tapestry (Blue Fragment)" was installed in the bar/lounge area.
Adding to the eclectic blend of design elements, structural columns were clad in traditional millwork that carries the aesthetic of the exterior storefront pilasters inside. "It's really a range, from deco to modern to traditional," Poris says of the style mix. "It all comes together as something unique."
Ceilings were uncovered and reimagined to create an open, airy feel. They're coffered, backed with acoustic panels and accented with intersecting wooden beams. Once the ceiling was opened up, Poris says a key challenge was to take advantage of the volume, but at the same time create comfortable scale. "That's tough to do," he notes. "But I hate big, high-ceiling, open-space restaurants. There's no intimacy and they're usually way too loud. Our approach was to create several different seating zones and guest experiences within the space, and to add intimacy, depth and richness with ceiling layers and decorative beams and lighting."
Over the 13-seat bar, a metal mesh ceiling canopy adds interest and, along with oversized light fixtures, helps to define the space. The bar itself is wood below with a blue and gray quartz top. A simple wood and brushed brass back bar incorporates metal mesh and seeded glass. Lounge seating, including custom Chesterfield-style sofas, deep leather chairs and a banquette that follows the front window's curve, has a warm and comfortable residential feel. Blue and rust hues appearing throughout the restaurant are emphasized in the seating upholstery, and brushed brass accents and trim add a touch of luxe.
For diners, multiple seating styles are offered. Generous half-round booths along the dining room's striking mural wall provide for a more intimate experience, while banquettes, center communal tables and open booth seating along the front window wall offer social settings with visibility to the street outside.
It's all part of creating the type of diverse, any-night, any-occasion type of venue Holly McClain envisioned. "I wanted an environment that guests can come and feel comfortable in whether sitting at the bar, in the lounge couches, in a booth by the windows, a cozy round by our mural wall, or on the high-top in the center of the room with a group of friends," she says. "All of these different seating styles and arrangements are important because they create a different experience each time you dine with us." 
The main dining room offers a variety of seating styles, from booths and banquettes to high-top communal tables, for diverse guest experiences. All seating is arranged perpendicular to the windows and bar. Image courtesy of Justin Maconochie
Project Team
Ownership: Holly and Shawn McClain, McClain Group
Architecture/interior design: McIntosh Poris Associates (Michael Poris, Principal in Charge; John Skok, Principal; Karin Abel, Design Architect; Liz Swallow, Interior Designer)
General contractor: City Contracting Services
Mechanical engineer: Greenpath Design
Electrical engineer: ETS Engineering, Inc.
Kitchen consultant: Millis & Associates
Lighting design: Robert White, Illuminart/Peter Basso Associates
Environmental graphics: Metro Signs & Lighting
Mural artist: Lisa Spindler Studio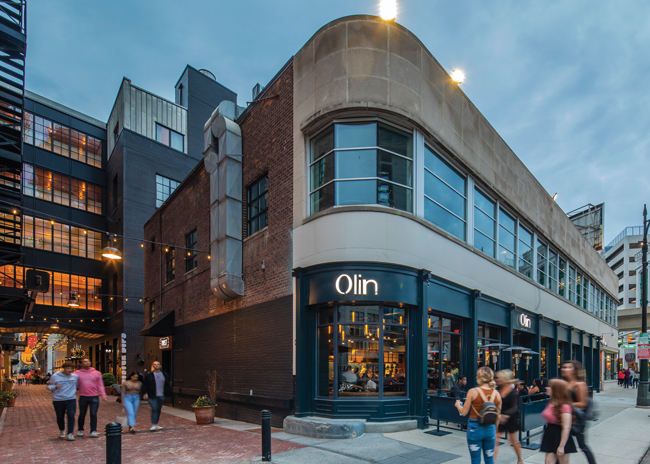 The architects preserved the 1940s Art Deco building's original limestone facia and added a newly designed storefront, taking full advantage of its distinctive curved corner. Large paneled windows and signage on two sides maximize visibility. Image courtesy of Justin Maconochie
Snapshot
Location: Detroit
Concept: Mediterranean-American brasserie
Opened: September 25, 2020
Average check: $55
Size: Main level, 3,900 sq. ft.; basement prep/storage, 1,133 sq. ft.
Seats: 90 dining, 13 bar, 16 lounge, 10 outside
Project type: Adaptive reuse
Project duration: 19 months (includes 3-month COVID-related construction delay)
Project budget: $1 million