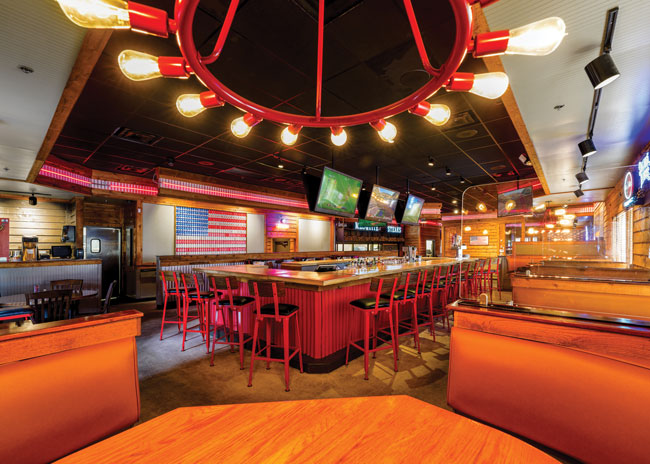 With just a few days for construction, bar upgrades focused on finishes, including a paint job for the corrugated metal bar face and new upholstery for existing booths. Images courtesy of Logan's RoadhouseThere's an apocryphal saying that the Chinese character for crisis means both "danger" and "opportunity." It's not true, but the underlying idea that extremely difficult situations also present chances for growth certainly is. And the COVID-19 pandemic was clearly one of these situations.
Every concept in the restaurant industry was impacted by shutdowns, the push to off-premises dining and overall economic shock. Some businesses, unfortunately, didn't survive. Thanks to skill as well as some luck, others were able to quickly pivot and come out stronger than before.
Logan's Roadhouse, a 136-unit full-service casual steakhouse, belongs to the latter group, says Deanna Parr, vice president of marketing for Logan's parent company, SPB Hospitality.
When the pandemic hit, the chain was able to shift quickly to focus on off-premises sales. Those sales thrived and have stayed strong.
Part of this success, Parr notes, is the chain's price point. Logan's menu is designed to be affordable for a full family, not just a couple out for date night. Another part is the nature of Logan's food. While burgers and fries may not hold up after a car ride, steak and ribs work out just fine.
"A lot of our menu does travel well unlike some other brands. You can get home and enjoy a really hot steak and baked potato that is still steaming by the time you get home," says Parr.
At the same time Logan's was shifting to off-premises sales, it took the pandemic shakeup as an opportunity to pare down its menu. Nothing that comes off the chain's mesquite wood grill was eliminated, but some salads and starters that didn't make sense were eliminated. The result was a restaurant with simpler kitchen operation and a smaller, easier-to-manage inventory.
All in all, then, the chain was doing well in early 2021.
That's when it pulled the trigger on a redesign.
"Our operators have had a chance to kind of reset," Parr says. "This brand has been performing really well for us, but it hasn't been updated in a while. It may be slightly counterintuitive to think about redesigning the restaurant, but this is actually the best time for us with the performance we're seeing. We wanted to continue that momentum and really give the restaurants the refresh they deserved after the hard work that has been put in pre-COVID and post-COVID."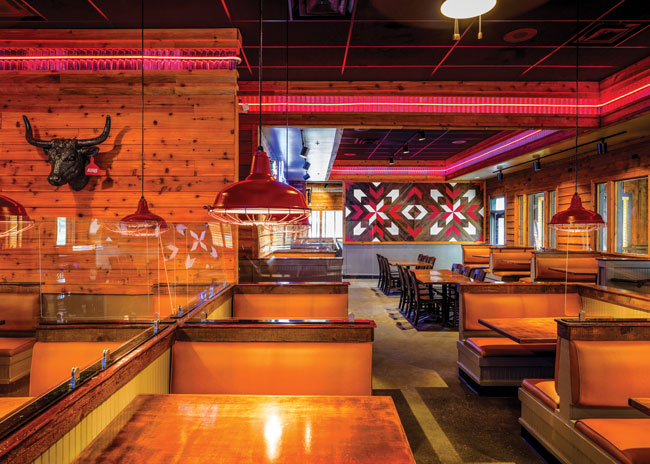 Dine-in guests at Logan's prefer more cozy, intimate spaces, so the chain added divider walls and extra booths to its dining room.
Ok...But Why Really?
It's not uncommon for a brand that hasn't been refreshed in years to update its look. The goals of most redesigns run deeper than installing on-trend fixtures, finishes and furnishings, though.
Beyond updating its look, Logan's had two primary objectives. First, with the rise of off-premises, the chain wanted to better integrate those sales into its restaurants without disrupting the dine-in experience.
Second, the chain wanted to target Millennial diners. While this group is now pushing 40, with kids and mortgages and everything that goes with that, they're a desirable customer segment. "We wanted to make sure the current guests are excited about where they are coming for their experience but also invite this new generation in as well," Parr says.
At the start of 2021, then, SPB assembled an in-house team to develop its new look. Other than SPB's general contractor, team members were all in-house — there was no outside design firm involved. The group included Parr, a longtime industry veteran who was brand new to SPB; in-house designers, a project manager; and key members of the company's construction team.
Relying on information from recently completed customer intercepts and an online focus group, the team created Logan's new look. In September 2021, the company shuttered its restaurant in Houston for just four days to implement this design.
A key element of the new design is the wood rack and window into the kitchen, which tell the story of Logan's mesquite-grilled steaks. The to-go station has also been built into this area.
Looking New, Quickly
Logan's look is clearly in line with the roadhouse brand, and includes several rougher elements and materials, such as corrugated metal and a new host stand clad in license plates. Other touches are cleaner and more stylized, including a few social-media-friendly moments.
One of the most eye-catching elements of this new design has elements of both: the new pick-up area. Since facilitating and smoothing off-premises transactions was a goal of the redesign, this space has been positioned so that it's impossible to miss. Straight ahead, just past the host stand, is the to-go area. It has the essentials like a POS station and cubbies for pre-paid orders but it's much more than just a pick-up area, however. It tells a big part of Logan's story, specifically its use of mesquite wood to grill its steak and ribs.
A glass window gives guests a clear view of the kitchen. Front and center in the window is the mesquite chargrill itself, providing visitors a show complete with flames and the grill master at work. The window is a legacy element, says Parr, but it previously had mullions that broke up the view. The new window uses a single pane of glass that lets guests enjoy the show without distraction, enhancing the dramatic effect.
The beer can flag helps anchor the bar space and is a fun nod to the roadhouse tradition.Surrounding the kitchen window is an elevated wood rack holding the mesquite logs that Logan's uses for the grill. "We wanted to integrate that story, that we take the time to use mesquite wood," says Parr. "So we created a wood rack around our kitchen. Operationally, we are pulling wood from the front of the house versus it being stuck in the back and nobody being able to see it."
This pickup/cooking showcase area sits in the middle of the restaurant. To the left sits the bar, and the dining room is to the right.
The bar area's overhaul was somewhat limited due to the redesign's tight time frame. The bar itself remained in place but was given a refresh. Corrugated metal on the bar face was painted red and new bar stools were added. Other furnishings were upgraded as well, and booths were reupholstered.
Other changes in the bar went beyond the surface. The space was given a new signature design element in the form of an American flag made with beer cans, "a fun way to pull in that roadhouse feel in a really interesting way," says Parr.
At the same time, the television package was shifted above the center island bar, which both cleaned up and added energy to the section.
While the bar clearly has a new feel, the changes to the dining area were even more extensive.
The short timeframe allotted to the build meant the brand avoided removing structural elements, Parr says, but it didn't stop Logan's from adding such features in this space. Aiming to offer guests a more intimate experience, the chain added new walls to break up the dining room and create some cozier zones.
The chain took full advantage of these new walls to create some eye-catching design elements.
One, for instance, features a faux steer head, complete with an ear tag labeled "Logan's." Another, which is used to create the 30-person private dining room, uses shiplap boards painted in green and white to create a quilt-like pattern. It's a touch that feels both elevated and downhome, like something one might find in the Texas Hill Country, Parr states.
Seating in this space changed as well. While the dining area previously had a number of floating tables, many of those were swapped out in favor of new booths, which Logan's guests have shown a preference for, says Parr.
Much of the restaurant's lighting package was also swapped out in the dining room as well as the bar and entry area. New pendant fixtures in bright red hang over some booths, while others are lit with track lighting. The feature fixture, also in red, is a large round light with multiple Edison bulbs extending outward in dramatic fashion.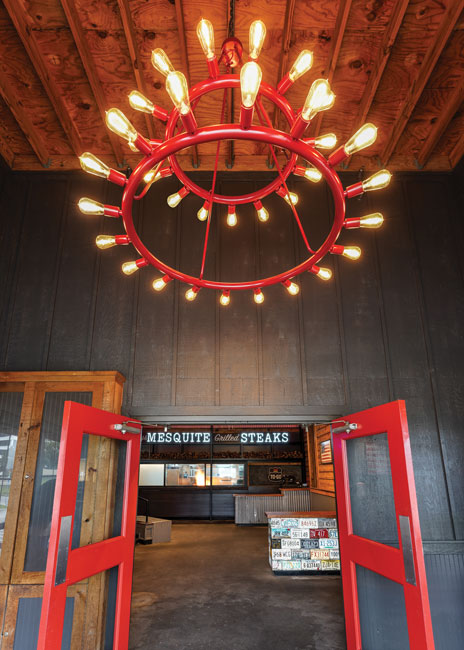 The chain's new wagon wheel fixtures add a pop of color, drama and personality to the roadhouse concept reaching out to a younger customer base."Those are what we call our wagon wheel fixtures," says Parr. "Although they kind of nod to a wagon wheel, they have a much more modern approach, especially in that punchy red color. It brightens up the cedar wood that's on the walls."
One legacy element that was retained, though, was an LED rope light built into the restaurant's soffit that runs throughout the restaurant. Set to give a neon-like glow, this element adds to the space's roadhouse feel.
One not-so-roadhouse section, though, comes near the entrance, where the brand placed Instagram-friendly moments. Painted on the wall to one side of the entry door is the phrase, "I'm here for the rolls," a nod to the popularity of Logan's scratch-made starch. On the other side of the door is an oversized "TX" (for Texas) in red metal, a nod to SPB's home base.
"Those are over 5 feet tall, so we get a lot of people who want to take pictures of them as well. Those two features at the front anchor the entryway and give us a lot of engagement with people who want to stop and take photos before they leave," Parr says.
Four days?
So now the big question: How did Logan's pull this redesign off in four days, from closing after dinner on a Sunday to opening for late dinner shift the following Thursday?
Much of this came down to the design phase.
With such a tight timeframe, some key features of this restaurant's features were left untouched. The sealed concrete floor remained, for instance. Similarly, rough-cut cedar planking found on some walls was left in place. These choices not only helped construction hit its timeline but the feel they create makes sense for a roadhouse concept.
Knowing that the company wasn't willing to shut down the restaurant for weeks also helped direct the changes the design team could and couldn't make. Starting from scratch, Parr says, the bar would have gotten a more extensive overhaul. With just a few days for construction, the design team was able to make the bar work using what was there.
Other big sections were worth tackling during the closure. In this case, the restrooms were gutted. With multiple trades involved in the execution of this project, it was a point of serious discussion, but the team decided to pull the trigger, Parr says.
In a few other instances, some elements that could wait were installed after the closure. "There are certainly things that will come up where you have to say we need to hold on that. We did have some exterior lighting we wanted to replace. That ended up happening the week after."
Backstopping all this planning, of course, was the company's general contractor. SPB's GC has a long relationship with the company and knows Logan's well. This allowed the builder to understand the project and plan the work in detail, with crews running basically 24/7.
Scheduling the first build in the same city as company headquarters also smoothed some things out, Parr says. The project team had easy access to the site before and during construction and were still able to go home for a few hours of sleep each night.
Even so, the construction process was hectic. "It should be a reality TV show, honestly," says Parr. "We have a great contractor. He runs his crews solid for those four days. They come in and demo very quickly. The site is buzzing. Everything is laid out and scheduled to know who can overlap who as far as things like tile versus plumbing versus painters. It's all hands on deck."
With the first redesign complete, Logan's is now making plans to implement this look in new stores as well as roll it out to legacy locations.
The plan for remodels, says Parr, calls for two different levels. Depending on factors like the location's footprint and sales volume, each space will either go all in or get a slimmed down remodel. The exact elements of the lite version are still being hammered out. The wood rack display and window into the kitchen tell an important part of Logan's story and are must-haves, as are the Instagram-friendly moments, says Parr.
Given Logan's recent performance, there's likely to be ample opportunity to nail down the new look for both an empty shell and the various levels of remodel. The early reviews on the new design are positive, from both the customer and operator viewpoints. Combined with Logan's performance during the pandemic, more and more projects are getting queued up for the redesign team, says Parr.
"This brand has performed incredibly well over the past year, so there are plans to continue to open more locations. We have quite a few on the list to overhaul and now the remodel list for next year is growing." 
These Instagram-friendly moments will be integrated into all future Logan's remodels.
Snapshot
Headquarters: Houston
Concept owner: SPB Hospitality
Concept: Logan's Roadhouse, a roadhouse style concept featuring mesquite grilled steak and ribs
Unit count: 136
Location: Houston
Opened: Sept. 2021
Size: 7,600 square feet
Design highlights: The overall design concept modernizes the roadhouse while maintaining the character of Logan's. The goal was to allow the interiors to tell the Logan's story. The kitchen is now a feature that draws you in and shows off the mesquite wood grill. Logan's has also folded in opportunities for guests to interact with decor elements, making for Instagram moments. Those features include an oversized steer mount, 5-foot "TX" letters inspired by vintage road signs and an American flag built from hundreds of beer cans. 
Build-out time: Four days of 24/7 construction
Project Team
Project Lead: Jay Roach, Deanna Parr, John King
Interior Design: Deanna Parr