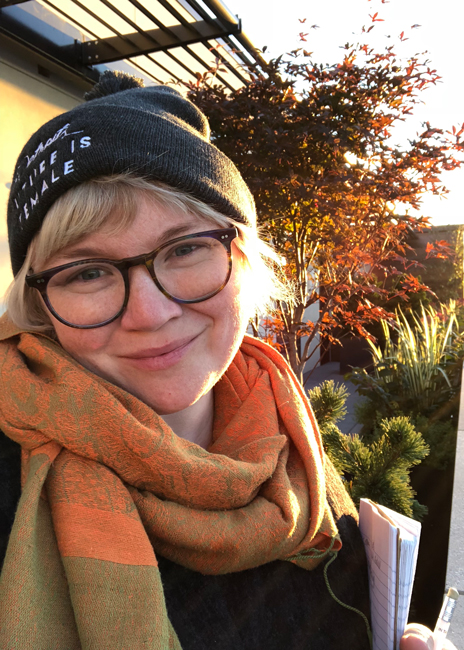 Sarah Stalker, image courtesy of Patrick Barber.Summer's here and customers are eating outside, both to enjoy the outdoors and to continue to feel safe.
Adding landscaping to your outdoor space can make a big difference to the look and feel of your restaurant's exterior.
"People are meant to be close to the natural environment. There's an effect from being near plants that can lower our blood pressure and make us less stressed out and make employees want to be at work more," says Sarah Stalker, creative director of Planterra, a landscape design company in West Bloomfield, Mich. "Good landscaping invites people into the space. And nothing makes people feel more at ease than plants."
Landscaping, she says, is "an accessible, affordable way to give your restaurant a face lift. It can make a space look fresh and healthy, projecting comfort and wellness."
Here are seven best practices to help with landscaping.
1. Consider how you want people to feel.
What do you want customers to feel? Is your restaurant an escape from the world, insular and cozy? Do customers want to be seen while they're eating? Or do you want to not encourage them not to stay too long so you can turn your tables?
"If I wanted people to stay, I'd have more plants that were creating an ambiance and a bit of intimacy and enclosure, which can create cozy nooks outside," says Stalker. And remember, she adds, that people usually like their backs against something "and plants can really give protection and coziness and also make a space feel really fresh."
Landscaping can also be something interesting for guests to look at and talk about, especially if there's something a little unusual about it.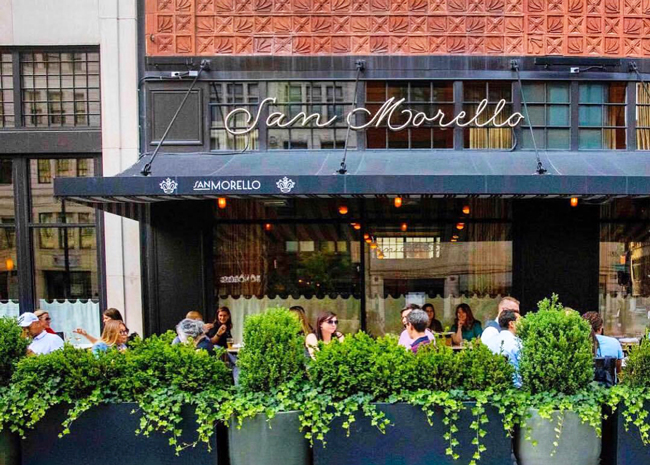 Images courtesy of Planterra
2. Use inspiration.
The interior of the restaurant or the type of cuisine it serves can inspire the exterior landscaping. "Consider the colors and textures of a Mediterranean garden for Mediterranean cuisine, for example," says Stalker. "Or if it's a very slick and minimal modernist restaurant, you could think about reflecting that in the plants."
3. Carefully consider the type of plants.
Don't just drop plants willy-nilly into the ground or containers. Think about how much light they need and how much water. Think about the elements — if it's windy, it could knock over more delicate plants.
Consider the seasons. In locations with a harsh winter, restaurants may want to change out their exterior landscaping with the seasons, or do a combination of boxwoods and evergreens for year-round green, with other plants rotating in and out "so you get an infusion of color and excitement and change without it being too expensive," Stalker points out.
Stalker doesn't have any objection to the use of artificial plants, and says these can be successfully mixed in with real ones. "If you mix artificial and live your mind can be tricked into thinking everything is live," she says. However, make sure plants are UV rated and suitable for the outside, otherwise they can change color in the sun.
And given that it's popular right now to grow your own food, consider growing herbs as part of your landscaping. Some, says Stalker, "are more ornamentally appealing than others," such as lavender, rosemary, fennel, thyme and dill. An added bonus is they can scent the air. It's a good idea to mix these in with flowers to add some variety.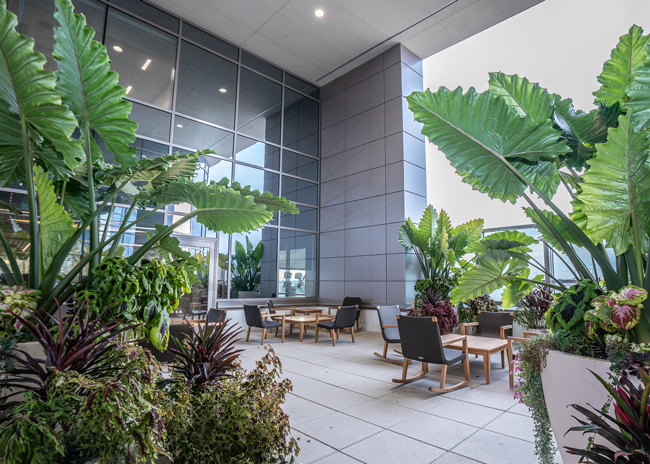 4. Don't forget maintenance.
Maintenance is an essential part of your landscaping, but if your staff doesn't have time for watering, "consider adding a drip irrigation system on a timer so it doesn't have to be someone's responsibility," Stalker advises. And if you're going to water manually, make sure there's access to an outside faucet.
5. Be practical.
Landscaping can serve a practical purpose for restaurants. It can be a soft barrier to separate people, which can be more appealing than something like Plexiglas. "Plants are a welcoming way to space people out without making it look too empty," Stalker says.
Plants and planters can help with the flow of a restaurant space. In a fast-casual restaurant, for example, a tall trough of plants can direct people, but in a gentler way than stanchions or metal barriers, encouraging them to keep moving to pickup or takeout spots.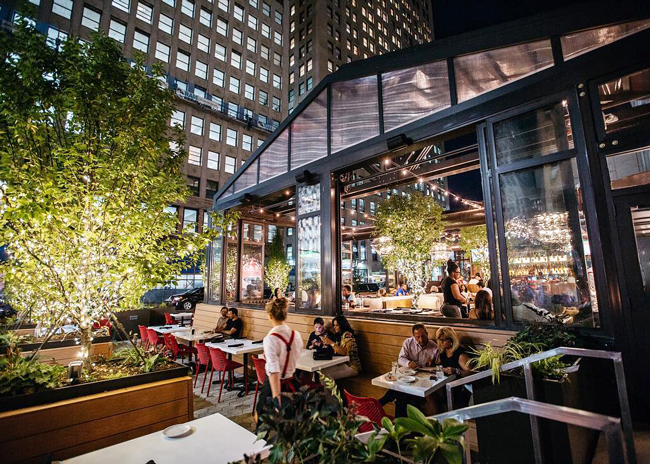 Image courtesy of Townhouse
6. Create height and added visual interest.
Include landscaping in planters on the floor that contain tall, short and medium plants, and also include some tabletop pieces such as cut or dried flowers. 
Stalker likes to have one or two standout pieces that can be seen from everywhere in the restaurant "but don't overdo it because floorspace is at such a premium," she says. "Invest in some big trees or clusters of containers."
Operators can also attain different levels by using trellises or living walls, which can be freestanding and one- or two-sided, or attached to walls to hide ugly spots. If they're freestanding, putting them on casters means the space can be easily changed. "It gives a nice romantic feel to have things climbing about," Stalker says, although cautions that these may need changing out in winter months.
7. Incorporate lighting.
Low voltage lighting can be integrated with the landscaping to up-light beautiful trees, or on the side of long planters to light the way along the floor, or soft light can shine on perennials.
"It's a pretty accessible way to add something special for evening dining that avoids harsher light," Stalker says, "and it ties together with the landscaping. Think of your exterior as an outdoor room. Lay out your seating, think about where the focal points are, and light accordingly."