Designing and fitting out restaurants to create experiences is a big part of the hospitality equation. But, thanks to the pandemic's disruption, those experiences can no longer simply project vibe, ambience, smooth functionality and Instagram-worthy aesthetics. For the foreseeable future, safety, sanitation and adherence to government-issued operating guidelines eclipse many other aspects of the dining-out experience. Sexy? Not exactly. Critical to bringing skittish consumers back into dining rooms and concerned employees back to work safely? Absolutely.
Like everything else, strategies for messaging safety have rapidly evolved during the pandemic. Crude, hand-written "mask required" signs and taped-off tables seen throughout the shell-shocked industry last summer have given way to integrated, brand-supporting approaches, many of which will likely continue on.
"When this all started, we figured it might be for two or three months, but obviously that didn't happen. We've had to adjust, take a more long-term approach and invest in better solutions to regain consumer confidence," says Paul Hutson, CEO at Taste Buds Management. The New Orleans-based company operates 10 full-service, upscale-casual Zea Rotisserie & Bar restaurants and a catering and events division.
Taste Buds approaches messaging safety from two fronts: employees and customers.
Internally, thanks in part to being located in hurricane country, emergency communications systems are well established. Zea staff members have access to an employee website and toll-free phone number for up-to-date information on protocols and procedures. An internal safety committee meets monthly to review programs and performance. Pre-shift meeting agendas and company newsletters regularly include safety messaging.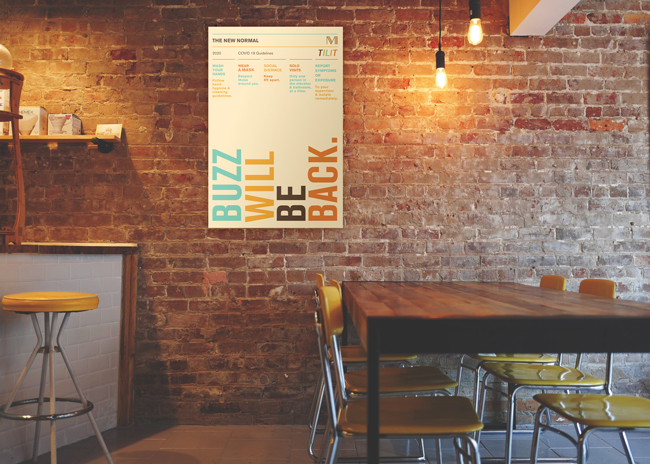 Image courtesy of The Morris Project
"Well before COVID-19, we made health and safety a cultural issue, and it's been very important to our success," Hutson says. "Since COVID, we've enhanced our existing programs to include CDC-recommended protocols. We're taking temperatures at the back door, wearing masks and providing ongoing training around proper mask usage, social distancing and implementing enhanced sanitation measures. We're mandating that employees who don't feel well stay home and are covering for them. Short of a foot bath at the employee entrance, we've taken everything up to the level of a food manufacturing facility to message the importance of following the protocols."
One important new internal tool introduced by Taste Buds is a safety commitment letter that every employee and manager must sign. "It spells out point by point what's required and asks everyone to commit to doing what needs to be done to help keep each other safe both inside and outside the restaurant," Hutson notes. "Obviously, we can't mandate what someone does outside of work, but we can communicate with them about the potential impact of their decisions, whether it's getting a co-worker, guest or family member sick, or putting the business in a position in which it can't operate."
At Dog Haus, the 50-plus unit fast-casual concept known for gourmet hot dogs, sausages, craft brews and burgers, existing employee communications tools have been enhanced. Heather Mann, marketing and communications manager, says the company's corporate team maintains close communication with each location to help ensure franchisees are following guidelines and communicating the importance of health and safety to all team members. Back-of-house signage keeps enhanced safety protocols top of mind, and tips for ensuring safety are regular features in Dog Haus' monthly internal newsletter, according to Mann.
For customers, messaging strategies around safety serve two important functions. Communicating a commitment to and compliance with government guidelines for safe operating procedures helps build guest confidence in the business. And some strategies now specifically underscore guests' own responsibility in helping to ensure safe restaurant visits and help guide them on how to do so. Getting those messages across involves a combination of solutions, spanning technology, seating layouts, "sanitation theater," signage and, perhaps most powerful of all, training and operations that demonstrate commitment to safety protocols.
Tell, and Show
Amy Morris, principal at New York-based design and strategy firm The Morris Project, sees safety messaging as an opportunity to create confidence-inspiring points of difference. "Operators who are doing a great job with this really appreciate and understand how important these messages are to guests and staff right now. They're putting creative energy toward communicating them on their websites, social media platforms and in their stores," she says.
Morris cites Tourists, a hotel in the Berkshires of Massachusetts, as a great example of the types of things she thinks every restaurant and hospitality operator should be doing right now. The hotel developed a series of fun Instagram stories that are grouped under Safety Measures on their Instagram profile. One shows a bald-headed, Mr. Clean-type character busily mopping beneath text explaining room sanitation procedures. Another shows a silhouette of a woman dancing in her room beneath text explaining how the HVAC system replaces the air in each room every hour with fresh outside air.
"It's a serious matter and people are so stressed about it when traveling or thinking of going out to restaurants, but if you communicate with creativity and a bit of fun, it can help to break down the stress," Morris says. "They didn't just put up a list of their safety measures, they had a lot of fun showing you how serious they are. They understand their customer and took the time to create GIFs that make you smile and also communicate their commitment to safety."
Even simple things, such as posting photos of staff members in masks on websites and social media channels, sends compelling safety messages. "I don't think having any imagery of staff without masks on is a good idea right now," Morris notes. "The more you can both show and tell customers that you're taking this all very seriously, the better. That extends to operations in-store, to things like making sure employees aren't removing their masks while they're standing around chatting in the back of house. If guests see that, other safety messages you're trying to communicate are instantly diluted. It has to be a comprehensive messaging strategy that includes training, education and operations as well as physical and design measures."
Morris advocates raising the bar on in-store signage as well. Just as with website and social media efforts, design and details matter. To help operators up their signage game, The Morris Project's website offers two professionally designed COVID-19 protocol posters for free download.
At Dog Haus, a dedicated "We're on it, and we're open," website landing page provides assurances to guests of the chain's commitment to safety and enhanced sanitation procedures. Each location's website also includes specific messaging regarding operating procedures and updates important to or relevant to the individual unit. In a video produced for use on social media, Culinary Director Adam Gertler directly addresses guests, thanking them for trusting the brand to serve them during this time, and sharing the many steps Dog Haus is taking to ensure their safety as dining rooms reopen.
Many Dog Haus locations have added plexiglass barriers at POS stations as extra protection for guests and staff, and all CDC and WHO guidelines regarding team member health, handwashing, glove and mask use, social distancing and tamper-proof packaging are strictly adhered to, according to Mann. In addition, cleaning procedures have been enhanced and facilities are sanitized hourly.
To help ensure Dog Haus guests are aware of the chain's health-and-safety protocols, and to promote their own cooperation with required procedures, multiple types of branded in-store signage are provided for franchisee use, as well.
Taste Buds' Hutson says his operations have taken many similar steps to send clear and compelling messages about safety. The most significant of those, he says, and most appreciated by guests, are operations-focused.
"Like most restaurants, we've posted signs with messages about protocols, and we've taken tables out or added partitions so that you can see that we're social distancing," Hutson says. "But we've found that people don't read signs. If they want to read about our safety measures, they've already gone to our website. The things that we're getting the most credit for in terms of messaging go beyond signage. Specifically, we've moved things that used to happen in the back out front to ensure that guests see how we're handling new protocols. They want that type of transparency right now."
Sanitation stations have been added to dining areas at all Zea Rotisserie & Bar locations. Staff now use color-coded disposable wipes to clean tables, cleaning first with green and then sanitizing with red. Employees are carefully trained and monitored to ensure proper mask and glove usage, and to avoid touching their faces. If contactless payment isn't possible, pens and credit cards are wiped with sanitizer before and after transactions.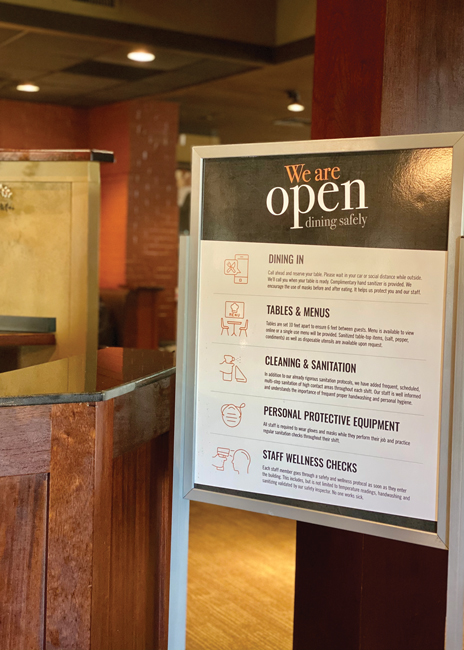 Sanitation transparency for both staff and customers is a key strategy at Zea Rotisserie & Bar locations. Image courtesy of Zea Rotisseries & BarAfter an initial test with QR codes for contactless menus, Hutson says Zea customers didn't respond well to the switch. Disposable paper menus are now used. "We produced a nice, branded version so that it looks like our hard menu. All of these things are expensive, but we're investing in the experience," he says. "If someone thinks enough of us to give us the opportunity, we want to make sure they can see everything we're doing. We're noticing that guests are coming back to us more frequently because we're being so particular about safety. It may take a little longer to serve tables, but it's either do these things or not be in business. We're a big part of our communities. We need to keep our guests and our teams safe, and to keep earning their trust."
Indeed, successful restaurants in the pre-COVID era have the opportunity now to leverage the trust that customers have always placed in them to do what's right and operate responsibly, notes Mark Canlis, co-owner of Seattle's fine-dining icon, Canlis. That, he says, is far more powerful and compelling than any overt messaging strategies.
"Anyone can put a sign on the door that says 'mask required, wash your hands, stay 6 feet apart, etc.' It's not to say that we won't or shouldn't do that; we're following all of those protocols. But let's not confuse that with communicating well. That's what the health department wants us to do. What's more powerful is expressing directly and genuinely, 'Look, we're going to do this as safely as we can. We're going to do it to the degree that ethically and socially we feel we're doing the responsible thing. We've taken dozens of operational steps to mitigate risk because it's the right thing to do for your safety and ours.' Our messaging strategy is very relationship-based, and it can be done with a lot of grace. It's really no different now from what we've always done. Customers come to us because they trust us with things that were just as critical before the pandemic — some even riskier, such as severe food allergies. It's a huge responsibility that we've always had. COVID may look different because we're wearing masks and social distancing but it's the same relationship, and we need to be able to answer the same question: Can you trust us for this moment?"