Think of a steakhouse. It has dark wood furnishings, deep red, maroon and green upholstery. It maybe doesn't have cigar smoke wafting around, but it feels as though it does. In fact, it feels like a gentleman's club from long ago.
New steakhouse owners and designers are looking to break that outdated image, making environments more welcoming to both women and families by bringing in light, personality and shattering expectations. Here we take a look at three of them.
---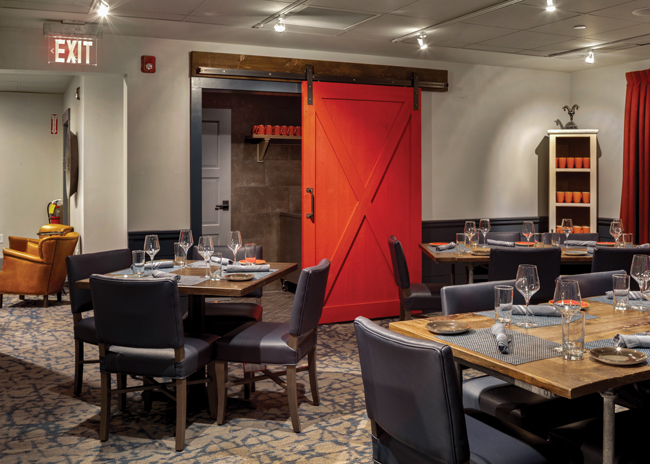 Located in a custom-built barn, Smythe & Dove Steak offers a New England-style take on classic steakhouse design.
Andover, Mass.
Before you enter Smythe & Dove Steak, you know you're in for a new experience. The restaurant is housed in a custom-built barn in downtown Andover, Mass.
"The steakhouse format was old and stodgy, and we wanted to revive it with a New England classic feel, a new and playful style that appeals to families," says Chris Rapczynski, president of Sleeping Dog Properties, Boston, Mass.
The goal, he says, was to create an attractive, period-inspired New England barn-style restaurant, with modern ideas and finishes.
Smythe & Dove opened in September 2019 with something for everyone, allowing it to attract a more diverse clientele than a traditional steakhouse.
The restaurant is large, as befits a barn, seating 350 diners at capacity. Upstairs accommodates 70 and second floor private dining rooms seat a total of 115; downstairs accommodates 150, with 12 seats in a private dining room. The restaurant wasn't designed to have outdoor dining, but that's changing due to Covid-19 and the addition of a patio.
Rapczynski deliberately broke up the large space so it didn't feel too empty during lower volume days and times. "Having different dimensions to each space within the master grand space offers more scalable dinning options," he says. Also, "each room, having its own feel, allows for a more granular texture of the same experience. There's a variety of different experience moments."
There are some nods to a traditional steakhouse format. At the entrance are wine lockers, and there's a temperature-controlled glass wine room, which is a private dining room, where the wine is displayed. "It's live and exposed," says Rapczynski.
It was important to have these touches, he says. "The steakhouse format has a client following that's steeped in traditions. Offering something new while having one foot in this tradition blends the old with the new and allows the purist to indulge some elements of those traditions."
The restaurant revolves around the central first-floor bar, which is open yet cozy. It holds 30 people, "yet you feel you can have intimate conversations there," Rapczynski says. He did this by using a variety of material types. On the walls is a reclaimed barn board and Nickel gap (also known as Shiplap) to give that barn-like feel, and to offer another example of the old juxtaposed with the new. There's also "wallpaper to create texture and books to create the sense of age and timelessness," Rapczynski says.
A tin ceiling anchors the core center of the bar, which gives the sense of a heavy material that feels strong and permanent and with it being original and hand crafted it feels cozy, he says. "It makes the bar area feel a little more grounded in tradition."
Located in a custom-built barn, Smythe & Dove Steak offers a New England-style take on classic steakhouse design.
At Smythe & Dove, the private dining room is hidden behind a temperature-controlled glass wine room. Images courtesy of Greg Premru Photography
Losanti has a decidedly residential vibe and a soothing, neutral color scheme. Image courtesy of Losanti
Cincinnati
Losanti opened in downtown Cincinnati last fall, after Vikki Nutter, founder and chief development officer of Nutter Group, flipped it in just eight weeks.
The location was previously a large seafood restaurant, but the owners wanted to create a different vibe with their new steakhouse. "They wanted it to feel like people were coming to their home," Nutter says.
Vikki retained the wooden floor but brought changes to the walls, replacing one section with an art deco mural; the others she painted a rich coordinating color to match the banquettes. Closer to the bar area she painted the walls and stenciled in an art deco pattern with metallic glazes, then applied glitter by hand into a sealer to enhance the design and create a reflective surface. In the bar area, both bathrooms and the dining room, she used a low-luster metallic plaster tinted in custom colors, also found in the upholstery, for a reflective, stone-like effect.
"To achieve this sophisticated look, nine coats, counting the primer and base coats, were applied with a trowel, lightly sanding in-between applications," she says. She also added richly stained bead board paneling in the dining room and back bar area, including building a partial bead board paneled wall to create a noise barrier between kitchen and dining room. She used a high-gloss urethane to seal the bead board, again to create a reflective, sleek, modern effect. One wall, which is covered in miscellaneous mirrors, is coated in a low-luster metallic plaster tinted in custom colors. "We used it to create dimension and to create a balance with the heaviness of the mural and reflective surfaces," Nutter says.
The center of the space is the bar, which she describes as "pub-ish." The bar top is hammered brass and Nutter had the backbar custom made to reflect some brass mesh material on the sides, "so when people walk by, they don't really see in there," she explains.
"We wanted to try to get the modern elements and make it not look like a stuffy dark steakhouse, so we used really sleek lighting yet with that art deco feel." Nutter tried to stay more neutral with fabrics and used a Ralph Lauren-look plaid and a lot of black leather.
To emphasize the restaurant's residential aesthetic, Nutter decorated it with family photographs, artifacts, and decorative items from both sides of the owners' families, one of which has lived in Cincinnati for five generations. There's also modern and period art, since the restaurant is in the city's arts district, including a full wall mural of one of the owners, in an art deco style.
Losanti has a decidedly residential vibe and a soothing, neutral color scheme. Image courtesy of Losanti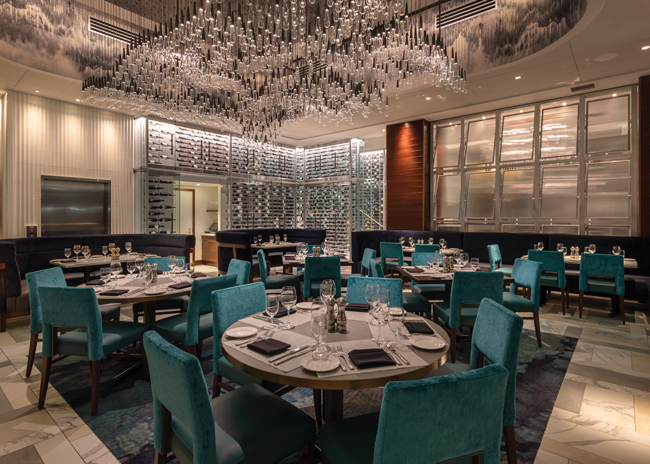 An impressive chandelier evokes ocean waves. Image courtesy of Emilia Czader
San Diego
Aria Group Architects in Oak Park, Ill., have been designing for Del Frisco's Double Eagle Steakhouses since 2010, but when its San Diego location opened in late 2018 it was the chain's most feminine take yet.
The steakhouse's design is intended to reflect its location, which the chain does with all of its restaurants. This one is facing the city's harbor, which is filled with blue water and luxurious yachts, two vibes Senior Designer Elizabeth Neuffer aimed to portray.
"A lot of our concepting came from the fact that we're right within view of the bay; we wanted it to feel like you're on one of those yachts," she says. "We wanted lots of ocean colors and plays on movement. We also played on nautical touches but didn't want to hit people over the head with them."
To achieve that, she used highly figured sapele wood on the bar top as is found on yachts. The columns are wrapped in shiplap leather using recycled leather veneer and stitched in the same way as yacht upholstery.
When guests first walk into the two-story building, they see a living green wall with native plants, then the host stand. "We designed that out of blue marble for ocean ingredients with a cantilevered look, so it gave it a nautical feel," says Neuffer. The tagline for this restaurant is "laid-back luxe," so "we had to not overdo it and make sure it was a cool, luxurious space but retaining that San Diego vibe," she adds.
The second-floor bar and a couple of the private dining rooms feature a copper perforated panel with a photograph of an ocean wave. Fixtures are clear chain link, which, she says, is a nod to the chains used to hoist up anchors.
Neuffer wanted big windows to capture the view and make the interior light and airy. But there's a nod to the traditional steakhouse, with wine bottles in glass display cases lining the staircase up to the second floor. The bar features are well lit, too, to focus on the cocktails and liquor displays. Even the lighting is cove lighting, "so you don't have the dark, dingy ceilings," she explains.
Before Del Frisco's opened, this spot contained three different restaurants. Neuffer had to ensure there was continuity and flow between them. She did that with the consistency of the ocean and nautical themes. Plus, she adds, the patio wrapping around the first floor really helped unite the three areas.
Color choices were important in the San Diego Del Frisco's. Neuffer focused on traditionally feminine pastels, as well as bringing in the ocean through navy blues, teals and coral as well as plenty of white. In the middle of the first floor an impressive chandelier hangs in the center, to represent droplets. Each droplet is lit, and it's hung in a wave-like pattern.