Shark
Celebrity Chef Bobby Flay's latest venture at The Palms features an extensive Latin-inspired seafood menu influenced by ingredients from South America, Mexico and the Mediterranean. Designed by Rockwell Group, the 170-seat restaurant features a 50-seat covered outdoor dining terrace. Inside, Rockwell Group took inspiration from the vibrant, fresh colors of Flay's food and spices by incorporating teak and terracotta punctuated with pops of red upholstery and floor tiles. A Romanesque vault extends from the entryway and runs the length of the restaurant, defining the space. A rectangular 20-foot-long central bar features solid chevron walnut planks and a bar die made of hand glazed clay tiles in a hexagon shape. The custom teak tile floor incorporates natural and white-washed tones. An open grill is a main feature of the restaurant and allows guests to see food preparation. It features a natural marble counter with terrazzo plinths anchoring the corners and curved terracotta roof tiles. A monumental tinted stainless-steel grill hood focuses the energy in the center of the space.
Images courtesy of Clint Jenkins
Red Plate
Located inside The Cosmopolitan, Red Plate is a sophisticated dining concept that celebrates traditional Chinese and Cantonese cuisine with hot pots and dim sum. Led by esteemed Chef Yip Cheung, who formerly helmed the kitchen at the hotel's high-stakes gaming area The Talon Club, Red Plate was designed by Marnell Companies in tandem with Celano Design Studio. The space reflects authentic Chinese design and culture but is balanced out with contemporary materials. Curved champagne-colored walls contrasted with black metal and brass detailing draws guests in from the exterior. An intimate bar and lounge area greets guests before leading them to the main dining space, which is accented by an abstract landscape wallcovering and luxurious red banquettes. Rich tones of deep red and black, accentuated by luxurious fabrics, polished marble and traces of gold, provide a luxurious setting.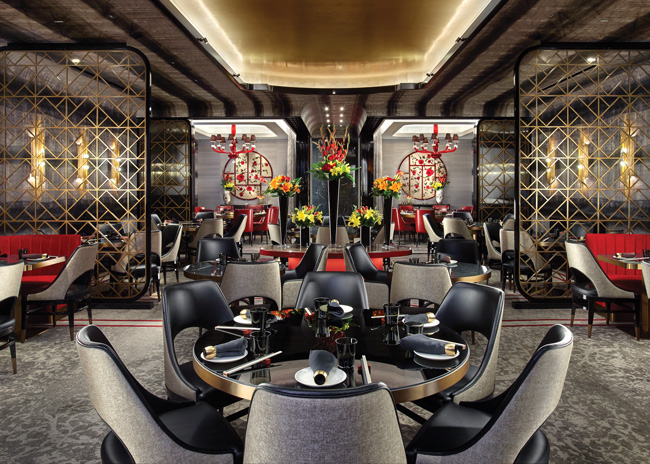 Images courtesy of Cheryle O'Gara
Locale Italian Kitchen
Opened in June by former Eataly Chef Nicole Brisson and business partner Andy Hooper, this 2,950-square-foot, meat-centric Italian restaurant embraces a modern farmhouse feel conceptualized by designer Jen Hooper. The space, which includes a 60-seat dining room, a 30-seat lounge with TVs, a full-service bar and a 35-seat outdoor patio has high ceilings, industrial lighting, a mirrored wall and eye-catching copper accents. Large, slate-colored barn doors separate the patio from the main dining room. The design parallels the inspiration behind the menu: modern, with a twist on classics.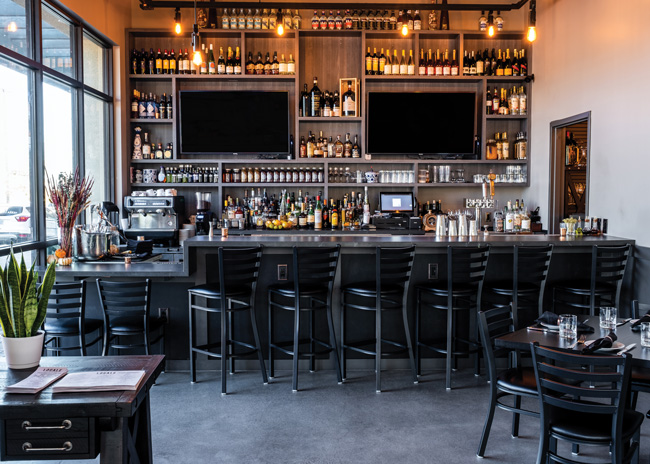 Images courtesy of Locale Italian Kitchen
Hatsumi and La Monja
Dan Krohmer of Other Mama opened these two restaurants in 2019, with the 54-seat Hatsumi opening in May and the 160-seat La Monja opening in September. In a partnership with Bunnyfish Studios, Krohmer focused on the open kitchens and chef counters in each of the roughly 1,800-square-foot spaces. Hatsumi features a linear shape with a sushi-bar-like layout and sushi menu while La Monja features a menu of coastal Mexican fare along with a full bar and patio.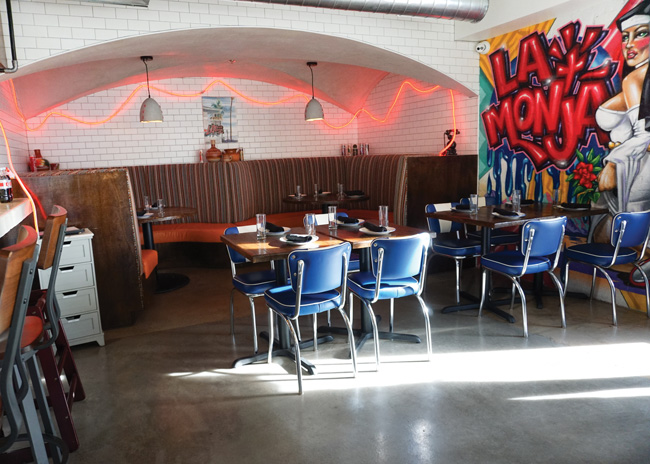 Images courtesy of Other Mama
La Strega
Chef Gina Marinelli opened this Summerlin restaurant in early 2019 with a menu featuring modern and refined Italian-influenced dishes. Inside the space, which formerly housed the Due Forni restaurant, a wash of greens and earth tones, marble, velvet seating and brass accents span the main dining room and full-service bar. The bar, custom-made by an Italian glass company, offers a peek into the open kitchen, which has one of the hearth pizza ovens from the former restaurant. Outside, the patio features a "witch's garden" where Marinelli grows vegetables and herbs, named after La Strega in Italian, which translates to "witch."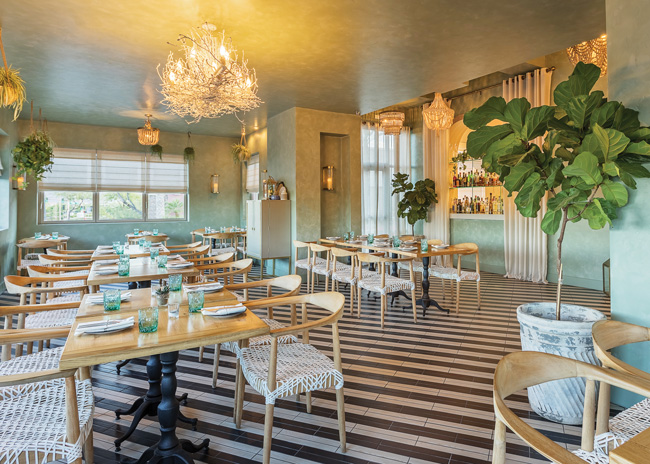 Images courtesy of Anthony Mair