Opened in the fall of 2019, Black Rail Kitchen + Bar is an upscale yet relaxed operation offering craft cocktails and Southern California cuisine with Mediterranean influences. The operation is located in the San Diego suburb of Carlsbad, Calif., with an interior design by MY Studio ID that was intended to bring people together in an area that can otherwise lead to isolation.
The designers took inspiration from 1940s social clubs and the region itself. As guests enter the restaurant, they encounter the first of gathering areas.
The bar features a V-shaped cloud element, inspired by the restaurant's namesake, the black rail bird. Just below the cloud element is hanging black metal shelf that displays liquor. In addition to the bar itself, guests in this section have other seating options, says Melissa Young, Principal of MY Studio ID. "This bar area also includes leather sofas and velvet chairs for a more low-key cocktail space. They can also sit in rounded booths with leather seats and crushed velvet backs. The space also includes showcase walls with antique mirrors that enhance the volume of the space."
The front room bar also showcases the restaurant's flooring design.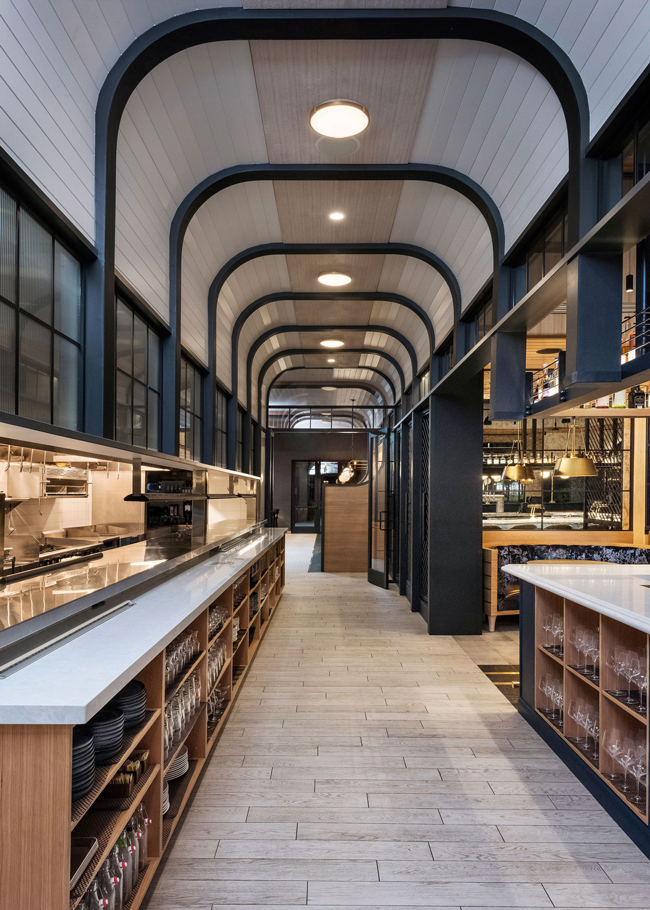 Guests traverse a hallway to get to the next space. The designers worked to turn the hallway into an experience of its own, Young says. "The hall features a soaring barrel vault ceiling lined with beautifully caged wine storage on one side and a kitchen visible through divided light windows on the other."
The second dining area features a wood clad bar with a green quartz top. With a large window opening to the patio, this bar serves both indoor and outdoor guests. This feature influenced other design choices in the space, including the flooring, Young says. "The dining and back bar area have the large black stone tile to balance the light and bright space that the wall of windows creates."
This bar area also features a "bird's nest" cloud element made from sandblasted manzanita branches, small metal birds and LED pin drop lights. Seating in this space is open and includes a chef's table. These choices allow the restaurant to accommodate larger parties, Young notes.
Lighting was another major component of Black Rail's design, says Young. The space features everything from candelabra pendants to LED strip lighting to hanging LEDs integrated into the "bird's nest" cloud element hanging above the second bar.
Finding the right fixtures, though, was only part of the lighting challenge for the space.
"When our team thinks of a laid-back yet elegant social space, we want warm and moody lighting, the sort of lighting that makes the food and the guest look exceptionally appealing. During the design-development phase we worked with the lighting design team at Tazz Lighting to achieve this goal. They helped us make sure all bulbs were under 2700 color temperature and dimmable," Young says.