Located directly on San Francisco bay in Tiburon, Calif., Sam's Anchor Cafe is a local institution set to celebrate its 100th year in 2020. The operation was recently bought by Tiburon natives James Tate and Conor Flaherty, a pair of first-time restaurateurs who set out to revitalize the restaurant.
"They are from Tiburon, they're of Tiburon and they really wanted to bring Sam's back to life as a really great place for the community of Tiburon and the greater Bay Area to come together and make memories," says Hannah Collins, founder and principal of ROY, a hospitality design studio based in San Francisco.
Sam's, Collins says, was in need of an update, and suffered from a design that had simply aged, both in aesthetics and in its general upkeep. The restaurant's owners tasked Collins with updating the design while honoring and building upon the restaurant's history.
This approach can be seen first in the restaurant's bar area, the first space guest encounter when they enter.
According to Collins this space changed the least compared to the rest of the operation. There are plenty of locals who frequent the bar, and the operators wanted them to feel comfortable in the new restaurant.
One of the most important elements in this space is the deco-inspired back bar, a legacy piece in the restaurant. "We really brightened up the entryway. We painted almost everything white with a few accents of navy. The back bar used to get a bit lost and we really wanted to highlight its deco architectural features. By keeping everything white around it, we really gave the back bar the opportunity to pop."
While the back bar was a legacy piece, the bar, also deco, was an addition. Other additions highlight the restaurant's nautical location and connections. These include the new brass band at the bottom of the bar face and nautical inspired light fixtures.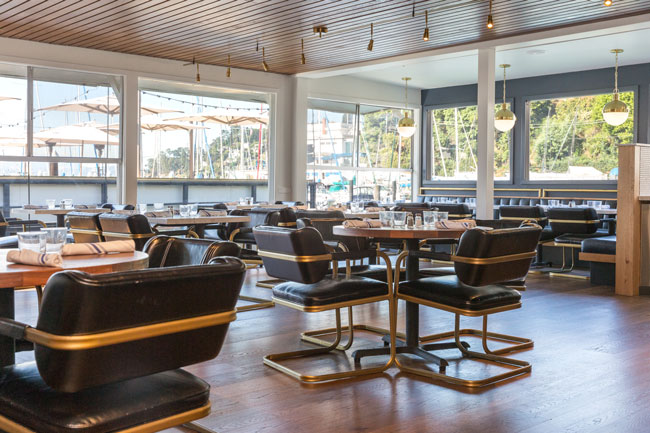 Past the bar, guests walk down a hall to access one of two spaces: the Blue Room to the right and the Boathouse Room to the left.
The blue room was designed so Sam's could still serve guests on a cold day on the water. "A lot of times, the sea air can be much cooler. We wanted this space to feel cozy and inviting on a cooler day, where you can still enjoy Sam's with a bowl of chowder or a cocktail," says Collins.
The Blue Room's warm, inviting feel is achieved through the new wood flooring (replacing a tile floor) and a new wood dropped ceiling that "endcap the room," Collins says.
Many other elements in the Blue Room recall Sam's nautical theme without being kitschy or too obvious. These include the leather chairs that look and feel like seats on a boat, as well as hanging, spherical brass light fixtures.
While many of these elements are new, Collins maintained the two horseshoe booths, providing guests with a cozy, intimate seating in a cozy, intimate room. On the wall over these booths is a custom macramé piece with multiple knots, nodding once again to Sam's place on the water.
While the Blue Room is ideal for colder weather, the Boathouse room is an indoor/outdoor space that opens up to Sam's deck through a new folding glass exterior wall. This makes the boathouse an ideal space to enjoy the Bay Area's warm, sunny days.
One of the other major design decisions, Collins says, was to keep the Boathouse's ceiling exposed. "We were going to do a wood drop ceiling in here, but when we uncovered the ceiling it was this beautiful old redwood. We decided to keep it exposed. We painted it because it was in bad shape, but we wanted it to feel like a boathouse."
The flooring of the Boathouse Room is terrazzo with a curved wooden inlay, reminiscent of a ship, Collins notes. Its feature wall is covered in wood, making it look like a deck, while pictures of Sam's and the Tiburon community hang on that space.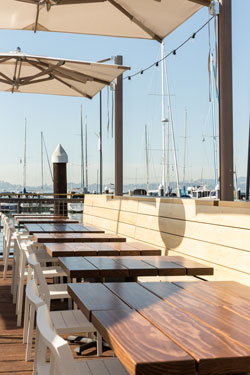 Sams Anchor Cafe 7The deck itself at Sam's can be directly accessed from a public boat dock.
To make the space usable more often, Collins designed a wraparound heated bench for colder days. Large umbrellas, chosen for their sail-like qualities, dot the deck, while seating includes standard tables for full-service dining as well as longer tables as open seating for those just having a few drinks and maybe a bite to eat.
"Sam's is the only restaurant with a public dock on the bay," says Collins. "You can bring your boat from San Francisco, dock and have lunch and head back. We wanted a great place for the community of Tiburon and the Bay Area to gather and spend time together."