The Wisconsin Dells is a tourist-friendly area offering family-friendly fun like water parks, roller coasters, go-karting and more. The town is not so friendly to food trucks, though. Regulations have kept food trucks from coming to the tourist destination.
However, a new food hall-style space, Grateful Shed Food Truck Yard, offers residents and visitors of the Dells a food truck-style experience in a 10,000-square-foot space long used by hospitality operations.
Designed by Vector & Ink, a branding and marketing firm that's recently moved into environmental design, Grateful Shed has a full bar and four "food trucks" that the owners rent out to various operators. The operation is designed to be a fun, comfortable space, with plenty to talk about — and plenty of backdrops to share on social media.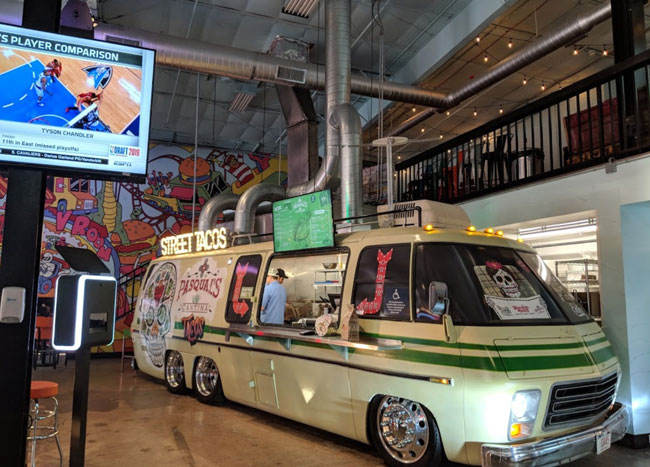 All the trucks at Grateful Shed are actual vehicles that have been modified to the space and outfitted with hood and fire-suppression systems. Images courtesy of Vector & Ink
The food truck aspect of the operation is more than a marketing gimmick. All the trucks at Grateful Shed are actual vehicles that have been modified to the space and outfitted with hood and fire-suppression systems.
The specific vehicles were chosen for their classic appearances, says Dan Marsich, Vector & Ink's CEO. They include an Airstream, a 1970-s era GMC RV painted in the classic green color scheme and a camper that was outfitted after the one driven by Cousin Eddie in the 1989 movie National Lampoon's Christmas Vacation.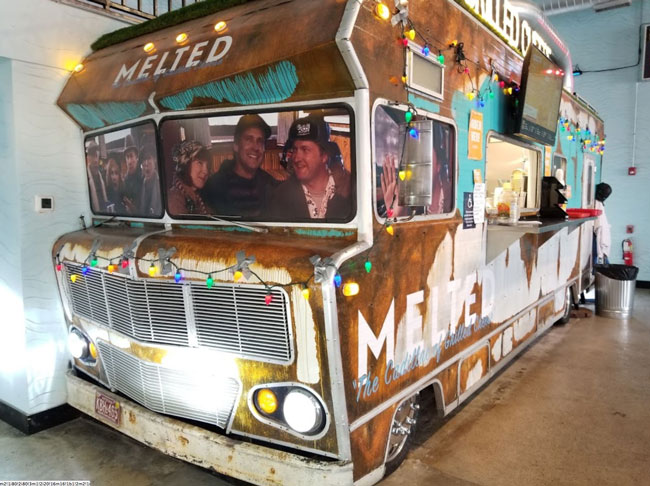 Among the many pop culture shout-outs at Grateful Shed is a replica of "Cousin Eddie's" truck from National Lampoon's Christmas Vacation
For the most part, the modifications were fairly limited except for the Cousin Eddie camper, "When we started tearing it apart, it was so rotten that we took all the skin off of it, built a wooden structure, then reskinned it to look like an actual vehicle," says Marsich.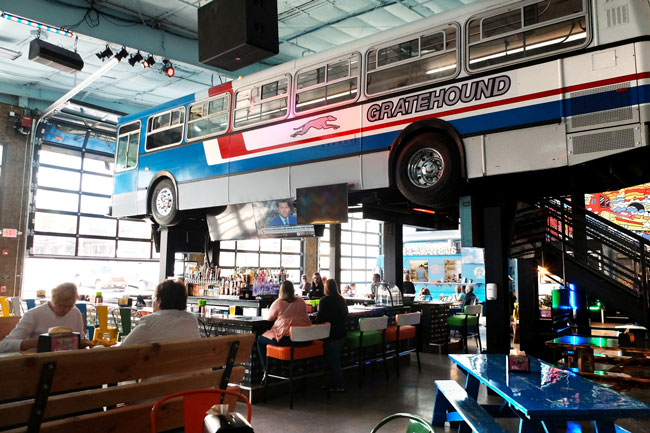 A real Greyhound bus that sits above the bar at Grateful Shed in the Wisconsin Dells.
One of Grateful Shed's design highlights is the Greyhound bus that sits above the bar. This, along with many of the other vehicles at Grateful Shed, was purchased from a nearby salvage yard. The bus is held up by (and welded to) four I-beams that are buried 14 feet into the ground. Notably, it was painted with the Greyhound design after it was put in place.
On the bus' interior, the designers swapped half the seats on each side to create booths with seating for up to 38 people. This space serves as open seating most of the time, but can be rented out for private parties. The operators plan to add large screen televisions to the bus, making it an appealing spot for game watch parties, added Marsich.
Notably, the stairs leading up to the bus pull double duty. The operators have installed a DJ stand halfway up, allowing Grateful Shed to create a club-like atmosphere when the occasion calls for it.
A pair of VW busses serve as seating.
Another vehicle/seating area comes in the form of a pair of VW busses, purchased from the same salvage yard as the Greyhound. The designers had the pieces painted bright green and orange, then outfitted them with booths in the cargo area, additional guest seating in the front and soda stations at the back.
"My thinking is authenticity counts. I really felt strongly that we should use actual vehicles rather than make fake ones. We had fabricators we worked with on designing the booth and allowing families in the passenger compartment," Marsich says.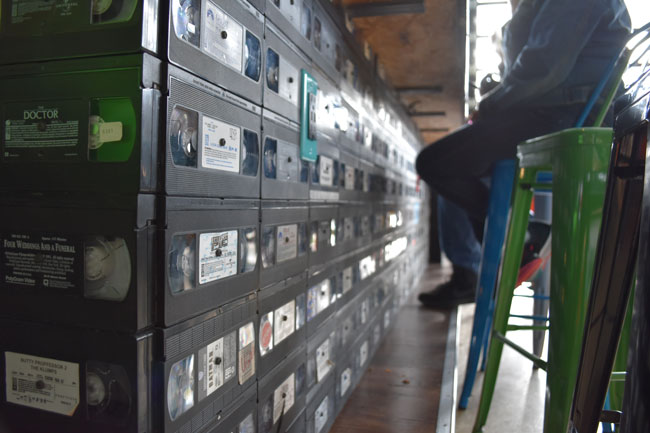 Grateful Shed's bar is fronted by a wall of VHS tapes.
Other elements of the operation are also noteworthy. The bar itself is movie themed, with its face covered in old VHS tapes and topped in an epoxied collage of VHS tape covers. Combined, they provide visual interest and serve as an easy conversation starter. "You're always trying to think of something fun to do [with a bar]. That inspired me to go out and buy over 1,000 VHS tapes from local thrift store and charity stores. When you're sitting at the bar, everyone can see a movie they remember," says Marsich.
Grateful Shed's feature mural was inspired by a Hot Wheels poster.
Another touch is the large feature mural that was hand-painted by a Wisconsin artist. The inspiration for this piece, Marsich says, was a late 1970s/early 1980s Hot Wheels poster. The piece, he notes, features several nods to the Dells and to the operation itself, such as a food truck/roller coaster car and a woman tubing with a hot dog in hand.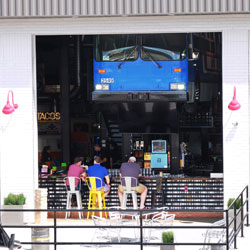 Grateful Shed's garage door walls allow expansive views into the interior.On the exterior, the front of the building has been equipped with three large garage-style glass doors, along with a set of fixed windows with the same look. Guests can sit at stools that pull up to the bar via one of these doors or enjoy several different outdoor activities. These include games like giant Jenga and cornhole as well as firepits, Marsich says.
"We were trying to offer an alternative to the traditional bar or nightclub scene at night. A place where you can hang out, possibly with your kids, to 11, 12 at night, a place where you can have a conversation. You can sit outside, enjoy the weather, and just hang outside and have a good time."