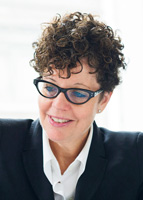 America's malls are struggling, with vacancy rates climbing to 9 percent in the third quarter of 2018. But it's not all bad news: Luxury malls are doing better — so well, in fact, that in March, a brand-new upscale mall opened in New York City. It's a 7-story, 720,000-square-foot shopping mall on the far west side of Manhattan — an ambitious project for a city that isn't known for mall shopping.
The mall, Hudson Yards, boasts at least 25 locations serving food and beverages, ranging from the casual (Shake Shack) to the high end (Thomas Keller's TAK Room).
But what does opening and operating a restaurant in a luxury mall mean? What are the pros, and do they outweigh the cons?
Nancy Ruddy, founding principal of CetraRuddy, an architecture and interior design firm in New York, was behind the design of Queensyard, which opened in Hudson Yards on March 15. She set out, she says, to make the restaurant a destination.
Helping Queensyard stand out are not only views across the Hudson River — rare in a Big Apple restaurant — but also the eccentricity of its design. It pays homage to the British roots of D&D London, which owns the restaurant, with off-kilter pictures of the queen, peculiar teapots and Freddie Mercury.
Queensyard was Ruddy's second foray into the world of upscale shopping centers. Last year, she designed Bluebird, also owned by D&D, which opened in the Time Warner Center in New York City in September.
The trick with both restaurants, Ruddy says, is blending in while also standing out. "You have to continue the decor of the mall, and in really upscale malls, the materials are beautiful, but they're corporate-feeling," she says. "So, for a restaurant to be successful, you need to distinguish yourself."
Mall Costs
At first glance, the cost of opening up in a luxury mall or shopping center is high. "There's a lot of upkeep, whereas you don't have that with a freestanding restaurant," says John Sola, who just retired as CEO and president of Grill Concepts, Inc., a Los Angeles-based restaurant group with four restaurants (two brands) in upscale malls.
Costs are higher, says Michael Koss, president of Koss Real Estate in Los Angeles, which owns Malibu Country Mart and upscale shopping centers in California and eight other states, because malls offer services like security, parking, management, groundskeeping and maintenance — and sometimes even take care of common eating areas and cleaning dishes.
These costs, Sola says, often include tenant improvement (TI) money. This could include the cost a landlord pays per square foot for the restaurant to install equipment such as grease interceptors or air conditioning. "You usually get some kind of TI, and it can be $25 per square foot to $150 per square foot," Sola says. This money is typically tied to construction, so it's best to negotiate these fees up front. However, he adds, some landlords may do those things for you ahead of time and not give you as much TI money.
Construction costs can be higher, too, because all materials and equipment have to be brought in, and there may be strict union rules governing employees and overtime.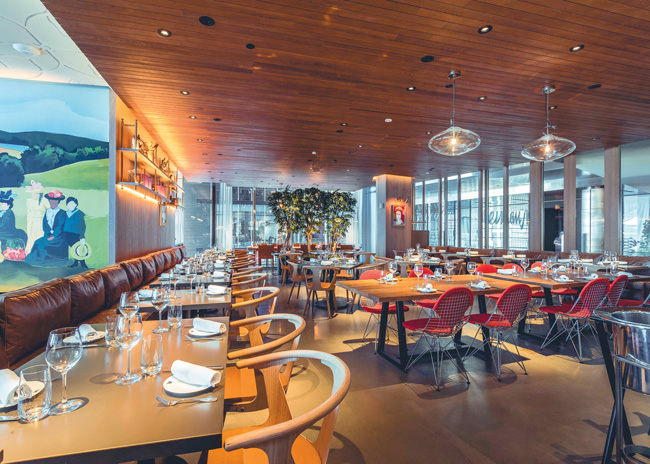 Location, Location, Location
The best location in a Class A mall, says Sola, is near the entrance, so your restaurant and signage can be seen from the outside. Other great locations are near parking, especially if there is valet, or next to a movie theater. It's also helpful if your restaurant has an outside entrance, he says. That way, customers can enter from two directions, and the restaurant is much more visible.
For Ruddy, the location of Queensyard was "very deliberate," she says. The restaurant overlooks the river and The Shed, a lively cultural area. D&D London also purchased a space perpendicular to the restaurant and turned it into a cafe and wine bar "so they could control that space" and bring the right vibe to the location.
Along with a great site, signage is really important in a mall to let shoppers know the restaurant is there. "The key is working with [landlords] to get your signage around the mall," Sola says. It's important to have this spread through the mall, he adds, especially if you are at one end and there's parking at the other.
The operators of the Time Warner building containing Bluebird make it clear on the exterior of the building that the restaurant experience is curated and list which floors each dining experience is on. There are also advertising opportunities and wayfinding signs throughout the center, says Ruddy.
Handling Logistics
Unsurprisingly, it's much harder and more complex constructing a restaurant in a mall due to having to bring in all the materials, often via escalators and elevators (which usually have to be booked), or pulling them up to a jobsite or through back corridors.
"The route from the loading dock up to the restaurants can take so long, and we might have vendors sitting in the loading area for two hours, waiting for a spot," Ruddy explains.
On the plus side, most malls have their own union workers or will share the names of people and companies approved to work in the building. Plus, says Ruddy, "they're helpful with city agencies if you're having trouble getting permits, but of course, it benefits them to help you." All workers have to have security clearance, too. "If you are a tenant they really want, [the mall owners] will help you," she points out.
And while mall owners can be a boon to restaurants, they can also put obstacles in their way. At Hudson Yards, there was a design manual, Ruddy says, with rules such as that no more than 30 percent of the windows could be covered and that there had to be brighter lights than she'd have liked outside, "which is challenging for a moody restaurant."
So, Ruddy has created wooden fins that run floor to ceiling along the front of the restaurant within the restaurant's property lines. "They twist and are sculptural, but their real goal is to shield some of the activity in the mall and the lighting," she points out. "There are things one has to deal with that create some restraints in a mall, but at the same time, it ensures there's a quality level that's maintained."
The mall owner, Related Companies, also mandated certain architectural materials Ruddy could and couldn't use — faux finishes and large patterns were out, for example. "They were very restrictive," she says. "They wanted to maintain a certain quality level and a certain atmosphere." She decided to go off-script on a few items, though in order to do so, she had to provide full-size mockups to get them approved.
"The landlord has a say in the design because they want you in there. And they have you because you're going to represent something attractive to their mall and bring in more tenants and more patrons," Sola says. "So, you have to fine-tune your look a little. You may have an iconic design, and they'll keep that, but your colors have to be the design of the mall."
At the end of the day, a restaurant in an upscale mall has to be an exciting destination. Beyond both fitting in and standing out, the restaurant has to offer an experience that consumers go to even if they don't intend to shop.