Based in San Francisco, MIXT is an organic salad concept offering fresh, local ingredients delivered daily. The chain recently opened a location in nearby Oakland.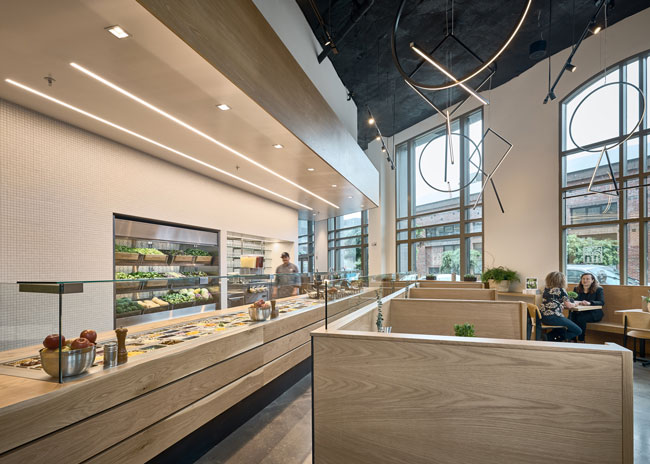 Like other salad concepts, Mixt makes a point of displaying its fresh food. Not only are cooked and raw veggies on display all down the assembly line, but the wall behind the line includes display storage for fresh greens, immediately communicating the heart of the concept to customers, says Leslie Silverglide, Mixt co-founder and CEO.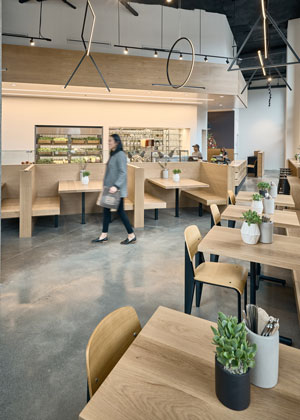 The line itself has an innovative design. Instead of running parallel to a wall, it sits at an angle. "We did a diagonal to create some interest and break the mold. It allowed us to create some different seating options and some unexpected spaces," says Silverglide.
These unexpected spaces, says Silverglide, allowed the restaurant to create some nooks and different seating options for all sorts of parties. Choices include counter seating, booths, large round tables and basic two-tops.
These tables and chairs are all made with either metal or solid wood. Such natural materials are found throughout the space, notes Silverglide, and include concrete flooring and steel wainscoting.
"We really focused on natural, sustainable materials. We're also looking for materials that are durable and hopefully will have a long life. We don't want to have to churn through a design and update every couple of years to look hip and now. We want to create a timeless experience and vibe inside so we're not being part of the disposable, throwaway society," says Silverglide.
Mixt's artworks reflects this. Instead of using easily replaced food photography, the restaurant created a tile mosaic near the assembly line with browns greens and whites representing produce growing from the soil.
Another celebration of vegetables comes in the form of a custom wallpaper decorated with a mandala (a circular art piece often found in Indian design) made entirely of produce.
Mixt Oakland's lighting design is also eye-catching. The restaurant created highly angular chandeliers, with circles, rectangles and other shapes, all equipped with LED strips.
"The idea was to have them serve a dual purpose as light fixtures buy also art pieces. It really takes inspiration from our logo. Our name has a lot of straight and crossing lines, then nested above them are circular bowls."
The Mixt logo, of course, can be seen on the restaurant's exterior, as can the Mixt name above the door. This piece is backlit with LEDs, which the chain uses to communicate the seasonal nature of the food it serves, Silverglide says.
"The LEDs change colors, we change our menu four times a year and we have a color that represents each season for us: a deep orange for the fall, a cranberry for winter, green for spring and yellow for summer."