Flexible, artistic digital displays are transforming interiors.
Since London-based Inamo opened in 2008, restaurant-goers from around the world have been enthralled by its tabletop touch screen ordering system. The system, powered by E-Table, gives diners the ability to order food and drink from a graphically artistic, interactive menu projected directly onto the table. With just the swipe of a finger, they can set a theme for their table, peruse the Asian fusion menu, discover the local neighborhood and even order a taxi home.
Inamo provides such a unique experience that U.K. magazine Stylist named the restaurant one of "the 10 most incredible places to dine out in London." Additionally, it won a 2014 OpenTable Diner's Choice award.
While Inamo and its counterpart, Inamo St James, artfully married digital technology and functionality for the London set, innovative operators in the U.S. now put digital technologies to work in eye-popping new ways on the walls.
Dassara Brooklyn Ramen, in Brooklyn, N.Y., for example, uses LED screens and hidden projectors to showcase work from local artists throughout the minimalist-inspired restaurant. Specializing in Japanese-style ramen and steamed buns, Dassara was opened in 2012 by Justin DeSpirito and his wife, Lana Yang.

Dassara Brooklyn Ramen uses LED screens and hidden projectors to showcase work from local artists and show televised sporting events.
"My wife and I both have day jobs, and one of the things we wanted to create was a cool space in the neighborhood where we could play with our various interests," DeSpirito says. "My wife's a lawyer by day, and she's also a filmmaker, and I'm into photography and music. We wanted this to be a neighborhood gathering space where people could listen to music and look at art."
The couple was in the early planning stages in 2012 when they were approached by Ralph Jacobus, founder of New York City-based RAMENWERK, an interior design technology firm.
Jacobus knew DeSpirito and was interested in turning the restaurant space into a technological masterpiece that featured moving images — rather than static elements — that played into the couple's interests. "He came up with the idea of having a space that can be transformed by technology," DeSpirito says. "From his technology end to our design aesthetic, everything really clicked."
To make Jacobus' vision come to life, the team worked with an interior designer to create a dining room space that reflected a blank canvas. One wall was left devoid of any architectural features in order to install a pair of 100-inch screens that display images shown by short-throw projectors. Hidden above panels in the restaurant's ceiling, the projectors are edge-blended so the images appear to be one continuous work of art. They display a rotation of static images, movies, video and/or televised sporting events.
An additional part of the overall design includes color-coordinated LED lighting and a large-screen, high-definition television that hides behind a two-way mirror when not in use.
Jacobus notes the restaurant does not use video mapping to display moving images; however, the networked screens allow for easy content management from a centralized location. He also works to ensure that the lights, sounds and images all work together to create a seamless experience for restaurant guests.
"Once you start to actively change the space, you can identify, over time, how to best optimize the technology. Then you can also determine how your customers are attracted to the space and interacting with it," he says. "No one comes to a restaurant because of the lights or imagery. They're coming because of how the space accommodates patrons. Most of this technology is used in more underground areas and is led by clubs or lounges. In nightclubs, the technology is meant to be more invading so this is a very different approach at Dassara."
Mike Boles, founder of Haven Hospitality Concepts, has used atmospheric digital signage in restaurant concepts dating back to 2004. The first nightclub he opened, Atlanta-based Compound, had 16 floating screens that could display one seamless image or a multitude of photos.
For his next venture, the Miami Beach-based gastro-lounge Haven, Boles developed a wraparound video display that spans 5 walls and 110 square feet. "When I looked at the business plan for Haven, I wanted to have it as an immersive restaurant," he says of the concept that opened in 2011.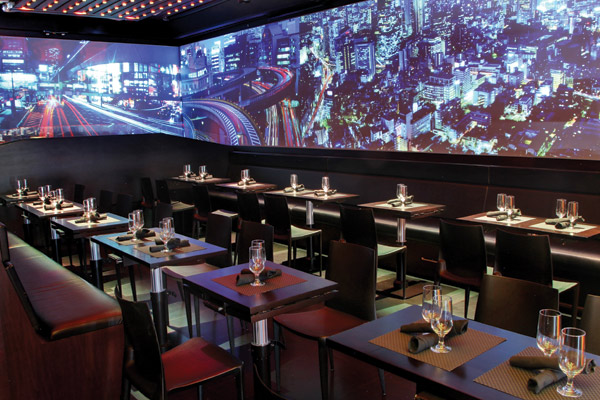 To create the desired effect, he had the screen painted with three types of digital paint to create a consistently smooth surface. He also works with a studio team to create the videos and images the restaurant uses and then imports those files into a computer system. To date, Boles says the restaurant walls showcase some 200 varying displays.
Additionally, the lighting syncs with video display images, and additional projectors in the restrooms display images into the sinks. This was done to create a holistic digital experience.
"All of the multimedia that I have at Haven wraps together," Boles notes. "All of the concepts have unique details, and the more wow factors you can have, as long as they're not too busy, is a great idea. And I can change the walls with the press of a button. In such a crazy market as Miami Beach I wanted to have something totally different and unique. It's really what drove me to put that type of technology in."
Artistic Experimentation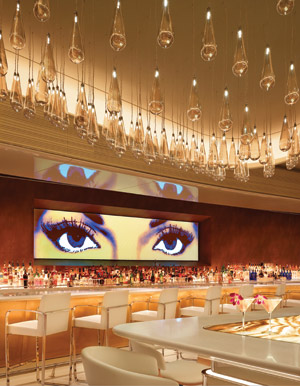 The visual centerpiece at Andrea's at Encore restaurant is a 16-foot LED screen behind the bar and overlooking the dining room that displays a stylized close-up image of Andrea Wynn's eyes in pop-art colors.Las Vegas arguably has the biggest reputation for nightclubs and lounges known to completely immerse guests in the underground experience through high-end technological feats. Now, some Vegas developers have begun to use LED screens as a way to merge restaurant art and interior design with technology.
Andrea's at Encore restaurant, named after Andrea Wynn, wife of Las Vegas developer Steve Wynn, includes a 16-foot LED screen behind the bar and overlooking the dining room that displays a stylized close-up image of Andrea Wynn's eyes in pop-art colors. The visual centerpiece serves as a purpose-built state-of-the-art video system. Its projector was built into a soffit and remains hidden from view from restaurant guests.
While it's true that digital signage has been breaking into the restaurant space for several years, using the screens to convey artistic overtones represents a new trend among restaurant operators. Restaurants such as Dassara and Andrea's at Encore,
in effect, become the new canvas for interactive art installations.
"The idea is really to create conversation and engagement or a connection with the restaurant," says Gabriel Frem, CEO of OMC Inc., and founder of Glendale, Calif-based upscale-casual restaurant Brand 158. "The idea is more about art than the TV."
The restaurant uses large screens — one each mounted on three columns and five above the bar — to showcase artistic images and designs that reflect the neighborhood and community. They're also used to highlight special events, such as Valentine's Day, or "Girls' Night Out."
"We are less interested in turning tables and more interested in returning tables. We've had requests for putting on boxing or fights, but we will not put that in the restaurant," Frem notes. "We think over the long term that when people return ...their senses are engaged. All of that is part of the experience that in our opinion makes the restaurant lasting."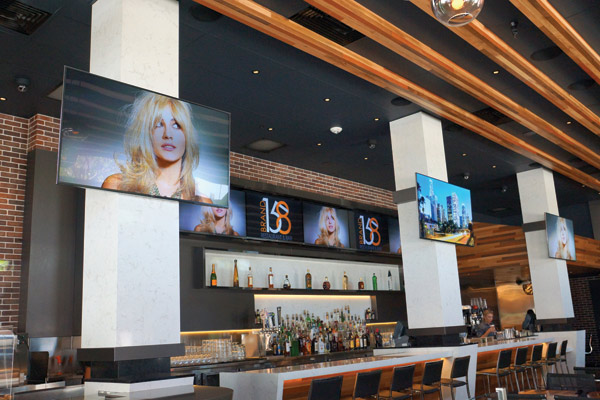 Glendale, Calif.-based Brand 158 was designed and built with the screens in mind.
Brand 158 was designed and built with the screens in mind and required an investment of time, money and resources. "It's a whole business model," Frem says. "You can't just have screens that are TV screens. They need to be high quality. Ours are such a high quality that some people think they are pictures."
Creating the Mood
Despite the digital investment it's not always easy to determine which images will resonate with guests. However, daypart drives mood, theme and overall ambiance.
"We're more landscape or artistic visualists," says Boles, at Haven. "For diners who come in at 7 p.m., we put up landscapes and black-and-white photos of the past. As the evening progresses, we use videos. But we determine what kind of mood we want to display for the customer."
Experimentation and personal preference also seem to be keys when it comes to artistic displays on restaurant screens. "Because there was no template, we basically experimented," says RAMENWERK's Jacobus about the images and video loops used at Dassara. Every Thursday night Dassara treats diners to a visual display of time-lapsed images of their beloved New York City borough. On weekends, visuals take the form of Japanese anime, while on Sunday and Monday evenings the visual pace slows to match early workweek moods. The restaurant also hosts about one art event per month.
"The good thing about the restaurant is that we're the demographic and I generally trust our judgment about what's going to work," DeSpirito says. "If something is too edgy, people don't get upset because they know they're coming to an art event."
The same notion of experimentation and personal preference rings true at Brand 158. "We determine the art by putting up the pictures that we think are nice based on our own tastes," Frem says. "A lot of people have commented that it is nice to have something engaging in the restaurant that is not the center of attention. It's not just about feeding the stomach. It's about feeding the eyes and ears."