Nando's Flame-Grilled Chicken, the Afro-Portuguese restaurant known for its spicy peri-peri chicken, has opened a new flagship unit in the McLaughlin Motor Showroom building in Toronto.
Working with Chicago-based Aria Group architects, Nando's brought its unique bold look and feel to the space through the use of contrasting textural and natural materials, such as reclaimed wood, metal and leather, against vivid pops of color and original South African artwork. The art in this location incorporates beaded animals called "Monkeybiz" and an oversized painting by the graffiti artist Kilmany-Jo.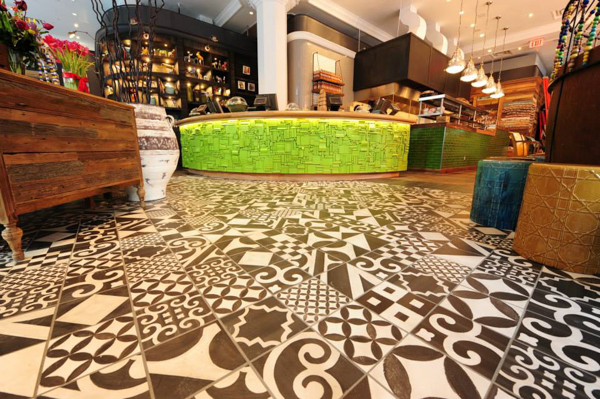 The heritage elements preserved in the design include the exterior façade and entry doors, detailed white plaster columns and capitals. According to Aria, the design relates to the heritage and detailing of the building, but gives each element a playful twist to highlight the character of Nando's brand. The formal detailed paneled walls in the main dining room are construction of reclaimed painted barn wood; the order counter die wall is an installation of mismatched pieces of detailed trim painted an intense green; the tile floor at the entry is a twist on the original black and white mosaic floor; formal detailed millwork at the beverage/condiment counter was created from a unique blackened raked wood.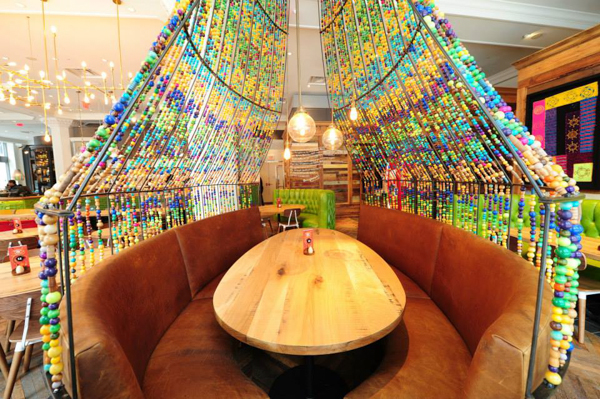 The main dining room has a more formal feel due to the detailing of the paneled walls, but it's juxtaposed against whimsical elements such as beaded booth cages. They're constructed of blackened steel rods and brightly colored, hand-strung wooden beads. The main dining room also features a large communal table surrounded by vintage seats reclaimed from sports stadiums around North America.
Headquartered in Johannesburg, South Africa, Nando's now operates more than a dozen restaurants in Canada and 16 in the United States.