Designed by the Rockwell Group, the Las Vegas location needed to transition from dinner to late-night and drew design inspiration from the Mediterranean region as well as from the chain's Los Angeles location.
The upscale seafood restaurant's commitment to creating a memorable experience starts with the entrance as guests pass through an 80-foot-long tunnel-like pergola, offset by twinkling trellises and colorful, blooming flower walls with plenty of intimate nooks for seating and/or photos. The entryway is intended to evoke stepping into a secret garden or a hidden world.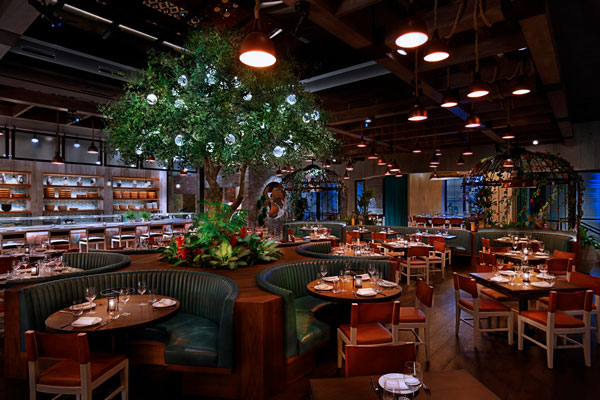 A rustic grey wood trellis overhang defines the main dining room's seating area, creating the effect of an outdoor garden. The centerpiece of the room is an olive tree sitting beneath a glass roof. Custom-dyed Italian leather banquettes with teak wood framing, salvaged from historic buildings, provide plush seating for walnut plank tabletops with blackened metal details. The flooring is made of red and white oak reclaimed from abandoned farms and warehouses in the eastern United States.
Off the main dining room, the private lounge offers a refined atmosphere, reminiscent of a private library. The centerpiece of the room is a custom 5-foot-diameter crystal chandelier. Dark walnut wood paneling millwork creates a sophisticated ambience and a tufted leather bar and intimate velvet banquettes provide the soft and luxurious feel of a private club.
At the bar, a 16-foot vaulted ceiling — coupled with an open backbar with views into the adjacent dining room — creates an airy, spacious environment. The backbar display is made of 10 feet of tiered, glowing liquor bottles that reflect against mirrors to create an expansive optical illusion.
Catch offers a mix of globally inspired seafood dishes, including shareable plates and sushi. The beverage program includes craft cocktails and a premium wine list.