Situated above a night club in the historic Center City area, this modern supper club exudes timeless elegance while maximizing the grandeur of an existing space.
Situated in the heart of Philadelphia's downtown City Center District, the newest Ocean Prime restaurant touts a high-style design that juxtaposes modern sophistication with retro swank inspired by its post-World War II era architecture. One of 10 Ocean Primes operated by Cameron Mitchell Restaurants, the site represents the first time the Columbus, Ohio-based company has partnered with a real estate development and management firm to secure a desired location.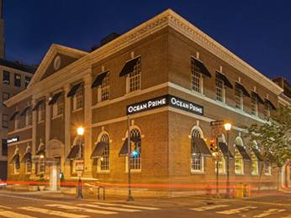 Ocean Prime 
"We fell in love with the location," says David Miller, executive vice president of Cameron Mitchell Restaurants. "Ocean Prime is fine dining with a $90 to $100 check average; you have to have a lot of traffic drivers to support that. City Center has them: a great residential, office and hotel base and a great tourism and convention base. We partnered with Goodman Properties, which bought the property with the agreement that we would put an Ocean Prime in. It's a win-win. We're privately funded and feel our capital is best invested in developing a restaurant, not owning real estate."
Ocean PrimeConstruction on the 8,700-square-foot space began in late January 2013 and the restaurant opened in September.
The space required no structural changes despite first serving as a bank and later hosting a chain tenant, Miller says, however, every effort was made to maximize the grandeur of the space and preserve its character. "When you walk in, you have this very modern, low-ceiling entry that leads to the host area and main dining room where there's an element of grandness — 25-foot back-lit ceilings, a beautiful mezzanine, an expo kitchen to the left and the main bar to the right. The back bar shelving extends the entire height of the ceiling, so you see 20-foot high illuminated shelving against a glass wall and the building's original arched windows."
The main bar features a granite top, tile flooring and seating for 20, with an additional 16 seats at high-top tables and another 32 in an adjacent seating area. A partial glass wall that extends up from the back of brown leather banquettes separates the bar from the dining area and provides both visibility and sound control.
In the dining rooms, warm woods, brushed metal accents and circular designs reminiscent of portholes help to create the feeling of a luxury ocean liner. A custom coral sculpture at the entrance carries the concept's oceanic theme in dramatic fashion. Thick, custom wool carpet lines the dining room, providing design, acoustics and safety benefits.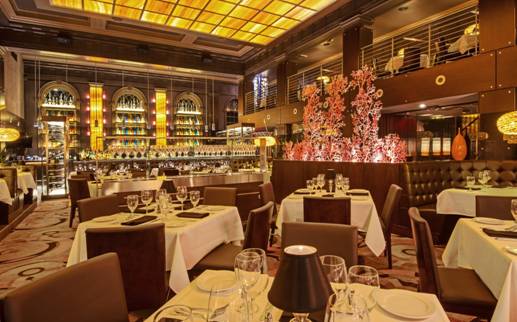 The onyx ceiling also adds an element of drama. "It's very durable and has a very warm, sexy feel to it." Miller says. "The ceiling structure of the main dining room is 30-by-40 feet. It's internally illuminated and it just floats over the dining space, adding a beautiful glow. It was one of the most costly features of the design and, because of the high ceilings, installation of the lighting was particularly challenging and costly."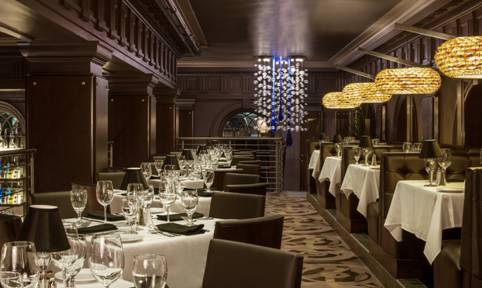 The mezzanine measures roughly 2,000 square feet and features tables with a bird's-eye view of the bar and main dining room thanks to transparent safety walls along the outer edge and elevated booths along the back. The space also includes a second small service bar.
The area directly below the mezzanine now serves as a private dining room with glass walls fronting the main dining room and glass encased wine display that provides a transition between the spaces.
Miller says the age of the building and space limitations presented the biggest challenges during the build-out. In particular, sealing the old kitchen floors to guard against leakage to the space below, where another tenant operates a night club, was tough. Lack of storage space was another issue. "Being in an older city, there's no back dock," he says. "Our back dock is an alley that has enough room for a trash can. And there was no room for storing things so we had to get creative. We ended up installing a low ceiling over the bar dining area and using the cavity above it as a storage room accessible from the emergency staircase. There are always challenges with older buildings, but fortunately we have our own construction company, Buckeye Hospitality Construction LLC, and our team has been together for a long time. They have a lot of experience not only building restaurants but building our restaurants, each one of which is very unique."
Ocean Prime Philadelphia
Ownership: Cameron Mitchell Restaurants
Opened: September 2013
Concept: High-end modern supper club
Size: 8,700 square feet, 260 seats
Kitchen: 1,800 square feet
Project Team
Dave Miller, EVP, Cameron Mitchell Restaurants
Wayne Schick, VP, Store Planning & Purchasing, Cameron Mitchell Restaurants
Mark Knauer, Lead Designer/Architect
Don Waller, Director of Construction, Buckeye Hospitality Construction
Jim Szekerez, Project Manager, Buckeye Hospitality Construction