Cru Uncorked
Sandy Cutler opened Cru Uncorked fine-dining, stand-alone restaurant in suburban Moreland Hills with his son, Bill, who cooked in Florence, Italy, and wanted to open a European-style dining experience focused on wine (the on-site cellar houses an impressive 6,000 bottles). The design team included exterior designer Kawalek Architects, interior designer Larsen Associates and interior decorator Barbara Gisel Design. Modeled after a French chateau, the 9,500-square-foot building offers 104 seats inside and 60 outside. The property includes a French-style garden marked with 12-foot gates with a fountain in front and a vegetable and herb garden in back. At the foyer, a 10-foot stucco mural imported from Paris shows entertainer Josephine Baker performing her famous dance. The back patio features stone flooring and a wooden pergola resembling a Southern French courtyard. Each of the restaurant's four dining rooms features a different decor. The Vineyard Room features photos of Napa Valley vineyards. The Winery Room has a fireplace and posters showing art found on French wine bottles in the early 1900s. The Cellar Room has another fireplace and rows of small antique tasting cups used by vintners. The private dining room is decorated with fleur-de-lis wallpaper. Carpeting, floor-to-ceiling drapes and custom-built padded chairs all work to keep noise to a minimum.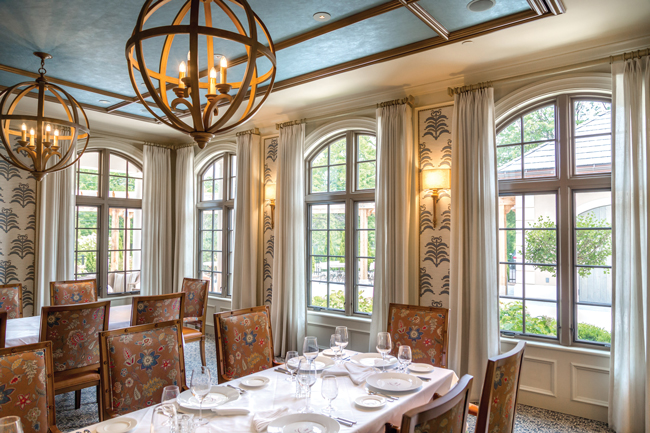 Image courtesy of Cru Uncorked
Salt+
Salt+'s owners, Jessica Parkison and James Beard Foundation Award-nominated Chef Jill Vedaa, aimed to create a feeling as cozy as the historical, turn-of-the-century neighborhood nearby in the Cleveland suburb of Lakewood. The duo worked with a local contractor to transform an empty dive bar and three storefronts into a 2,700-square-foot, 75-seat restaurant that serves small plates and craft cocktails. A brick wall was uncovered during renovations, and the design incorporates it along with concrete floors. The color scheme features dark grays and blues, including blue walls adorned with wooden antlers and animal skulls spray-painted white. A large chandelier hangs over a custom-made, triangle-shaped VIP table that seats 15 on a raised platform. Globe lighting over the booths, along with antiques, adds a warm touch to the space. An old bar from Parkison's grandfather's house serves as the host stand. Vedaa and Parkison worked with their contractor to design the concrete bar and the ceiling, which features corrugated metal sheets hung at varying heights in a modern take on the classic copper ceilings of Cleveland buildings. A 22-seat patio out back offers seating in an enclosed area with burnt-wood fencing and planter boxes brimming with succulents.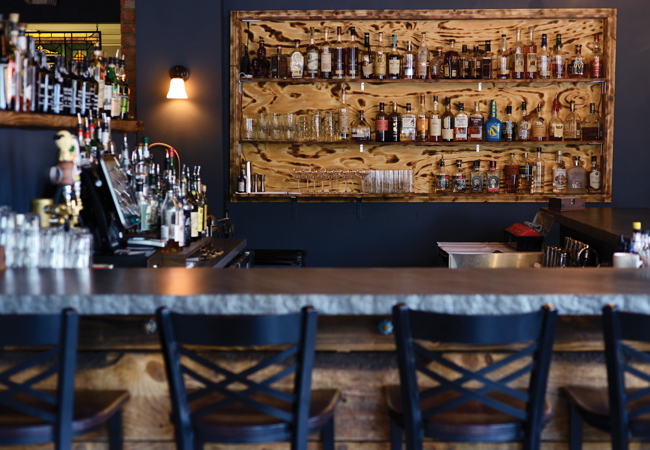 Image courtesy of Megann Galehouse
BOMBA Tacos & Rum
Restaurateurs Elie Weiss and Andy Himmel of Paladar Latin Kitchen intended BOMBA multi-unit concept to be a casual, lively spot with tacos and rum. The first location opened in Cleveland suburb Rocky River in 2015. The second unit opened in Fairlawn, and the third is scheduled to open in Beachwood. Centered on a "live loud" feel, Richardson Design created a space focused on Latin culture and inspired by the sultry nature of the Puerto Rican bomba dance. Inside the 213-seat Fairlawn location, perforated patina copper panels reminiscent of the colors of rum distilleries wrap around the walls and make an eye-catching display at the bar, which also features a natural walnut and bold magenta bar face. An elevator gate behind the hostess station and teal hurricane shutters add layers to the space and evoke the essence of a Cuban street. Booths offer more intimate dining, while communal tables and full-length retractable doors bring in warm breezes and allow for more socialization and a festive feel. Rich wood, brass accents found in historical Spanish furniture, and cigar boxes also adorn the space. Custom-designed wooden furniture and millwork draw inspiration from traditional Spanish carpentry.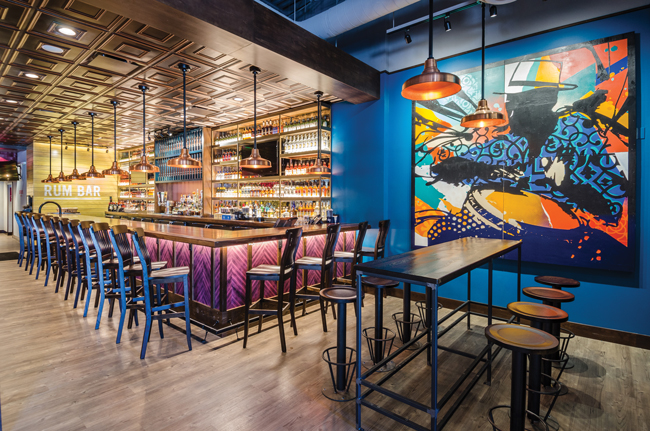 Image courtesy of BOMBA Tacos & Rum
Melt Bar and Grilled
After 12 years and two expansions since the original opening of this grilled cheese chain, now with 10 locations throughout Ohio, Owner Matt Fish felt it was time to revamp his first spot. For the new design of the 3,700-square-foot space, which took just 34 days to renovate, Fish paid homage to the 100-year-old history of the building with exposed brick, hardwood flooring, reclaimed barn wood, rich colors, starlight pendants, wall sconces, and an original tin ceiling that was cleaned and repainted. In addition, the original 1940s bar was sanded down and refinished. The building's exterior also received a fresh coat of paint. The renovation included a total overhaul of the open kitchen, a new host stand, the building of two additional restrooms, an upgraded draft beer system with 24 handles, and new tables, chairs, barstools and concrete floors. Antiques, artwork and other knickknacks in the space reflect an eclectic mix of Cleveland and Ohio memorabilia and culture.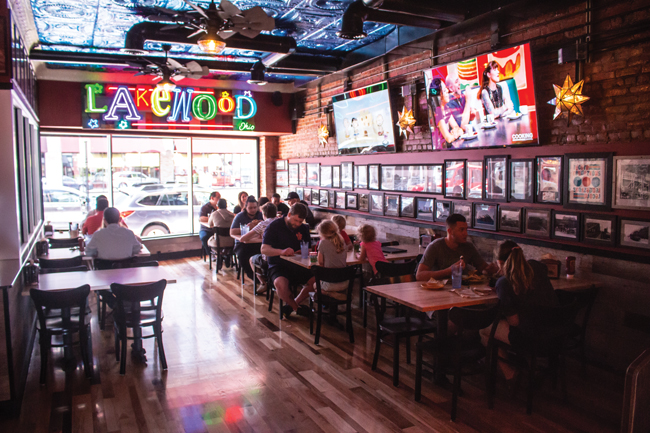 Image courtesy of Dallas Riffle Media