Chef Tory Miller, the James Beard Foundation's 2012 Best Chef–Midwest, has added another star to his constellation of concepts in Madison, Wis. His fourth restaurant, Estrellón, opened in late summer, bringing a menu of tapas, small plates, charcuterie and paella to the city's downtown in a comfortably sophisticated space.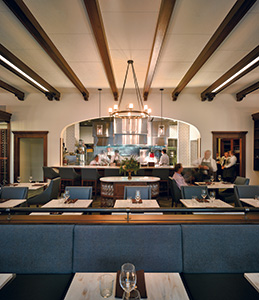 The formal dining room is simple and elegant, with white walls, warm woods and gray-blue as the single color used in chairs, banquettes and floor tileJoining an already crowded downtown restaurant market, Estrellón stands out both for its prime location and its size. It occupies nearly 6,000 square feet on the ground floor of Ovation 309, a new high-end, 14-story apartment and office tower just steps off of State Street, a bustling, multi-block dining and entertainment pedestrian zone that connects the UW–Madison campus to Capital Square. It's also just around the corner from the Overture Center for the Arts, a $205 million, César Pelli–designed venue that hosts national and international touring artists and Broadway productions and houses the Madison Museum of Contemporary Art.
Designed by Jacob Morrison, AIA, of Madison-based Morrison Architecture Studio, Estrellón shines for its quiet simplicity. A color palette of white walls, mahogany-toned woods and blue-gray floors and furnishings provides a backdrop for Miller's creative interpretation of Spanish cuisine. Traditional Spanish influences and rich finishes serve as the seasoning for the simple, modern architecture that's consistent with the Ovation building's overall style.
"The design vision started with the food, so we knew that Spanish architecture would be the inspiration for the restaurant's look and feel," Morrison says. "But we didn't want to mimic Spanish architecture. Rather, we kept one foot in the modern world and one foot in the traditional world. I like doing that because the modern side is all about functionality and cleanliness; there are aspects of that side that I really like. But the traditional side is what creates the kind of visceral connection people have to looking at that kind of architecture. They're comfortable with it, they get the scale of it and it makes the space more approachable."
The task of making what in January was a big, empty, gravel-floored concrete box approachable started with space planning. Chef Miller's vision for Estrellón was for it to be a multi-occasion destination that would include a formal dining room with an open kitchen and a chef's counter, as well as a separate, more casual wine and tapas bar that could do double duty as a café to serve coffees, pastries, fresh juice and sandwiches in the morning.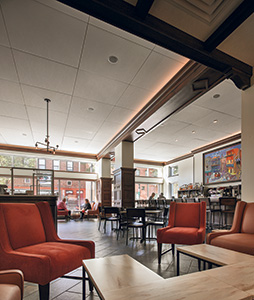 Estrellón's casual taperia/café area features colorful, moveable clusters of soft and hard seating and a mix of dining and cocktail tables. A large painting by Panamanian artist Eliezer Martinez hangs behind the 34-foot mahogany bar. Photo by Mike RebholzMorrison's approach was to create a restaurant with distinct, separate rooms that also have an open feel generated by high ceilings and sight lines that connect the various areas. The space includes a spacious, 420-square-foot entry lobby, to the left of which sits the 1,300-square-foot café/bar and to the right of which is the 1,800-square-foot main dining room.
"The front walls, doors and first airlock are glass and very modern, so there has to be that breakpoint — a transitional area as you enter from the street into a contemporary building and then move into a more traditional setting," Morrison says. "Estrellón is a bit upscale, it's comfortable, tables are large and widely spaced. The lobby helps to set the mood and begins to create the experience inside."
On a more practical level, he adds, the lobby also helps to control airflow from the outside by serving as a secondary air lock. Also, physically separating the bar area from the dining room makes it easy to close off the dining room during daytime café service.
Creating Scale, Adding Detail
With the basic flow of space established, Morrison set out to create scale and introduce elements that would become the foundation of the Spanish-influenced design aesthetic. Doors and columns — several structural supports throughout the space that had to be dealt with creatively — were the starting points.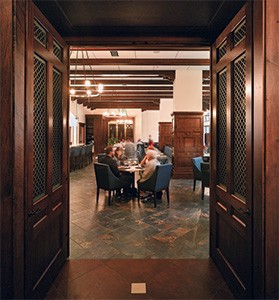 Massive wooden doors with decorative metal grating panels open from the lobby into Estrellón's formal dining room, where recessed wood paneling, wood ceiling beams and armoire-style wine cabinets are design highlights. Photo by Mike RebholzLarge, heavy wooden doors with decorative metal grate panels and heavily trimmed wooden frames create the entrance to the dining room. "They're 6 feet wide and 9½ feet high hinged market doors. When they pocket in, they look like wood paneling, but they can be closed to block off the dining room. When closed, you can see in through the metal grating, however, so there's still a visual connection," Morrison says.
Those doors set the scale and tone for all of the other trim, bases, columns, wine cabinets and bars throughout the restaurant. "When you're sitting in the space, those are the elements that are in your field of vision," Morrison notes. "Everything from about eight feet down is treated with woodwork, or a banquette against a wall, or a food station or wine display. From there and above, it's all just simple painted drywall leading up to 13-foot-high ceilings. Spanish architecture is very simple, with simple cut-out shapes, and there's always contrast between light and dark. The parts that are detailed are actually quite complex, but the complexity comes in relatively small areas that happen in these big, very simple surroundings."
Wood species selected for the various custom finishes throughout the restaurant include mahogany for the 34-foot main bar, stained maple for the recessed paneling on the columns and door frames, and stained poplar for the Spanish-style ceiling beams and bracket trim in the dining room. "Maple is tough and stands up well against damage in the restaurant environment," Morrison notes. "The corners of the columns have a subtle rounded design, which is a traditional detail but which also makes them tougher. For the ceiling beams and brackets, we opted for poplar. It's cheaper and stains really well. It is soft and can damage easily, but for the ceiling that wasn't a concern."
Tapas Bar, Open Kitchen Add Sizzle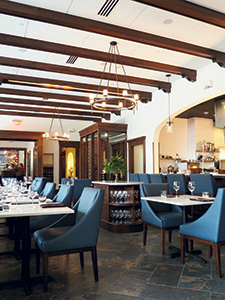 The open kitchen is a focal point of the room. Photo by Samantha EgelhoffBoth in the bar and dining room, culinary theater plays an important role in Estrellón's concept and its design. Of the four Madison restaurants that Miller and his partners operate, it's the only one in which food preparation occurs in full view of diners.
In the bar, where wine, specialty cocktails and small plates star, a three-sided, marble-topped tapas bar puts tapas and charcuterie preparation on display. Positioned opposite the main bar and visible through the lobby via a large display window (and beyond there from the open doors to the main dining room), the 30-foot service bar handles preparation and plating of almost the full menu of tapas items served there. Only breads, fried items and Tortilla Española are delivered from the 1,390-square-foot main kitchen that runs along the back of the house.
During the morning's café service, staff prepare made-to-order crepes at the tapas bar, which also displays house-made pastries, fresh-squeezed orange juice and baguette sandwiches. "The idea was for it to have a very European feel, and I think we accomplished that," Miller says. "And the space transitions really well from café service to tapas and wine bar in the evening."
The 300-square-foot open kitchen is fronted by a wide, curved marble chef's counter with seating for eight guests. Behind the counter is a custom-designed center island with plancha, a custom grill that can be hand-cranked up and down and a vertical rotisserie. Photo by Mike RebholzWhile most of the main kitchen remains out of sight, one portion — roughly 300 square feet — serves as a major focal point of the formal dining room. Framed by a large, arched opening along the back wall, the kitchen is fronted by a wide, curved, solid-surface marble chef's counter with seating for eight guests. Like the dining room chairs, the counter stools are roomy and covered with the same muted, blue-gray vinyl and fabric. Low backs provide comfort without blocking views to the kitchen.
Nine-foot-high wine cabinets serve as bookends, of sorts, to the open kitchen. Hidden from view behind the wine wall at the far end of the kitchen are a small service bar and wait station, as well as a staff restroom.
Of the custom wine cabinets, Morrison says the goal was to make a visual statement with wine and employ Spanish-style furniture design. However, they also needed to be practical. "We looked at a bunch of different ways to display wine, but we needed it to be a working display that can be easily accessed by staff," he says. "So we designed them a bit like armoires. One is freestanding — actually, a narrow room that staff can walk into and access inventory — while the other wraps around the corner walls on the far side. Together, they frame the kitchen. Conceptually, it's nice because it really speaks to what the restaurant is all about. You have great wine flanking an exciting kitchen and great food, and it's all on display."
Estrellón's casual taperia/café area features colorful, moveable clusters of soft and hard seating and a mix of dining and cocktail tables. A large painting by Panamanian artist Eliezer Martinez hangs behind the 34-foot mahogany bar. Photo by Mike Rebholz
Owner Insights: Tory Miller, Executive Chef



First Challenge. When we walked into the space the first time, it was just gravel and concrete pillars. I had a vision of dark mahogany wood and tile, but that's about all I knew about where I wanted it to go design-wise. Our first big challenge was to figure out how we were going to mask those ugly pillars, which are about every 20 or 30 feet and which we couldn't get rid of. Jacob had the idea to wrap them in wood and then create the spaces in between. He started by making sure he understood where the food was headed and doing a lot of research on Spanish architecture. It's nice to work with a designer whose vision for a project starts with the food.
Acoustics. The acoustics are terrific, especially for such a large space with high ceilings. This was the first restaurant project we've done where we brought in an acoustics engineering firm to help us out. They were super helpful and really brilliant in recommending materials and strategies for sound absorption. That's something that often gets overlooked early in the design phase, but it's really important. We knew we wanted Estrellón to be a comfortable restaurant where people can come in, enjoy a glass of wine, share some good food and have great conversation. We didn't want it to sound like a hall.
Open Kitchen. This is our fourth restaurant and our fourth kitchen, but our first open kitchen. It was interesting to try to create an environment where the kitchen is now part of the dining room. When you walk in, you get the warm glow of the kitchen and you can hear the staff at work — not loudly, but there's an energy — and engaging with the guests. For me, teaching my cooks and my service staff to work together and realize that now we're all entertaining the guests, we're all having people over every night, has been really fun. And from our end, it's cool to be able to show what we do.
End Result. Spanish-style dining is casual and fun; there are lots of flavors and things to try. We wanted to stay casual but also slightly upscale and distinctive for this area, which has a lot of college bars and fast-casual restaurants. I didn't think it would be quite so fancy when we started, but it's definitely a beautiful space to work in, and our guests are really enjoying it.
Project Team
Owners: Tory Miller, Dianne Christiansen, Krys Wachoviack, Tracy Solverson

Architect/Designer: Jacob Morrison, AIA

General Contractor: Krupp General Contractors

Mechanical & Plumbing: North

American Mechanical Inc. (NAMI)

Electrical: Faith Technologies

Case Work: Wisconsin Built

Acoustics: Acoustics By Design

Kitchen Equipment: Kavanaugh

Restaurant Supply
Snapshot:
Estrellón, Madison, Wis.
Concept: Polished, Spanish-inspired dining, taperia/wine bar, café

Opened: August 2015

Size: 5,950 square feet total (dining room, 1,800; bar, 1,300; kitchen, 1,390; entry, 420; two restrooms, 250; mezzanine office/storage/employee changing room, 500; two service areas, 250)

Seats: Dining room – 110, including 8 at chef's counter; taperia/café – 50, including 16-seat bar

Average check: $32 – $37 per person

Real estate: New apartment/office tower ground floor

Design highlights: Display tapas bar, open kitchen, dark wood finishes and trim, tile floors, custom wine cabinets, iron chandeliers, marble counters, blue-gray furnishings

Build-out: 11 months