Immersive dining and drinking experiences are nothing new, but they're gaining ground as their core patrons — Millennials — continue to seek out adventure and prioritize new experiences over acquiring new possessions.
Whether it's dining in the dark, wearing Hawaiian shirts to a tiki bar, sipping cocktails in a frigid "ice bar" or having a meal in the middle of an art gallery at a pop-up restaurant, consumers are eager for novelty. There have been many different waves and iterations of these concepts, most recently seen at over-the-top fine dining popular in London and at Chicago's Alinea, which was recently revamped to provide a more theatrical experience. Now, we're seeing more gaming aspects — from bowling to bags, arcades and even escape rooms — weaving their way into the mix. Take a look at two multi-unit, immersive concepts doing it right.
SafeHouse
Locations: 2
Experience: Immersive spy theme
Spy memorabilia is just a fraction of the experience at SafeHouse in Chicago. Image courtesy of SafeHouse
It only took 50 years, but after Dave Baldwin's sale of SafeHouse in Milwaukee to local lodging and hospitality operator The Marcus Corp., the legendary, spy-themed bar is primed for expansion. Baldwin has since passed away, but new owners Greg and Steve Marcus promised to keep the Chicago outpost and any future locations true to the original concept, which dates to 1966 — with some modern updates, of course.
The Marcus Corp. opened SafeHouse Chicago in May 2017 with plans for further nationwide expansion of the brand. In a testament to the immersive restaurant's immediate success among Millennials as well as families, the group has already expanded into a separate, gaming-only concept called Escape Room, directly next door, which calls on participants to use teamwork and smarts to get out of an enclosed space in an hour. Both the Milwaukee and Chicago SafeHouse locations draw on this element of game, surprise, humor and wonder to bring much more to the table than just food.
"Espionage is the world's second-oldest profession, and it seems to be piquing people's interests even more as of late because of all the news of Russian interference," says Peggy Williams-Smith (aka Agent Blonde), senior vice president of Marcus Hotels and Resorts. "What we try to create at SafeHouse is the experience of living the life of a spy with a little movie, history and restaurant mixed in."
Designer Paul Daurio of Creative Development, LLC, was called upon to head up the concept development and design of the Chicago location. "I wanted to stay true to the essence of the Milwaukee location, which has an amazing collection of spy memorabilia given its ongoing presence throughout the '60s, '70s, '80s and '90s, but also bring in some newer elements," he says.
The Chicago location was chosen precisely for its underground location. Guests enter through an inconspicuous street-side door to a spy "front" disguised as an international export company office outfitted in a '60s motif. Guests are greeted by Miss M, typically played by a local actor. In order to enter SafeHouse, all guests must complete a "clearance test" in which they might be asked to do silly things or answer funny questions. Once passed, Miss M turns a bust of David Baldwin (with eyes that scan you as you walk by), which leads guests to a secret, quilted door.
Downstairs, everyone is in character, of course, with the hosts clapping as you walk in since all the clearance tests are broadcast live on a digital screen behind the main bar.
Inside, after an initial greeting by the hosts, who ask, "What is your mission?" (Answer: lunch, cocktails, or dinner), guests can go on a self-guided tour of the multidimensional space, which features two bars (one that's used for semiprivate events), a main dining room, and even an interactive bathroom decked out in authentic spy collectibles, such as secret maps from movies, a real Order of Lenin medal given by the Kremlin to spies, and more. The "Spybrary" features some lounge seating and a replica of the Berlin Wall with bookshelves containing actual pieces of the wall.
There are even interactive elements at the tables themselves. When guests sit down, they're given an agent nametag to come up with their own fake names (or they can use the SafeHouse mobile app to help them figure one out). An old spy plane fuselage was converted into a row of banquettes, and at the "Get Smart" booth, guests can pull a fogged-up dome down over the booth to have a more private conversation, just like in the movie. At the Chicago location, a magician roams around for on-the-spot entertainment, while at the Milwaukee location, magic is a built-in part of the bartender's duties. In the main dining room, there's also a control panel that will set off a "nuclear explosion" by pressing one of the buttons and a monitor showing footage of drones from all over the world.
The comfort-driven food also comes on interactive plates, with servers "flying" them through the dining room and adding sparklers to big appetizers. The burger has been named Best Burger in Chicago by Chicago magazine, and, like the food dishes, creative cocktails are named after famous spy movie quotes.
Of course, even the exit is thought out. "Every good spy doesn't leave the same way he or she came in," says Williams-Smith. While there is a traditional exit, there's also a secret one set up in a phone booth where guests can pay a dollar, pick up the phone when it rings, and then navigate through a laser light maze set in a dark, foggy tunnel leading upstairs to street level. There are even rows of badges that were left by guests upon their exit — something that happened organically, Williams-Smith says.
The bathrooms at both SafeHouse locations have earned awards for inventiveness. In the ladies' room, there's a humorous photo of Daniel Craig, who played James Bond, seductively washing his hands with a leaf covering his more private parts that will actually sound an air blast throughout the whole restaurant if touched. In the men's room, a loud siren that says "package accepted" will also go off throughout the restaurant when the stall is used. The unisex bathroom door is see-through until you flip the lock when you enter, which fogs up the door.
"The important thing about all this is that people get to laugh at themselves and really play within the space," says Daurio. "There are 54 different experiences, all within one place."
Spy memorabilia is just a fraction of the experience at SafeHouse in Chicago.
Image courtesy of SafeHouse
Next: Punch Bowl Social
---
Punch Bowl Social
Locations: 12
Experience: Social gaming and dining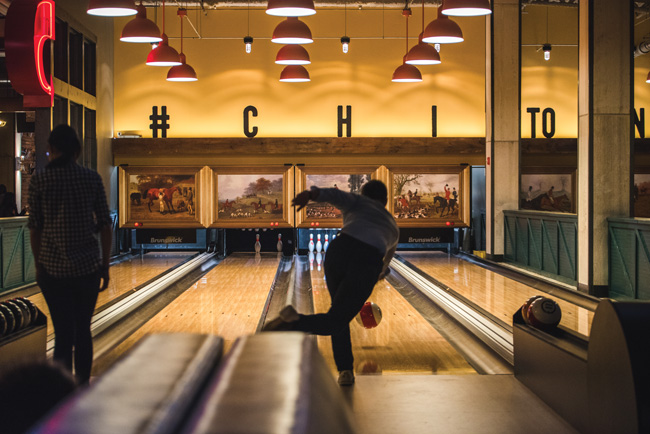 Punch Bowl Social offers drinking, dining and a variety of games across roughly 24,000 square feet at each of the growing chain's 12 locations. Images courtesy of Amber Boutwell
Veteran restaurateur Robert Thompson has struck a chord with his Punch Bowl Social outposts around the country. With lines out the door when the first location opened in 2012 in Denver's historic Baker neighborhood, he has since brought two designers on board and expanded his team to develop and open more Punch Bowl Socials elsewhere in Denver as well as in Detroit, Atlanta, Chicago and more. There are five more Punch Bowl Socials planned for this year and eight for next, all based on a national strategy with real estate a key focus.
What seems to draw Millennials in particular to the concept is the merging of great food and fun cocktails with interactive gaming options, from bowling to arcades, karaoke, bags, shuffleboard and other options, depending on the venue, all of which are located in expansive spaces around 24,000 square feet.
Punch Bowl Social offers drinking, dining and a variety of games across roughly 24,000 square feet at each of the growing chain's 12 locations. Images courtesy of Amber Boutwell
"Of course we cast a wide net and are popular among Gen X too, but Millennials in particular crave experiences and demand authenticity in their concepts with an emphasis on food and beverage," says Thompson.
Nothing like your dirty bowling alleys of yore, these social gaming venues serve food and drink throughout the space. "Our guests will have full-service, multicourse meals right at the bowling alley, not just snacks," Thompson says. There's also a more traditional, sit-down restaurant as you walk in each of the locations with a "modern diner style" scratch kitchen menu developed by famed Atlanta chef Hugh Acheson.
Thompson describes the interior design of most of the spaces as "dirty modern," thoughtfully combining Victorian elements with midcentury modern and industrial accents without any kitsch. At every location, there's also a popular Holiday Lodge, a semiprivate area for events and gatherings. "Nothing is segmented by one design concept," Thompson says. "All of the spaces are folded together in one tapestry."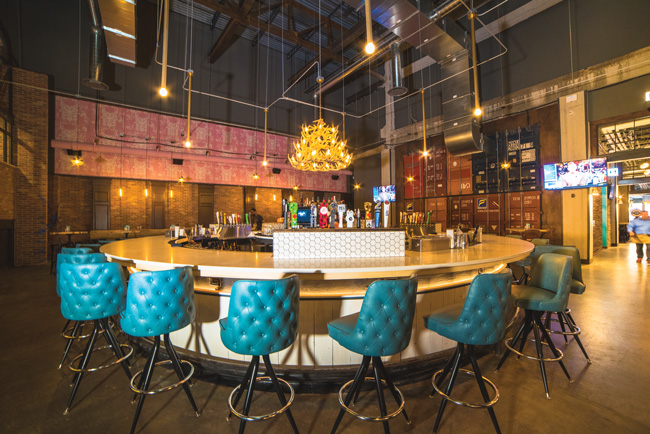 The design process, as one might imagine, is intense. "We spend 24 to 36 hours immersed in the location of our next market and try to understand the community and brainstorm while we're there, and we don't leave until we finish a schematic layout," says Thompson. Though the team uses somewhat of a template — positioning the full-service restaurant near the entrance of each venue — they let creativity rule, and
design elements are often inspired by the history of the buildings they are in.
At the Stapleton location in Denver, the team converted an old, abandoned air traffic control tower from the former Denver airport of the 1930s into a Punch Bowl Social, complete with vintage luggage, steel beam airplane cutouts, tabletop graphics mimicking the old runways and other subtle airplane details, all carefully designed to avoid cheesiness.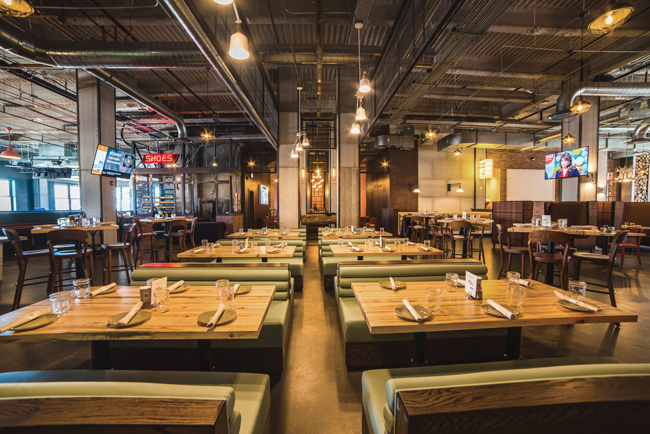 At the Chicago location, the team was inspired by the art deco look of the Windy City's architecture but ended up going with a 1970s Laundromat look with a wall of different-colored dryers and other elements from that era.
The Punch Bowl opening in San Diego is in a building that housed a former 1930s boxing arena, so there is a lot of Archie Moore (known as the Old Mongoose) references as well as some boxing-inspired design elements.
Baseball parks and stadium lifestyle centers have also been a focus as of late through partnerships with the Atlanta Braves and the Washington Nationals. There's no sign of slowing down for this immersive restaurant concept.