Shanghai is a city that continues to grow and change at a rapid pace. And while it was just a handful of years ago that the Xintiandi neighborhood was teeming with street food vendors, as the city evolves, some of the old-world charm has been lost to modernity.
CallisonRTKL was brought in to design a neighborhood shopping center that would pay tribute to the old community. At the heart of that development is The Food Hall at Hubindao Shopping Center.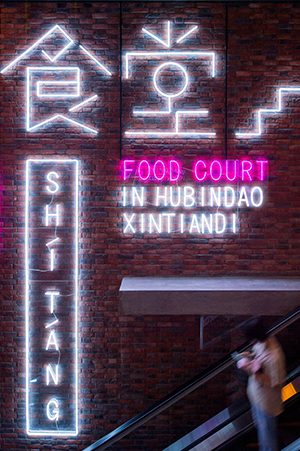 "In a tight footprint we set out to design a shop-and-dine experience that continues the neighborhood's vibrant, thriving urban life," says Yuwen Peng, AIA, LEED AP BD+C, associate vice president of CallisonRTKL. "We introduced a modern food hall that continues the street food culture of the past. Our goal was to make it feel like the food hall already had a life the first day it opened."
The design team made it feel as though the food hall was always there by eschewing modern and Western influences. The team placed Shanghai's small street vendors in a space reminiscent of the town's old serpentine alleyways. The design team also captured some elements of the past through eclectic vintage signs, old-world murals, casual seating, and adding quirky local elements throughout like a vendor car, a make-shift bamboo tent structure and amber street lights.
"All of the elements stimulate the patron's imagination and bring their sensory memories back to the golden street-eats days while meeting modern food safety standards," says Peng.
The Food Hall at Hubindao Shopping Center manages to bridge the gap between today and the past and allows locals and new visitors alike a peek into Shanghai's rich history and food culture.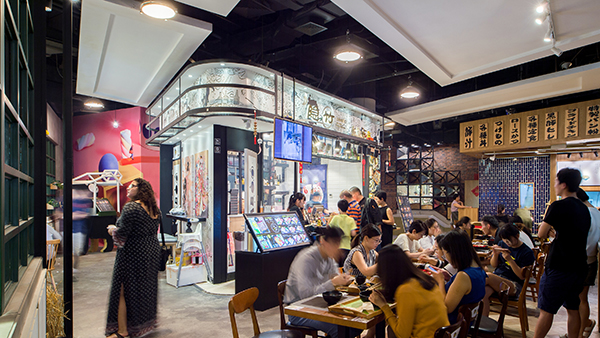 Image courtesy of CallisonRTKL Inc.