Based in Washington, D.C., Slipstream is a hybrid concept. In the morning, the operation offers coffee and breakfast items like frittatas and yogurt with granola. In the evening, it serves craft cocktails along with sandwiches, salads and small bites.
The company recently opened its second location in the city. Measuring 2,170 square feet with seating for 45, the restaurant was designed by boutique interior design/architecture firm //3877 and is designed to feel comfortable for both morning and evening guests.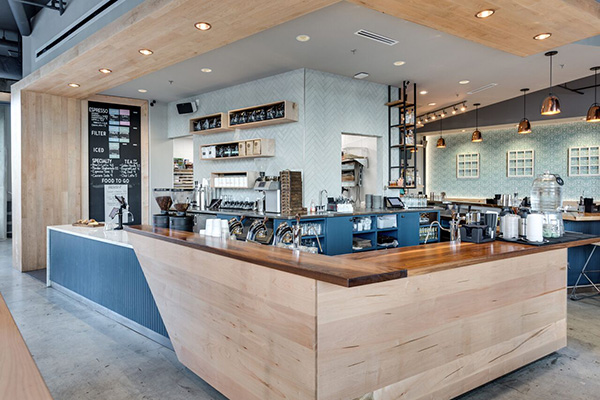 The look of the second Slipstream location is similar to the first. The restaurant makes use of light wood tones along with light and dark shades of azure blue. Seating includes stools, communal tables, high-tops and a banquette.
The operation's bar area features copper pendant lights, a wall with a patterned blue and white wall covering and a solid wood bar with a chevron pattern.
"The bar top was designed and crafted by the owner's brother-in-law." says Samantha Bennett, the project's lead architect with //3877. "The idea behind the chevron pattern was to reflect the angles of the ceiling and design of the space — two angles hinged at a given point to create connection and division simultaneously. This idea is also conveyed in the herringbone pattern of the tile backsplash behind the bar."
This restaurant isn't a carbon copy of the first location, however. One of the most notable differences is the flow of traffic, which now filters customers into two distinct areas, one for coffee and breakfast, and another for drinks and a bite to eat.
"The owner wanted more of a separation between the grab-and- go pace of the coffee and bakery side of the establishment from the more structured dine-in space. In this design, both customers are served equally, finding space to sit down and relax, as well as to just grab a quick bite," says Bennett.
Photos courtesy of BTW Images