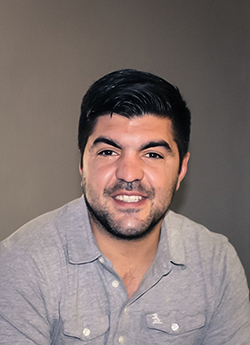 Dara Maleki, CEO of Pizza PressPizza Press is highlighting its old buildings and bringing community alive in others to make each of its restaurants feel local.
Cookie-cutter restaurants are becoming a thing of the past as restaurant chains today seek to bring the local community alive. Pizza Press is an Anaheim-Calif.-based chain that was founded in 2012 and has two corporate locations and 15 franchised stores with 15 more opening the first quarter of 2018.
Having a local feel in each restaurant has always been central to the concept's plans. The idea, says president and CEO Dara Maleki, is to create something that makes the community proud and capitalizes on the history of the restaurant's building.
rdd: Why is it important that each of your locations has local relevance through its design?
Dara Maleki: It was important when looking at a community that has pride and a legacy in a building. If something is longstanding in the community we want to highlight that. Every place we go we ask: "Are we thinking about the community?"
Our first restaurant opened in 2012, right across from Disneyland in Anaheim. It's a brick building with a wood façade, exposed brick inside and out, original mill work and ornate wood details. It had an allure to it, so we maintained that building as close to the original as we could. We did a double entry to keep the window flush and the door recessed. This created a covered patio so it has an intricate indoor-outdoor feel. We also retained a "ghost sign" from an old, previous business that says, "Doll shop. Do not park" on the back-entrance wall.
Our localizing is less about bric-a-brac and more about architectural elements or exterior facades and artistic touches that speak to the community.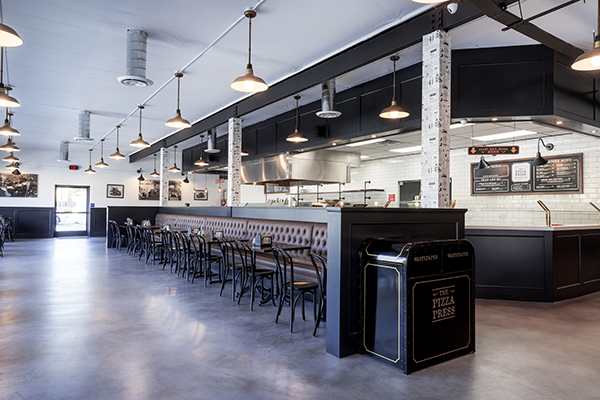 Inside Pizza Press's Anaheim, Calif., location.
Are all of your buildings old?
DM: No, in Austin, Texas, we found a freestanding old house that did not have historic value — the gabling was the only historic thing but that wasn't. But we know Austin is proud of being Austin so we instilled the community into the building, adding murals by a local artist inside. These show the downtown skyline. It's the small things you do within the community and within your design aspect that brings pride of ownership and of the city. None of our other restaurants have that type of artwork.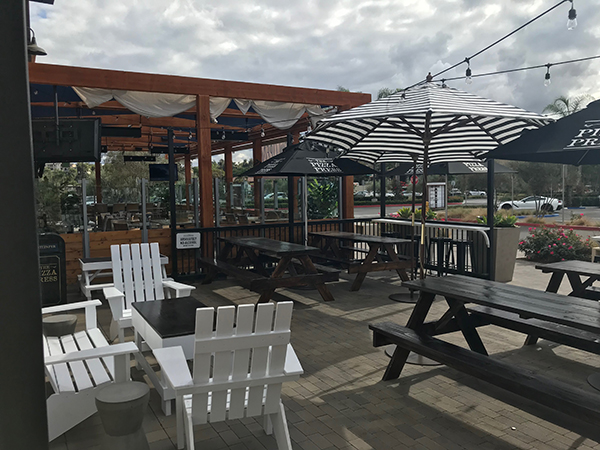 The patio at the Carlsbad, Calif., Pizza Press.
How else do you localize your restaurants?
DM: We strive to bring alive the feel of the cities we go into. Carlsbad, Calif., is a beach community. So, there we have an outdoor patio and lots of black and white striped umbrellas and Adirondack furniture to give it that beachy feel. In West Hollywood we have a green wall on the exterior filled with succulents, in keeping with L.A.'s ethos at the moment. At the Orange, Calif., location we had an old barn door since it used to be an auto repair shop. We want to highlight things like that. So we got a new barn door made and it looks authentic.
Even if we're not in a historic building we try to call out the community, especially if there's a printing press or news agency. We're currently working on a Vegas site, off the strip, and there's some interesting cut steel so we have a reverse silhouette of the skyline of Las Vegas and it's very throwback. We've also worked with the local newspaper to use historic news and bring it alive in wallpaper.
Local newspapers find new life as wallpapers at Pizza Press.
For 2018 are there any new restaurants you're particularly excited about?
DM: I'm super excited for Denver and Fort Collins, which are communities that have age to them. There's a lot of older construction, more steel, brick and other elements, creating opportunities for artistic work on the interiors and exteriors. And Tacoma, Wash., will be great; it has airplanes, the Navy and good opportunities for old headlines, too.
What is non-negotiable? What must all of your stores have that doesn't change?
DM: We control the tables, chairs, booths, lighting and have standard historic images. Interiors must be white, black, brown and gold with black ceilings, black mill working and brass fittings on our sneeze guards.