Glen Coben, Glen & Co. Architecture, New York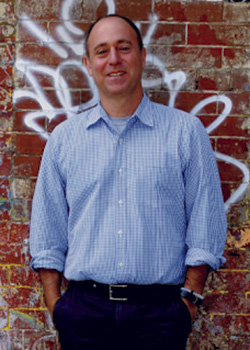 Photo by Maya Coben
A prolific hospitality industry designer, Coben launched his own interior design and architectural firm in 2000, and has since established a collaborative approach to design that enhances the guest experience while reinforcing a brand's core values. A member of the Board of Advisors of Culintro, a professional organization based in New York City with executive members in the restaurant, culinary, food and related industries, Coben recently served as assistant visiting professor of interior design at Pratt Institute. He's currently working on several urban hotel and restaurant projects slated to open this year. He shared with rd+d a few of the products and trends he's excited about right now.
+
Comfortab
le
Chairs
A long meal requires a comfortable chair. I really like these mid-century-style chairs from ISA International. They'll support a guest for a few hours and the proportions and dimensions compliment guests of different sizes and shapes. You can't use a 45-minute chair for a 3-hour meal. You have to provide a comfort level suited to the dining occasion.
+ PARTIALLY Open Kitchens
I love being able to see into a kitchen in a restaurant — to see the flames and to see chefs working in synchronization. It's like going to the ballet, but you get to eat while the performance is happening.
+ CEILINGS AS A CANVAS
We are super excited about exploring this surface through commissioning artists to do art installations, or having a decorative artist leaf a ceiling to bring a sense of old-world technique to a modern space. Empellon al Pastor's ceiling tells the story of illegal immigration, money laundering, animal sacrifice, the beauty of Mexico. At fabrick restaurant in the Archer New York hotel, we did a ceiling "quilt" for the dining room using remnants of fabrics that had been used throughout the property and another fabric ceiling treatment in the Spyglass Rooftop Bar.
+ Unique Artwork that Helps Tell Our Stories
Artwork is another layer in the story in the design of every restaurant we do. For one project, we commissioned a custom-designed "flock" of birds, which is a glass installation that will hang from the ceiling as a key art element. At Carbone, which is a modern take on the 1950s Italian-American experience in New York, we went with large-format artwork that helps to define the concept. At Empellon al Pastor, we used porcelain artist Biata Roytburd and a group of street artists to create unique characters, like the sexy "Rat Bitch" sculpture, and floor-to-ceiling art that's completely integral to the taqueria/dive-bar concept.