Operators have several options when making room for takeout within a restaurant's four walls. They can decide to renovate their existing dining room, or they can open new restaurant locations with ample space built in to accommodate takeout customers. Either way, operators have a host of things to consider when making room for takeout operations.   
Design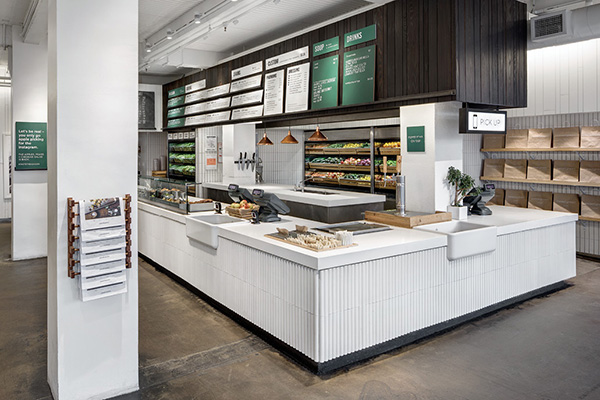 At Washington, D.C.-based Sweetgreen, mobile orders are prepared and placed on a takeout shelf so guests can grab and go. Photo by Richard CadanIn terms of a new restaurant design or even a retrofit, creating the space comes with its own set of challenges. If building a restaurant from scratch, the obstacles aren't as great because space can be dedicated to takeout during the design process.
Retrofits aren't quite as simple. "It's more cost-effective to use the space that already exists within the building. The downside is it's a space lost to feeding in-store customers," says Jeff Cangro, project manager at starrdesign. "But if you're seeing 35 percent of sales from takeout orders and the dining room is not at capacity all the time, it might be a worthwhile trade. We're seeing restaurants in bigger markets such as New York City completely eliminate the dining room altogether, while others are running multiple delivery-based restaurants out of the same kitchen."
The driver behind these changes is the consumer, who now has an increased demand for convenience in terms of how they order and when and how the food gets into their hands. However, they also still want the guest experience.
"In terms of the movement toward takeout, we're seeing this as part of the overall guest experience, and restaurants need to ensure they are meeting the guests' needs in terms of access to the brand, mobile payments, calling ahead and skipping the line," says Rob Depp, a senior vice president and principal with design firm FRCH. "The way we think about carryout is that it does need to be an integrated part of the guest experience and part of their 360-degree engagement with the brand. But it also has to be part of the fundamental workflow of the restaurant itself."
To accommodate takeout at Washington, D.C.-based chain Sweetgreen, mobile orders are prepared, packaged and checked for accuracy. They are then slid onto a shelf in full customer view so the guest can walk in, find their order and then walk away. Meanwhile, at Velvet Taco in Austin, Texas, there's a separate entrance for takeout orders in the back of the building, a playful nod to the restaurant's underground offering of its back-door chicken. "It's almost like they are celebrating the personality of the brand and also calling attention to it," Depp says. "It really continues the conversation with the consumer in a consistent way."
Depp reiterates that if retrofitting an existing location to make room for takeout, operators need to consider the opportunity for growth. "If they are seeing the category as a whole is growing through takeout, it might be something to invest in," he says. "It also may come down to location. With a high growth potential there, it might be a high level of investment. But for underperforming locations, we would either do a solution where it is signage and a shared cash register as opposed to investing in a contractor and a permit."
Subway's new prototype features separate lines for takeout and to go orders. Photo by Mark SteeleOverall, design features for takeout should provide customers with a consistent, albeit different, brand experience. For example, starrdesign made the takeout area of The Cowfish Sushi Burger Bar a prominent feature at the chain's newest location. The firm also developed and adapted the cubby system as seen in chains such as Panera Bread Express and used steel cages in the to-go area at Original ChopShop.
"In Cowfish, we separated the area out enough to where it stands out on its own, but it is also not completely separated from the main dining room," Cangro says. "We also have to design to accommodate space for packaging, staging and the storage of the food itself, such as hot and cold menu items."
Meanwhile, cubbies give takeout customers the ability to pick up their food and interact with employees or not, based on their preference. Once an order is placed, it is produced, packaged and placed in a cubby for customer pickup. "So the customer truly doesn't have to interact with a staff member, or they can only minimally interact with a staff member," says Steve Starr, principal of starrdesign. "The key is packaging. It's got to be boxed up or bagged in a way that makes it all portable. This way, they are making it as convenient as delivery, and it has better product quality."
Packaging is part of the overall design and should be given heavy consideration. This is because the food must stay intact and consistent despite its portability. "The last piece is the packaging. While pizza travels well, there are other food items that don't. From the arrival to the departure, there are a bunch of steps that concepts need to think about," says Juan Martinez, principal of Profitality, an industrial engineering firm specializing in ergonomic design, profit improvement, and time and motion studies. "If they don't, something will give. At the end of the day, if you're negatively impacting the experience, then the sales won't be as high."
Packaging is a big part of Southern biscuit house Holler and Dash's takeout equation. The concept took an integrated approach to their design platform across in-store and takeout orders, and packaging plays a key role in their brand messaging. "The packaging continues the vocabulary and storyline of the brand. It's important to express the brand at all touchpoints," Depp says.
Flow
Branding and packaging is a big part of the takeout experience at Holler and Dash. Photo courtesy of FRCHFlow and the proper channels for takeout production need to be considered in tandem with any design elements tied to the in-store and off-premise operations, whether renovating an existing space or building one from scratch. This is especially true in today's operational environment, where online ordering apps and third-party delivery services, such as Uber, GrubHub and DoorDash, are giving consumers increased access to restaurant menus.
"With the popularity of online ordering, operators have an infinite number of POS in their restaurant. Now, anyone can pick up a smartphone and place an order," Martinez says. "From a flow perspective, operators need to determine how the order gets into the system and where does it go from there."
That means operators have to decide if they will have a multi-use POS station that handles both dine-in and takeout orders or if they will have a separate station only for takeout orders. Another consideration is production capacity and the flow of orders from the kitchen to the takeout counter. "For starters, you have to make sure you have enough production capacity and whether these orders get the same level of priority," Martinez says. "Do you have enough staff in place to handle takeout?"
At Original ChopShop, staff is trained to shift between a dine-in POS and one used for takeout. "They made it flexible enough so when they are busy, one person is dedicated to that takeout register, yet when it's slower, someone from the front POS can shift to the other without impacting operations," Cangro says. "It's separate but not so separate that it requires a distinct staff person because that is not economical."
FRCH worked with Subway to create a separate line for takeout and to-go orders. The separate area was created to leave ample space for in-store orders and to ensure customers in line didn't have to wait for takeout orders to be prepared before their order was taken.
Flow also includes the ebb of takeout customers walking through the door and how their experience will impact dine-in guests and vice versa. In some cases, separate wait areas are integrated into a space if orders placed for pickup are not ready by the time the customer arrives.
"ChopShop integrated a waiting area into some of the other circulation space so it didn't feel imposing on the people trying to enjoy their meal inside the restaurant for sit-down dining," Cangro says. "And if you're going into an existing restaurant space to add takeout, you have to figure out how to direct people away from the traditional queue experience to separate the takeout area. The path should be clear, especially in casual dining."
Overall, operators should think about the experience from the guest perspective to deliver an experience that meets their expectations. "You have to think about the flow of guests in a way that is similar to your in-store dining experience. For example, what does my guest need to do to get their food? If you're not careful, you will have crowds fighting for space and multiple lines. This also depends on the kind of concept you have," Martinez says. "Everything depends on flow of customers, production/flow of food — and all of these things are an important consideration."