Air travel may be more cramped and less hospitable than ever, but what passengers have lost in terms of the on-board experience is being more than made up for on the ground. Modern airports are becoming oases where travelers with time to kill can relax and enjoy all manner of goods and services, from massages and manicures to high-tech workstations, wine bars, specialty coffee shops, play parks, art exhibits and even pet patios. And they can dine — oh, can they dine. Along with traditional concessions and familiar restaurant chains, airports are bringing finer dining, often developed by award-winning local and regional chefs, into the mix. Here's a taste.
Terminal C-North
Location: George Bush Intercontinental Airport, Houston
Concepts: 5 local chef-driven operations
Developed by: OTG Management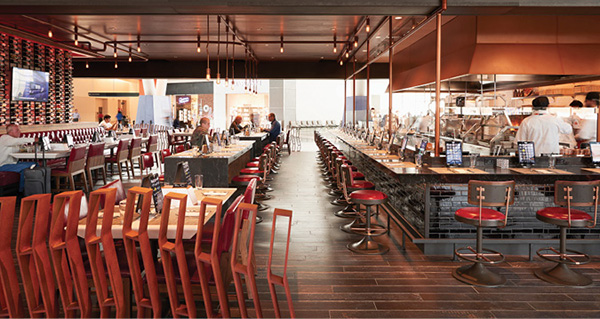 Ember guests can settle into tufted red leather banquettes or take a seat in front of the glass-enclosed kitchen with wood-burning grill, a feature that once would have been considered impossible to incorporate in an airport setting. Photo courtesy of OTG ManagementNew York-based airport hospitality firm OTG Management is behind some of the industry's most alluring examples of where modern airports and dining venues within them are headed. A case in point is George Bush Intercontinental Airport in Houston. OTG is developing four terminals there that just might have you wishing for a longer layover.
United's new Terminal C-North is the first to be completed, and it's a culinary, tech and design showstopper. "All told, we're deploying 8,000 iPads for the program, and we're bringing in great restaurants and chefs from the Houston market," says Justin Blatstein, OTG's director of aura. "In Terminal C-North, we have more than 1,500 iPads — one at every restaurant seat and many throughout the gate areas."
Concepts developed with top Houston chefs include Olio, a gourmet panini bar whose design features an interactive pixelated overhead art installation. "It appears blurred, but when you hold your phone up to it, the image comes into focus," Blatstein says. "It's one of many social media moments incorporated in restaurants throughout the terminal."
Upscale Neapolitan pizza stars at Pala, a collaboration with Ryan Pera of Houston's Coltivare Pizza & Garden and Revival Market. Its 700-degree pizza oven reaches the ceiling and features nearly 30 unique Italian tile designs. And at Vida Taqueria by El Tiempo Cantina chef-owner Roland Laurenzo, travelers can enjoy authentic Tex-Mex cuisine and craft tequilas under hundreds of twinkling lights.
Visitors with a taste for Texas beef can visit Ember for celebrated Houston chef — and recipient of the 2014 James Beard Best Chef: Southwest Award — Chris Shepherd's menu of hand-cut steaks and fresh Gulf seafood. Situated at the entrance to the terminal, Ember's dramatic design provides a Texas-size wow factor. "The ceilings are 35 feet high. We really wanted to create a moment the second you step into the terminal to show that it's something different," Blatstein says. "Hovering over Ember is a design element, loosely in the shape of a cowboy hat, made from more than 6,000 copper stars."
Inside, guests can settle into tufted red leather banquettes or take a seat in front of the large, glass-enclosed display kitchen. That element, Blatstein says, would once have been considered impossible to pull off in an airport setting but is now incorporated as often as possible.
The advent of ventless cooking equipment makes doing so easier, but challenges for specific concepts remain. "In many parts of the airport, we're not able to run ventilation," Blatstein notes. "At Ember, we ended up running copper-plated ductwork for more than 40 feet on the upper facade to be able to ventilate outside the terminal. It cost more, but it was important for us to be able to feature a big wood-burning grill as a centerpiece. The result was well worth the expense."
Location: International terminal, Calgary International Airport
Concept: Upscale wine bar, tapas restaurant
Owner/operator: Phoebe Fung
Vin Room is a locally owned upscale wine bar and tapas restaurant with custom, traveler-friendly design features, such as adjustable barstools and under-banquette luggage storage space. Photo courtesy of Vin Room Phoebe Fung, owner of Calgary's popular Vin Room, set her sights on opening what would be her third location in the Calgary International Airport. As an independent operator, the odds were stacked against her, but last November, four years after submitting her proposal to the airport authority, the first corks were popped at the stylish Vin Room in the international terminal.
The 2,000-square-foot operation touts scratch cooking and a menu headlined by tapas. Breakfast, soups, salads and sandwiches — all made in-house with seasonal, local ingredients — are served as well.
"One aspect of being in the airport is that it's an 18-hour-a-day operation. So we offer breakfast and lunch items, and we've had to adapt to the fact that not everyone eats tapas," Fung says. "Because we're in the international terminal, we try to accommodate every type of traveler, taste and time zone."
And, of course, the Vin Room wine program is a signature attraction. With its original street location touted as Canada's largest wine bar, the new location may claim that same title among airport wine bars. More than 3,000 bottles are on display, serving as both a design feature and a storage solution.
More than 80 wines are served by the glass. "An important aspect of our concept is that you can buy 2-ounce wine pours instead of having to commit to a whole glass or bottle," Fung says.
Fung notes that sales at the airport location so far are evenly split between food and liquor, with per-person checks averaging $20 to $30. "We may look like expensive fine dining, but our tapas start from $5 and entrees average $15 to $17," she says. "You're not paying a premium because you're in an upscale setting in the airport."
Fung, who previously worked in the oil and gas industry, spent a lot of time in airports before opening her first Vin Room in 2008. As such, she had a vision for creating a uniquely comfortable and well-equipped oasis.
"First, I wanted to recreate the experience of our street location. But I also wanted it to have all of the niceties that I would like as a traveler," Fung says. "We have built-in outlets and USB ports at every table and storage space for luggage underneath our custom-designed seating. Our barstools are adjustable to ensure guest comfort. And we have a complimentary business center with scanner, computer and monitor, fax machine, and printer available to guests. It's on wheels and rolls right up to the table. We're also about to open our pet patio, which is a feature at our street locations as well."
Compared with those locations, doing business at the airport is costly — Fung estimates 20 to 30 percent more so than in traditional locations. Dealing with security contributes some of the additional costs, but others have to do with the need to build in redundancies. "Airports are 365-day operations, and you can't risk having something break down or impact operations around you," she says.
While the added traffic helps to offset those costs, Fung says the satisfaction from representing the local independent restaurant scene to travelers through Calgary does as well. "It's rewarding to see people on their way to a vacation or stressed-out business travelers relax and unwind in our restaurant," she says.
Publican Tavern
Location: Terminal 3, O'Hare International Airport, Chicago
Concept: Elevated tavern
Developed by: HMSHost and One Off Hospitality Group
HMSHost worked with One Off Hospitality Group and its designer, Thomas Schlesser, to create Publican Tavern at O'Hare. It's an offshoot of The Publican, One Off's award-winning restaurant in Chicago's Fulton Market neighborhood. Photo courtesy of HMSHostA longtime leader in creating and managing travel-centered dining programs, HMSHost long ago began shedding its image as old-school concessionaire and shifting the airport dining paradigm. It was among the first in the industry to showcase celebrity chefs, partnering with the likes of Wolfgang Puck, Todd English and Rick Bayless to bring elevated dining concepts to the airport.
Today, the company continues to redefine itself and the airport experience in part by mining the local restaurant scene for hot concepts and notable chefs to add to the mix.
Tyler Pitman, senior director, restaurant portfolio, says the company has been working to position itself as a leading global restaurant company. "We spend a lot of time looking at travel industry and dining trends outside of the airport environment. We want to bring those same trends inside — stay current with what really excites guests and represents the best of what the city has to offer. And, ultimately, we want to provide a more elevated experience for travelers," he says. To do that, HMSHost strives for a balance of proprietary, national-brand, and buzzy local, chef-driven concepts.
One such brand is Publican Tavern, which opened last year in American Airlines' Terminal 3 at O'Hare International Airport. It was developed in partnership with One Off Hospitality, the internationally acclaimed group behind some of Chicago's most iconic foodie havens, including Blackbird, Avec and The Publican.
"It's a very elevated experience that took The Publican on the street and translated it for the airport," Pitman says of Publican Tavern. "The aesthetic is the same, and the materials, finishes and lighting are the same. Our in-house design team worked with One Off's team and Thomas Schlesser, who designed The Publican, to bring the project to life."
As with other agreements with local brands, day-to-day operations are handled by HMSHost. However, Pitman stresses that the local group's ongoing involvement is key. "We're not just licensing; we look for true partners in the entire process from design through training, opening, ensuring brand standards are upheld, etc.," he says. "We change the menu as they do; we have quarterly business reviews; we're in communication weekly, if not daily."
Of inherent airport challenges, preparing a local brand to serve breakfast, lunch and dinner 365 days a year is a big one. Required speed of service is another. "Most guests in a domestic terminal have roughly 34 minutes of dwell time. International travelers might have an hour and half," Pitman says. "Operations have to be able to handle that."
From a design standpoint, the biggest challenge comes down to one word: luggage. "Almost every guest has a roller bag or multiple pieces of luggage in tow," notes Pitman. "So while we're bringing more elevated restaurants to the terminals, we're also moving toward constructing fewer walls and barriers to ensure that they can access and enjoy them comfortably."