Maximizing a restaurant's footprint is a quest that has existed since the inception of restaurants. Traditionally, this means the restaurant should be designed to meet the kitchen's capacity during its busiest hours — and to try to stay as busy and full as possible during most operating hours. But there are only so many dayparts. Leveraging square footage via flexible footprints is a key way operators maximize revenue.
And many operators use private event spaces to drive extra revenue and fill empty spaces.
"We talk to people a lot about flexibility of their spaces because, per-square-foot, rent can be high. So if there's additional revenue they can make from using it in a different way, they should," says Steven Sorrell, vice president of commercial interiors, GTM Architects, Bethesda, Md.
Creating these spaces is especially important for hotel restaurants "where flexibility is the driving factor," says Dennis Askins, architecture design director at hospitality design and concept firm AvroKo, New York City.
Drapes at the bar window of the American Social Tampa location can open up to the patio dining or remain closed. Image courtesy of American Social Tampa
Inside American Social Bar & Kitchen
American Social Bar & Kitchen has five Florida locations, and its events business constitutes 11.5% of revenue. "It's part of our business model to be flexible," says Director of Operations Mike Herchuck.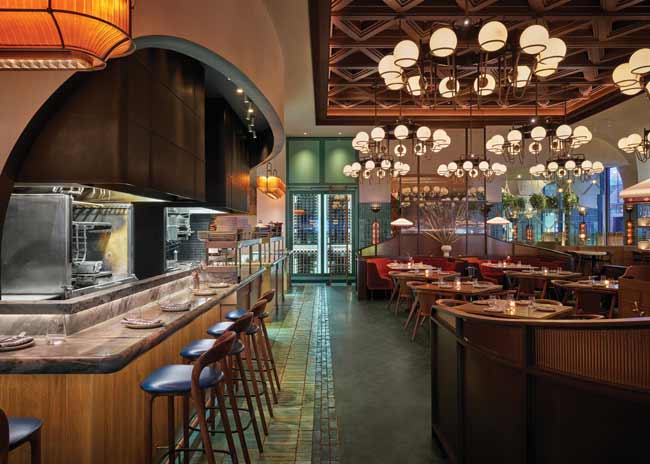 ZouZou's features lots of different seating to make it flexible for all party sizes. Image courtesy of AvroKoThe restaurants range from 2,500 to 17,500 square feet, and each has areas that can be used for regular restaurant guests or private events — and, in some cases, five or six events can occur concurrently in one unit.
The Fort Lauderdale location has a 1,000-square-foot event space that can be divided up into several smaller spaces or used for overflow dining. Bookshelves and planters divide up the space if needed, along with curtains or screens, though Herchuck prefers the aesthetics of bookshelves and plants. Other locations have zones that can be used for events or for regular restaurant traffic on busy nights.
The restaurants use barn doors or accordion doors to separate or open up event spaces. Two locations alternatively feature a curtain that looks mysterious when it's closed but is easily tucked away when it's open, though this isn't the most soundproof option, Herchuck explains. Barn doors are the best, he says, "but you need somewhere to put them when they're open."
From a design perspective, these flexible zones match the rest of the restaurant when it comes to decor and lighting but may have small touches that make them friendly to hosting events. These elements range from a specialty light fixture to denote a special room or TVs that can double as displays for a given event. Depending on the nature of the events the space is intended to host, sometimes the design tweaks are as simple as an upscaled central table or chairs that feel higher-end because they have armrests. "It gives it a little elevated feel," says Herchuck.
In each location, American Social has a large storage area to keep furniture. For a mingling event, for example, the restaurants will place larger dinner tables in storage, and replace them with skirted cocktail tables. Even though large tables are harder to move, Herchuck prefers to use them in the event rooms because, he says, "smaller tables don't line up properly."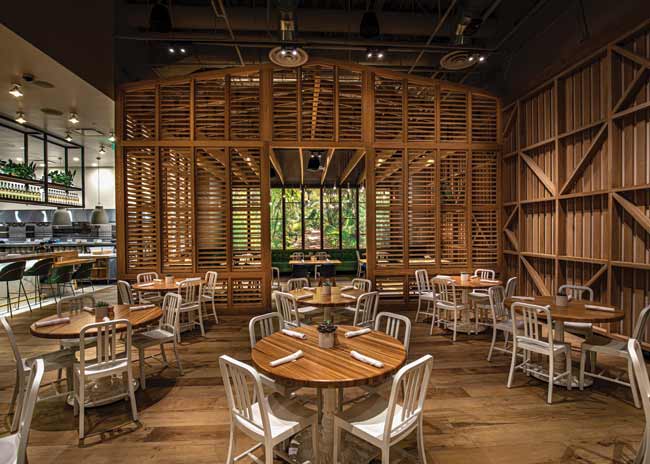 Louvered screens can be closed or opened to offer different options. Image courtesy of Aria Group
Seating and Zones
Beyond private events, restaurants, especially larger ones, need to feel comfortable both during a bustling dinner daypart and a sparser lunchtime crowd.
Convertible seating arrangements, like banquettes that can be quickly altered to fit tables of two through ten, help operators repurpose spaces between dayparts, says Corey Dunne, owner and principal of D+K Architects, Chicago.
Lunch, Dunne points out, tends to be comprised of smaller groups, so two-tops provide the most flexibility. Generally, he prefers to use square or rectangular tables, usually with a common dimension. This way, when the dinner crowd arrives, often with larger party sizes, two two-tops can easily be pushed together to make a four-top. Configuring these along a banquette is very flexible, he adds.
GTM's Sorrell often designs restaurants in multiple sections so they can close down areas as they get quieter. "The tricky part is to not have a dead-looking section," he says. He likes to use banquettes to divide up space, so the main dining area is on one side and behind it is a smaller space that can go unused at quieter times. He tries to steer restaurant clients away from using booths because of their inflexibility.
Decorative screen walls can also divide a space, Sorrell points out, and can be folded or moved to open additional areas of a restaurant. They can also be decorative so they don't look like an afterthought. Screens can also serve to make enormous dining rooms feel less vast. In one oversize spot Sorrell worked on, he added a screen for this purpose. "It makes people feel they have their little space because it physically breaks it up and allows for flexibility," he says.
To allow for restaurant flexibility, eschew traditional walls to define rooms. Instead, rely "on intentional placement of furniture like couches, tables and oversize chairs," says D+K Owner and Principal Paul Kozlowski. "Something as simple as a high-backed chair can move, but it can also be used to block the space," he explains. He adds that bookcases on casters can be easily moved to create different zones and can be permanent fixtures, especially if they have no backs so diners can see through them.
Soffits can also create and define zones, Kozlowski says. "They can give a sense of space without having to use walls," he says. "The use of a dropped or raised soffit element in the ceiling, especially when used in conjunction with a flooring inlay, will define a portion of space but remain flexible because there are no walls used to create it, allowing for furniture to still be freely moved around." And certain standout features, like a chandelier, can center a room around one large table for a big group or serve as the center of a larger space.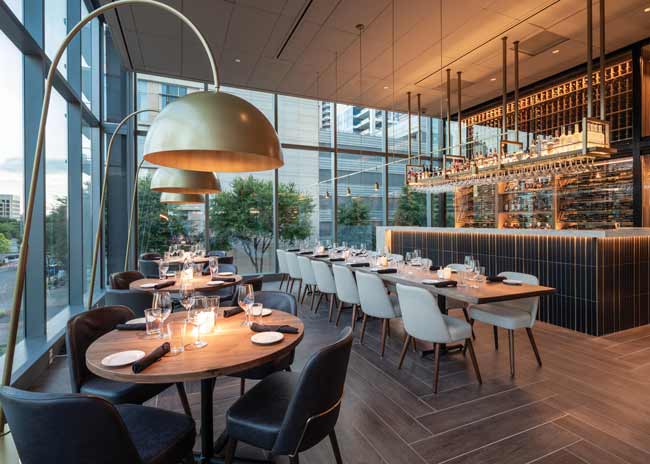 Tables that can be separated or pushed together mean a restaurant can work for groups or small parties. Image courtesy of Aria Group
Other Types of Dividers
Frank Cavanaugh, principal, Aria Group, Oak Park, Ill., likes to design a space with maybe 30 to 40 seats, ideally far from the entry and that can be screened off. "That isolates the space a bit and means it can be used for private parties or overflow," he points out. But because it's just a screen, when you seat people in that area, "they don't feel they're walking into an empty restaurant."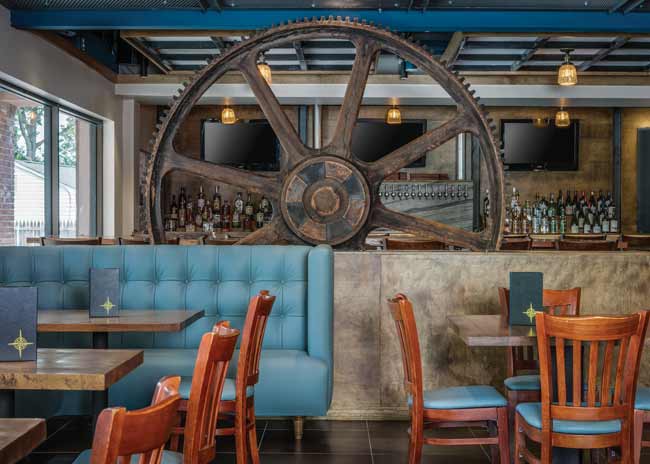 Architectural features can block off areas of a room. Image courtesy of GTM ArchitectsCavanaugh uses screens on their own, screens attached to a banquette, heavy drapery (if sound is not an issue) or 48-inch sliders (a wood or metal frame with a glass door or tempered glass panel). "You want it to feel like the same space, but it could have a feel of its own, too," he says. "When you're in the space, you don't feel super enclosed and still feel connected to the restaurant."
AvroKo's Askins worked on Zou Zou's in New York City. He deliberately included a lot of different seating, including square tables that flip up to create rounds to seat larger parties. The restaurant features zones sectioned off with screens and drop ceilings to define them, as well as overstated light fixtures that set spaces apart but also allow them to function as part of the restaurant as a whole. The flooring is different in some zones, too, to section off spaces subtly. "This is a room without walls, so you are in zones, [but] everything is visually connected," he says.
Upstairs at Zou Zou's are two private dining rooms. Chez Zou is a decorated room with lots of personality, Askins says. It has a bar and seating to hold a party for a meal or a cocktail event. The tables are all at lounge height to accommodate drinking or informal dining.
An additional dining room is more neutral and can be dressed up for a private event, Askins says. It can be converted into two rooms via a folding wall with fabric panels down the center. All furniture in these rooms, apart from a credenza, is movable. It's important that the furniture can be moved in and out, he says, so it needs to be lightweight and must fit into the elevator — which, ideally, is nearby.
In one restaurant, Sorrell designed a space under the mezzanine and included custom acoustic wood panels so the area could be broken up into three or four event spaces that could each hold a 12-top table. The panels have a solid wood frame around a decorative acoustic fabric. The panels between the spaces can be removed to make a large event room, but the acoustic panels mean there can also be four concurrent events happening, he says, with no sound bleeding from one area to another. The panels are bifolding, so they nest to one side when not used to separate the spaces when the area is used for regular dining. The decorative screens complement the design, he says.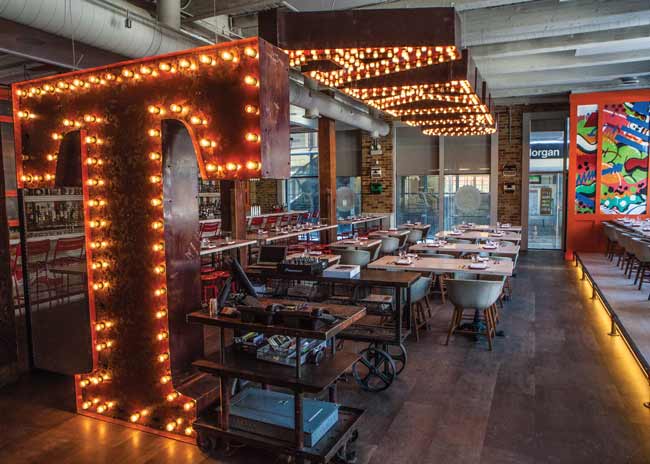 Bar Takito, designed by D+K Architects, uses furniture instead of walls to define a room. Image courtesy of Kyle Flubacker
A Focus on the Bar
Bars, of course, can be used as a focal point in a restaurant and can also serve to divvy up a large space.
Sorrell uses different materials, colors, textures and lighting to highlight and separate bars visually while still maintaining them as part of the overall space. Customers can feel the bar's vibe as part of the restaurant but still recognize them as separate zones.
In large restaurants, Sorrell likes to design bars with two sides, so if the restaurant is quieter, one side can close down and only one bartender is needed. Askins also likes double-sided bars and says that typically, the seating on one side of the bar — the always open side — is fixed, while the other side can be flexible to allow for either dining room overflow or a private event. In such a scenario, the back bar becomes a wall so guests from either side can't see across to the other. Instead, there's just a door space to access each side, which may be made more theatrical with a curtain, bringing an element of fun, he says. These double-sided bars are usually created in a horseshoe shape, he says, so bartenders can access both sides.