Needing to keep its base of affluent, in-the-know guests coming back, this entertainment concept has rolled out its second new design in less than 10 years.
Main Event Entertainment is not your typical restaurant. In fact, it's not really a restaurant at all. It's an entertainment concept that offers all the ingredients for a fun evening out: high-quality food, a full bar, bowling, laser tag, a large video arcade and more, within 50,000 upscale square feet.
Photos courtesy of Wade Griffith Photography
"There's a whole new class of out-of-home entertainment concepts that are redefining the verticals that they're in, whether it's Top Golf that's redefining a golf driving range or movie theaters that have upscale food and beverage with luxury seating," says CEO Charlie Keegan. "There are these business models that for decades have been one-size-fits-all. Now, they're being puffed up with aspirational facilities, high-quality food and beverage, and they're outperforming the traditional business models they come from."
Since these businesses depend on affluent guests who know and seek out elevated experiences, concepts like Main Event must be willing to upgrade their look and update their offerings frequently.
The company, in fact, recently introduced a new design — its second to roll out in the past 10 years. First seen at Main Event's Orlando location, the new design better utilizes the concept's dining and activity zones while upping the appeal to one of its most important customer groups.
For the Young and Young Adults
According to Keegan, Main Event's top five customer categories include three that cover high-income suburban families. Overall, the company has been serving these guests well. The single largest group, though, consists of well-off "urban fringe" Millennials and young adults. "They don't have kids to pay for, so they like to go out and spend money at night on entertainment," Keegan says. "We want to do a little better with that group without alienating another."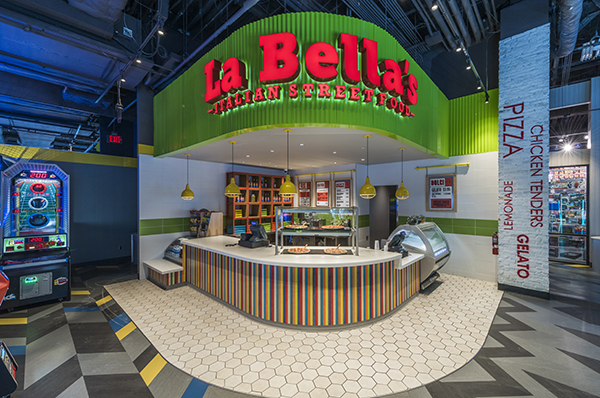 With this in mind, the new design shifts the chain's overall look. The different dining and entertainment zones maintain their clear sight lines, though the new design provides greater definition to the spaces while also affording greater flexibility to manage parties and busy dayparts. Main Event's finishes also changed and now encompass rich, natural materials and tones contrasted with bright, vibrant colors, resulting in a look that appeals to young adults and families alike, says Keith Anderson, vice president and chief operating officer of Harrison Architecture & Design.
This approach can be seen clearly in Orlando's adult social lounge, a new zone for the company. Featuring billiards and shuffleboard, it's meant to serve as a gathering place for young adult guests, says Keegan. During peak times, "we could be on a two-hour wait to go bowling," he explains. "You may not want to have a meal, but you may not want to sit on a bench. It's sort of halfway in between, transitional seating."
This space has many of the elements that define Main Event's new look. The billiards tables are covered with vibrant blue felt, while the lounge offers neutral brown tufted soft seating. Wooden rafters are arranged in an intersecting pattern, defining the space and giving it a sense of intimacy, while the lounge's brick walls are decorated with colorful art, including abstract stars painted directly on the surface.
"Those stars link back to Main Event's heritage," Anderson says. "The old logo has those stars, but [the new ones] overlap and cross and are painted on the brickwork, so they seem more timeless and authentic. It creates an urban and cool feel for the lounge."
This look can also be seen in another zone new to Main Event, the adult bowling area. While the family bowling section features fun, kid-friendly elements — ice-white lanes with interactive images projected on them — the adult bowling area is more sophisticated. The company uses custom seating upholstered in black and brown accompanied by cocktail-height tables in dark wood. Rich, deep colors and brick walls help define the space, as do the wood-look flooring and wooden ceiling with lane numbers lit in neon.
Main Event brought the combination of bold colors and natural materials to its existing spaces as well. The bar area, for example, has high-top wood tables and booths with blue fluted upholstered seating. The space's floor is a wood-style vinyl on which the chain projects an image of a star, once again calling back to Main Event's heritage.
To help define the bar area, large light fixtures in geometric shapes hang from the ceiling, while black-framed glass panels separate the drinking area (and its patrons) from the more family-friendly main dining area.
The dining area takes the same general approach as the bar. It features red tufted booths and patterned tile flooring. To help counteract the space's high ceilings, the same type of wood rafters used in the social lounge are found overhead.
Main Event has also taken steps to increase the square footage available to guests looking to sit down and enjoy a meal, primarily by making some existing zones more flexible. The kids' birthday party section, for instance, previously had plastic tables and chairs — typical for an area catering to eight-year-olds eating pizza and cake. In the new design, this section has hardwood tables and seating that blends with the dining area. It has also been relocated adjacent to the dining area but away from the bar, allowing it to be used by diners later in the day once the kids' parties are over.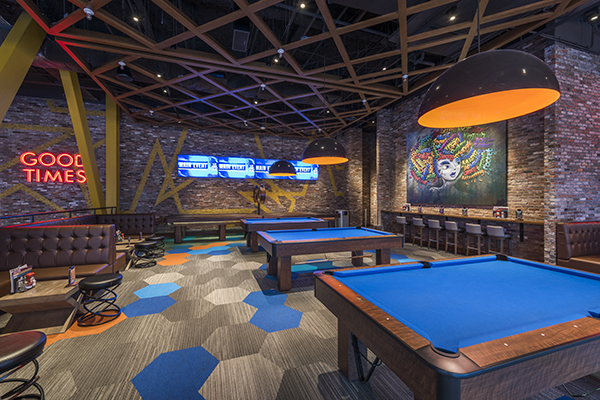 Similarly, Main Event has relocated its private meeting rooms to be near the dining area. When there are no private parties, the rooms' large cantilevered doors open, expanding the dining space.
Instead of having folding tables covered with linen, these rooms use high-quality chairs and hardwood tables with folding panels, which allow for flexible seating arrangements. The quality furnishings make the meeting rooms more appealing as a regular dining space, Keegan notes. "If it's a Saturday night and you're in there, you don't feel like you've been sat at the kids' table."
Going Big
With so many different zones at Main Event, the redesign was a major undertaking. One of the most impressive aspects of the effort was its timeline. Just one year passed from the commissioning of the first design drawings to the opening of the Orlando location.
While this was the right decision for Main Event, the compressed time frame did introduce some complications to the project. Though construction drawings were complete when work started, many of the finishes had not been specified. The company ended up having to make decisions about tiles, fixtures and other design elements on the fly, says Main Event's Vice President of Design and Construction Brian Moran.
While the chain is happy with the decisions it made, it's now in the value-engineering phase, looking for suppliers that can offer cheaper equivalent materials and finishes. Value engineering for an operation with 50,000-square-foot stores isn't much different from finding suppliers for a 5,000-square-foot restaurant, Moran notes, but logistics is. For suppliers, it is generally easier to ship large amounts of product to a handful of large stores versus smaller amounts to dozens of small locations. With 10 times the amount of product going out at once, though, construction managers must screen potential suppliers closely.
"That's one of the issues we discuss when we're vetting our vendor partners," says Moran. "Do you have the capacity? Do you have the inventory? Give us your means and methods to providing your service to ensure that when we place an order, you can procure this in a timely fashion."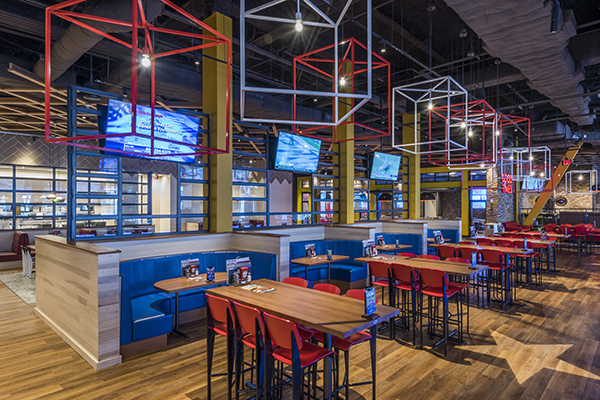 Negotiations with contractors are similar. Because of this, the chain tries to partner with contractors who have experience working on large shopping centers or office buildings. Those firms typically have the manpower to get the job done on Main Event's tight schedules. "It's 10 times the spend, but it's not 10 times the time. It's not even 2 times the duration," Moran explains. "A restaurant may be built in 100, 150 days. We're in the 200 to 250 days' time frame. When we talk to our vendors and contractors, we want to know not only that they can handle the financial side of things but that they can supply the manpower required to construct a building of this size in a relatively short period of time."
Main Event ideally builds from the ground up on its own plots of land, typically measuring five to six acres. That makes it easy to schedule deliveries and store construction materials.
The Orlando location, however, is part of a large outdoor lifestyle center, which made staging construction more difficult. The company had to find some "unique off-site storage areas" to hold its materials, says Moran. Main Event was also able to work with the center's operator to store furnishings in unused retail space.
More Design, More Events
With the Orlando location open several months now, the chain is not only value engineering, but it is also refining the design itself for future stores.
One big question involves the adult bowling area. In Orlando, the physical space lent itself to having separate family and adult bowling sections. That's not going to be the case in a typical entertainment center. The company, says Keegan, will likely choose one design, family or adult, and stick with it going forward.
Main Event is also looking to become a place for watching sports, which presents some challenges that are particular to this concept. According to Keegan, when it comes to watching sports, the company's research shows the quality of the sound is nearly as important as the quality of the picture. But with bowling, billiards, arcade games and plenty of stimulated kids, Main Event is not a quiet place. The firm, then, is bringing in audio engineers to help design spaces where a game can be seen and heard.
Whatever changes the company makes will not only have to be functional, but they'll also have to fit the form that Main Event wants: elevated and high-end with a look and feel that make people want to spend their time and discretionary dollar. That's essential to Main Event's success, according to Keegan.
"Everybody wants to be upgraded; everybody wants the latest and greatest," Keegan says. "To win in the sector and vertical you're in, you have to appeal to an affluent user and a discriminating user who's familiar with the latest set of offerings. The bar has been raised. That's why we continually have to push to have leading-edge facilities."
Project Team
Project lead: Brian Moran, VP of Design and Construction
Interior design: Harrison Architecture & Design
Snapshot
Headquarters: Plano, Texas
Concept owner: Ardent Leisure
Concept: Family entertainment center featuring bowling, video games, laser tag and restaurant-quality "All-American Flare"
Segment: Family entertainment center/casual dining
Units: 38
Opened: 1998
Size: 49,917 square feet
Real estate: Freestanding and retail center
Build-out time: 240 days