In January, Bruegger's Bagels raised the curtain on a new design prototype that accentuates the chain's fresh, natural, authentic New York-style bagel baking techniques while creating a more comfortable, engaging guest experience.
The new flagship store, in the Saint Paul, Minn., suburb of Woodbury, is a new construction in a Target pad site strip center. Its interior design elements, as well as a completely refreshed branding package, will be used in all new builds going forward, as well as in renovations and refreshes of existing units, according to Allisson Russell, manager of concept and design for Bruegger's parent company Le Duff America.
Russell describes the new prototype's design as "industrial chic," utilizing materials and aesthetics that might have been found in authentic New York bagel bakeries in the 1930s and 1940s. "The whole idea was to create a setting that would showcase the authenticity of our brand, from our natural ingredients to our traditional process of kettling and baking fresh bagels," says Russell, who spearheaded the new design effort. "We've brought the theater of our bagel bakery to the front of the store where it's visible from inside and out. Whether you're driving or walking by the big plate glass windows, or just entering the store, you can't miss seeing the authentic baking process."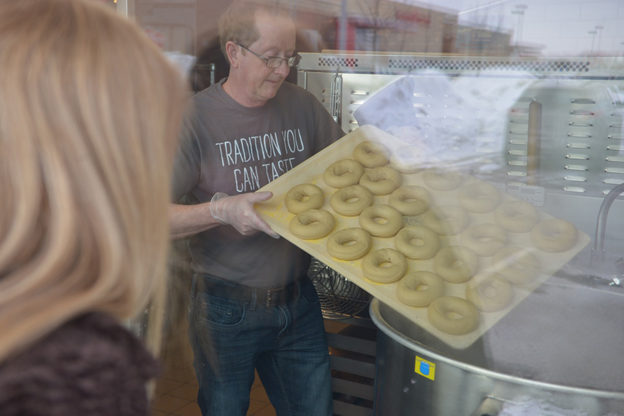 She notes that while Bruegger's has always had its baking and kettling areas exposed, they've been positioned in the back of the stores and not necessarily highlighted. In the new prototype and branding initiative, bagel baking plays a central role in creating a more engaging, interactive guest experience. "It's really much more about the food, the camaraderie and customer interaction with our partners," she says.
In addition to the up-front bakery area, the Woodbury prototype debuts a fresh design for the sandwich prep area, a new merchandising section showcasing salmon, and a new espresso bar/barista station. Says Russell, "As guests walk past the bakery and the shelves displaying fresh, hot bagels, they see our merchandising cases, place their orders and watch their order being prepared. We've repositioned the line so the sandwich makers are facing forward and can interact with customers."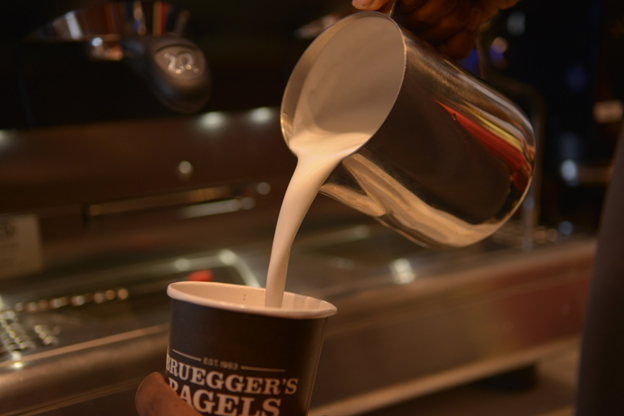 Once orders are placed and expedited, guests continue on to cash registers and the beverage station or espresso area.
Measuring 2,000 square feet, the new Woodbury store offers seating for up to 35 comprised of bar seats along one wall, counter seats along a window, assorted small tables and a central communal table that accommodates up to eight guests.

Tables are now natural, solid wood versus the plastic laminate previously used and other finishes and materials are likewise natural and authentic, selected to reflect those brand attributes. They include hot-rolled steel and quilted stainless on the back line, exposed brick walls, traditional subway tile, pressed metal ceiling tiles and stained concrete flooring.
Specialty industrial-style lighting and large, colorful chalkboard infographics add design finesse to the overall palette of basic, natural materials. The largest of the chalkboards, the focal point of the front of the house, has yet to be completed. As part of the unit's opening and to highlight Bruegger's rebranding initiative, the company in March launched an "Artists Challenge" promotion that invites amateur and professional artists to submit their ideas for an abstract, two-dimensional design board. The company is accepting entries through the end of March, after which top selections will be posted to its Facebook page to determine fan favorites. Ultimately, from that group, Russell, along with senior management team members, will select the winning design, for which the artist will win $10,000 along with bragging rights when the design is posted in the store.