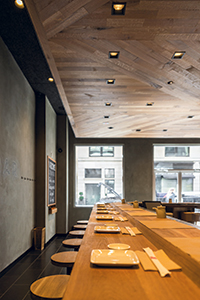 Kazu Nori photo by Daniel KriegerPopular Los Angeles-based Japanese restaurant KazuNori opened its latestoutpost in Manhattan'sNoMad
neighborhood in March. The new location offers bar seating only and focuses on hand rolls and sashimi as well as a limited drink menu.
Interior design firm Marmol Radziner opted for a minimalist showcase for the handcrafted Japanese fare offered at KazuNori. A black background, including basalt floor tile, allows the rustic white oak used on the bar and the stool tops to pop within the 1,775-square-foot space.
The bar seats 24 in front and 12 in back. During off-peak hours, the 12-seat back bar can be closed off to maintain an intimate dining experience. The stool bases are black to give the illusion that they are floating in the space. Black purse hooks under the bar next to the stools allow patrons to discreetly store belongings.
The rustic white oak is used again on the ceiling and walls but in a configuration inspired by traditional Japanese geometric patterns. Behind the bar, dark bronze anodized shingles are a nod to the restaurant's Tin Pan Alley locale and aid in bringing the focus back to the bar.
The restaurant is owned by Sushi Nozawa, LLC, the group behind the original KazuNori, The Original Hand Roll Bar and two other popular LA restaurants, Sugarfish and Nozawa Bar.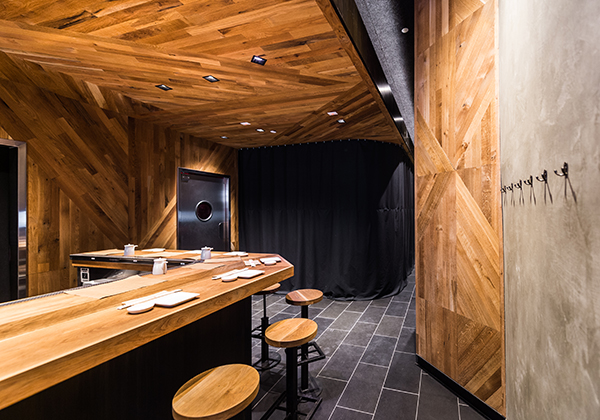 Kazu Nori photo by Daniel Krieger